Section Branding
Header Content
It's Take Your Dog To Work Day!
Primary Content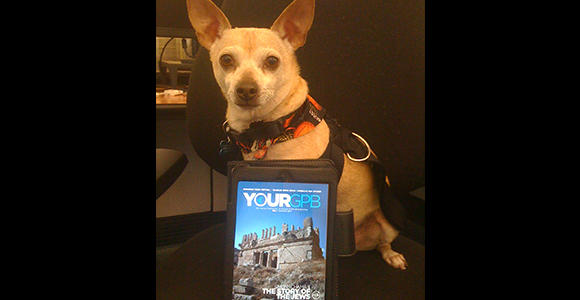 Pet parents rejoice! Today is Take Your Dog to Work Day. Pet Sitters International established the day to promote pet adoptions and how great companions dogs are.
The idea has caught on at thousands of companies including here!
At GPB, everyday is Take Your Dog to Work Day. Four legged pals routinely trot down the halls or sit in on meetings with their pet parents. Look closely and you'll spot our president and CEO Teya Ryan, walking her pet Havenese, Miley out front.
I bring in my chihuahua mix Bijou to help me edit blogs when he's not busy:)
But seriously, the benefits of bringing your dog or (cat) to work are many and healthful.
Studies show pets relieve stress.

A pet's presence at work - even a couple of times a week - can be comforting.

Pets increase cardiovascular activity, improving heart health.

Pets at work are also icebreakers and conversation pieces with colleagues.
Some employers may need convincing. If you need help making the case for implementing a Take Your Dog to Work Day next year, navigate to the takeyourdog.com site for information.
Here's a video from Pet Sitter's International on the Top 10 Reasons to Take Your Dog to Work
If you are already a Take Your Dog to Work Day shop or a pet friendly workplace tell us about it in the comments below and share your photos on social media.
Secondary Content
Bottom Content