Section Branding
Header Content
Thanksgiving for Your Pet
Primary Content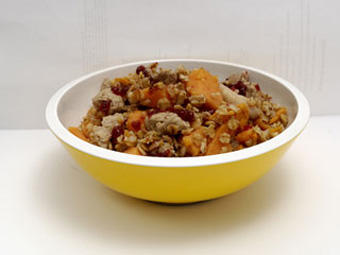 Thanksgiving dinner isn't just for humans anymore. It turns out that the big meal can be pretty healthy for pets. With little to no extra prep, you can share a healthful, nutritious dinner with your dog, too.
Turkey is a lean meat. Because it's low in fat, provided you don't deep fry it, it's a great choice for Fido. You'll need to balance out the protein with carbs and fiber, too, which can be done by setting aside some ingredients you're already using in other recipes. For example, save some of the roasted sweet potato for this dish before adding the spices and seasonings you would for the human casserole. And, if you're adding rice to the dressing/ stuffing (as some folks do), save a spoonful of that, too. If you aren't already cooking rice, whipping up a small portion of oatmeal to add to the pet feast will provide fiber and carbohydrates.
I found this recipe for "Thanksgiving Dinner for Dogs" in a couple of places and think I'm giving credit to the right folks over at The Bark for originating it. It's pretty simple and nutritious; a one-cup serving has 44g protein. They've got the rest of the nutritional information break-down listed, too. It makes 9 cups, which is great if you're feeding a crowd of bigger dogs. If you don't need that much, then it's pretty simple to modify by using less. I loved that this recipe doesn't require anything additional from the store. Everything you'll need is on hand in the regular prep for the human feast!
Since our pets really are our family, it's nice to be able to include them in our family traditions like Thanksgiving dinner.
Secondary Content
Bottom Content