Section Branding
Header Content
Hugh Acheson's Summertime Spaghetti With Arugula Pesto Recipe
Primary Content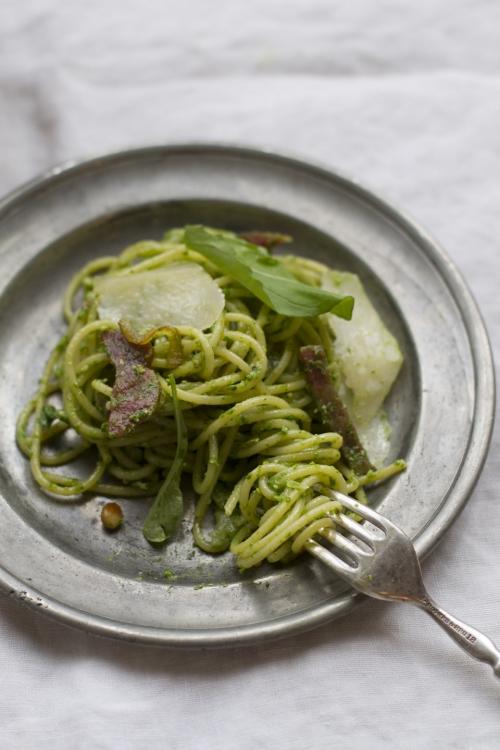 It's no secret farm fresh foods are hard to get in low-income communities. Fresh fruit and vegetables from farmers markets can be costly, and these nutritious foods are even more expense at high-end grocery stores such as Whole Foods. There's a reason the joke "Whole Foods equals your whole check" is so popular.
Thursday night on On The Story we're looking at organizations dedicated to bringing fresh produce to low-income communities, including Georgia farmers markets accepting SNAP. We'll also speak to Chef/Restaurateur Hugh Acheson, and Truly Living Well Founder and CEO Rashid Nuri about making nutritious, locally-grown food available and affordable for everyone in Georgia.
Before we leave you, here's a recipe from James Beard award-winning chef Hugh Acheson:
Spaghetti with Arugula Pesto, Salami, and Parmigiano-Reggiano
Pesto was not a fad of the 80's. It is a staple that you need to be making, mostly after watching the slow demise of freshly picked basil or arugula in your fridge. The ice in the making of the pesto will ensure that the bright green stays bright green, as a burring blender produces heat through friction. The cold will make that heat negligible.
Pesto is spring on a plate. Bring in the sunshine.
Serves 4
Sea salt, to taste
3 tablespoons pine nuts
3 cups arugula, washed and pat dry
1 garlic clove
1 cup finely grated Parmigiano-Reggiano, plus more for shaving
½ teaspoon cracked black pepper
3 ice cubes
½ cup extra virgin olive oil
1 lemon, zest only
1 pound dried spaghetti
2 ounces salami, thinly sliced
Preheat the oven to 350°F.
In large stockpot, bring 1 gallon of water to a boil over high heat. Salt it so that it tastes pleasantly salty.
Meanwhile, toast the pine nuts in the oven until they are golden brown. Let them cool to room temperature. Separate them into 2 tablespoons (for the pesto) and 1 tablespoon (for the pasta.)
In a blender, combine 2 cups of the arugula, the reserved 2 tablespoons of pine nuts, garlic, grated Parmigiano-Reggiano, 1 teaspoon sea salt, pepper, and ice. Blend on high for one minute. Slowly drizzle in the olive oil. The pesto should be smooth. Scrape the contents into a bowl and add the lemon zest, stir, and set aside.
Add the pasta to the pot of boiling water, stir immediately, and cook until al dente. Drain the pot into a colander and add the pasta right back to the pot. While the pasta is still hot, add the pesto, the remaining pine nuts, the remaining 1 cup of arugula and season with salt. Combine the ingredients over low heat for about 30 seconds.
Plate the pasta into 4 bowls and top each with the salami and the shaved Parmigiano-Reggiano.
Secondary Content
Bottom Content