Section Branding
Header Content
President Obama's Visit: A View From The Pool
Primary Content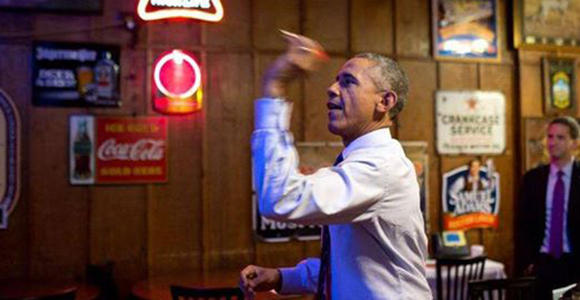 Oh to be a fly on the wall during the President's visit to Atlanta this week which included a pitstop at Manuel's Tavern. (Hence the darts!) In a sense, that is what White House pool reporters are. They travel with the Commander-in-Chief, documenting his moves.
At times, they interact with the president (or POTUS) in a formal way. At times, they are the proverbial flies on the wall, observing quietly.
A few of them sent us their reports via email. Here are some excerpts from their view from the pool.
From Kate Leslie, Atlanta City Hall Reporter, AJC
Arrival
Air Force One touched down in a cloudy, but warm Atlanta at
12:11 p.m. on Tuesday. POTUS, wearing a navy suit, deplaned with a wave at 12:21 p.m. with Congressman Hank Johnson and Admiral Sandy Winnefeld.
POTUS first greets local ally Atlanta Mayor Kasim Reed with a hearty handshake and then a hug. Reed, a prolific Tweeter who minutes before snapped photos with his iPhone, smiled and chatted with POTUS and Johnson. POTUS next greets Fulton County Chairman John Eaves and Congressman David Scott before striding across the TARMAC to meet with visitors, including families and military personnel.
"How's it going everybody? Good to see you guys. How are you?" POTUS calls to dozens of visitors who first began gathering mid-morning to meet him.
POTUS also shakes hands with a young boy, roughly 8, who is wearing a navy blazer and red bowtie, before making his way down the line. After meeting POTUS, a woman begins to dance ever so slightly and shouts "Yes! Are you kidding me?" to her friends.
At Georgia Tech
Press arrives (at) Georgia Tech's McCamish's Pavilion around 12:45 pm. Behind POTUS podium is a massive blue sign that reads "Middle Class Economics."



Photo courtesy Frank Arsics

As the crowd surged to what Georgia Tech Fire Marshal Larry Labbe later estimated to be 9,529 people, attendees listened to songs by Sugarland, Jennifer Hudson and Ray LaMontagne as they waited for POTUS.
Gov. Nathan Deal, whose attendance comes as a surprise after skipping previous POTUS visits to Atlanta, arrived early for the event. Deal met privately with the president before his speech. Congressman Hank Johnson, who flew to Atlanta this afternoon with POTUS, called Deal's appearance "significant" in an interview with a local reporter.
Other dignitaries seen at the Georgia Tech event include: Georgia Tech President G.P. "Bud" Peterson, Congressman David Scott, Atlanta Mayor Kasim Reed, Georgia state Rep. Calvin Smyre, Democratic Party of Georgia Chairman DuBose Porter, former state Sen. Jason Carter, (who lost his 2014 bid for governor), Georgia House Minority Leader Stacey Abrams and others.
Bernice King, daughter of Dr. Martin Luther King Jr., also sat in the special seating area with top state and local elected officials. Georgia State University President Mark Beck arrived 20 minutes late to the event.
Tiffany Davis, a third year Aerospace Engineering Georgia Tech student from Maryland, introduced POTUS at 1:50 p.m., 20 minutes after the scheduled start of the event.



Photo courtesy Frank Arsics

According to the White House, Davis wrote POTUS with concerns about college affordability. In his response, POTUS told Davis that he and the First Lady also struggled to pay for college and shared concern over today's students' ability to afford college. "I am working to make college more affordable—so every American, including future rocket scientists like you, can achieve their dreams, without worrying about their loans," POTUS wrote to Davis.
A Pit Stop At Manuel's Tavern
At 2:48 p.m. the presidential Motorcade arrives to Manuel's Tavern, a beloved local bar and restaurant in Inman Park that is a favorite among journalists and politicians alike.
Event is private to media. Press corps sent to coffee shop across street.
Dave Cook, Christian Science Monitor
POTUS emerged from Manuel's Tavern at 4:41 p.m. and worked a rope line along the side of the Tavern, under an "Ice Cold Coke" sign painted on the building. The President was in shirt sleeves enjoying the balmy Atlanta temperatures. A group of 35-40 had assembled on the side of the Tavern on Williams Mills Road NE.
A larger group, of a hundred or more, had assembled a block down North Highland Avenue at a Chevron station but did not get to shake the presidential hand.
At 4:44 p.m., the motorcade traveled to the Hyatt Regency Hotel in downtown Atlanta, arriving at 4:52 p.m. There were clumps of bystanders on various street corners holding up their cell phones to take pictures. No protesters were spotted on the journey to the hotel. (The President was there to attend a DNC Roundtable.)
Departure



Photo courtesy Frank Arsics

POTUS departed the Hyatt Regency Hotel at 6:01 and arrived at Hartsfield Airport in Atlanta at 6:15 p.m. He was quickly up the stairs and Air Force One is rolling for takeoff. Next stop, Joint Base Andrews.
Secondary Content
Bottom Content