Section Branding
Header Content
Whitehurst Comments on Signing with Hogs, Byerly
Primary Content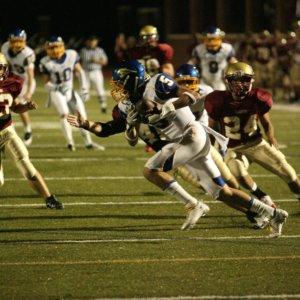 If one were to just look at Kane Whitehurst standing to receive a kickoff, one might simply think, "gosh, at 5'11 he isn't impressively tall, he'll probably be taken down fairly quickly by the coverage team."
One would be wrong.
Whitehurst, cousin of Seahawks quarterback Charlie Whitehurst, showed not just on kick returns but also punt returns and as a slot receiver that he was one of the fastest football players in a loaded state of Georgia last season. The Chattahoochee standout returned five kicks/punts for scores in 2010 and recently signed with Arkansas to play for Bobby Petrino in the SEC. "I'm thrilled to be a part of the Arkansas Razorbacks and have a chance to compete at a high level," said Whitehurst of his decision to go with the Hogs.
Whitehurst, who recently joined Score Atlanta's The Official Visit, transferred to Chattahoochee for his senior season after playing for Northview in 2009, as a quarterback. Upon arriving at his new school and seeing Timmy Byerly entrenched at the signal-caller position, Whitehurst decided to take his athleticism and help the team anyway he could. "(Byerly) is the best player I've ever been on the field with," said Whitehurst about his teammate. "I have seen anyone throw the ball better. He's a winner." Whitehurst simply moved outside to play receiver where he excelled, leading his coach Terry Crowder to then call him the fastest player he ever coached.
Now Whitehurst will play a similar role for Petrino that he did his senior season: return man and slot receiver. "Returning punts and kicks (at Arkansas) is something to I want to do if the opportunity presents itself." But Petrino will certainly be able to harness Whitehurst's speed in his blazing quick offense. "(Arkansas) was a great fit offensively as a wide receiver and I love Fayetteville," said Whitehurst on his decision to head to the SEC West.
How Whitehurst even appeared on the Razorbacks' radar is an interesting story that certainly could be brought up on future SEC broadcasts. Petrino was visiting Chattahoochee High School to see defensive tackle Barron Dixon (who signed with Vanderbilt) and the Chattahoochee coaches told Petrino to stick around to watch Whitehurst. Petrino was so impressed he offered and Whitehurst accepted a few days later. Now Petrino will be like a kid in a candy store with a toy on Christmas Eve, Whitehurst offers so many options.
Will the 5'11" Whitehurst see time immediately however? If it were up to Whitehurst, probably not. "A redshirt would be good to put on some weight and have four years after that." He trusts the Arkansas coaches though, saying that he wants to go in and compete and if the coaches then feel he is ready to go, he'll go. "I don't know about the level jump; no one does until you get there."
With his speed, Whitehurst can contribute in the return game early and as a receiver later on and he feels his work ethic will ultimately lead him to success in Fayetteville. "I am someone that will work hard. Hopefully I will make some plays for Hog Nation. Woo Pig Sooie!" He was fast in learning the cheer. Arkansas fans hope he learns the offense that quickly.
Secondary Content
Bottom Content