Section Branding
Header Content
Cougars Looking Forward To Class AAAAAA
Primary Content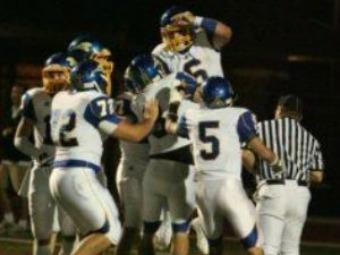 By David Hurst
The Chattahoochee Cougars have been reclassified twice in the past three years, playing in Class AAAAA until they were moved to AAAA in 2010. They are now slated to play in the newly-developed AAAAAA.
Chattahoochee experienced success while playing in AAAA with a 25-2 record over the last two seasons and winning a state championship. They've proved themselves as a reputable football program the past few years, but the question surrounding the team is can the Cougars continue their success after moving up two classifications? Head coach Terry Crowder not only believes they can, but he is enthusiastic about the transition.
"We're really excited," said Crowder. "There's been some apprehension in the community about moving up to AAAAAA, but we're a lot better as a program right now than we were previously in AAAAA. There's going to be some revivals of some old rivalries and we're excited about it because we're a better program than we were a few years ago."
Some of these rivalries include Alpharetta and Centennial, schools that Chattahoochee played frequently when the Cougars were in AAAAA but did not face while they were in AAAA. Crowder stated he's glad to be in a region with Fulton and Forsyth schools, rather than with the larger Gwinnett schools they faced in AAAAA.
"It was tough playing these Gwinnett schools that are 2,000 kids bigger than us," Crowder said. "We're looking forward to getting back and continuing to play in the Fulton and Forsyth district."
After a successful spring and a few weeks of summer workouts, Crowder said he is optimistic about the upcoming season. "We had a great spring," said Crowder. "This is probably the most depth we've had in a couple years."
The offense will be lead by dual-threat quarterback Travis Marshall, who started all 12 games for the Chattahoochee offense last season. Crowder said the 6-foot-4, 200-pound senior put on weight in the offseason and had a tremendous spring.
"I've been overwhelmed with how he's improved," said Crowder. "His work ethic and leadership ability really impressed us in the spring and he's going to play a big role in our offense."
Junior running backs Chase Nelson and C.J. Leggett will also contribute to the Cougars' high-powered offense. Both backs played an instrumental role in the offense last season and will look to improve on their impressive sophomore campaigns.
Despite the fact that they are losing eight starters on defense, Crowder believes they have great depth defensively. The leader of the defense is 6-foot-2, 200-pound senior linebacker Brian Sykes. Sykes is one of three returning starters on the defensive side of the ball, and Crowder has high expectations for him.
"He has several offers right now and played great for us last year," said Crowder. "We look to him to lead the defense."
Secondary Content
Bottom Content