Section Branding
Header Content
Recruiting 2023: North Paulding at Walton
Primary Content
State championship contender Walton makes its 2023 GPB Sports Football Fridays in Georgia debut tonight as the fifth-ranked and 4-0 Raiders play host to the 5-0 North Paulding Wolfpack. Join us as we kick off Week Five of our Game of the Week schedule from Raider Valley in East Cobb. Coverage starts 7:30 p.m. on GPB-TV.
Now in his seventh season, head coach Daniel Brunner has built the Raiders into a program that might be able to bring Walton its first state championship in the program's 48-year history. The Raiders have gone 27-7 over the last two-plus seasons reaching the 2021 semifinals and the 2022 state quarterfinals while beating No. 1 Buford along the way last year in one of the biggest playoff upsets in recent history.
Led by quarterback and Wake Forest commit Jeremy Hecklinski, Walton is the highest scoring team in the state, averaging 57.8 points-per-game and winning by an average of 43.5 points. The Raiders defense is much improved and led by South Carolina commit Wendell Gregory and linebacker Ashton Woods, who has committed to North Carolina.
Meantime the Wolfpack have won eight of their last 10 games since their 51-49 shootout loss to Walton last season. Under fourth-year coach Don Stark, who is putting his stamp on the program after coming to Georgia from Florida back in 2020, the Wolfpack have gone 12-4 in their last 16 games, recording the second region championship in program history in 2022 after going 6-14, 2-8 in region play in Stark's first two seasons.
Stark arrived at North Paulding after leading Seminole High School to a 40-6 record and state quarterfinal and semifinal playoff runs. But his North Paulding team will have its work cut out for it tonight trying to slow down a Raiders team that has not scored fewer than 49 points in any of its first four games.
This will be the fourth consecutive season these two teams have played with the Raiders winning all three. Aside from last year's wild two-point win that saw 100 combined points scored, Walton won the only other meeting between these two at Raider Valley 21-14 back in 2020.
So, that's the game story. Let's take a look at the top prospects to watch.
Walton Raiders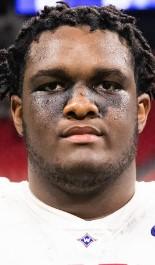 Daniel Calhoun – 6-6, 370, Senior – Committed to Georgia over 19 other offers – Consensus 4-Star – Highest Ranking: 247 Sports No. 4 IOL in the country 2024 and No. 12 prospect in Georgia – Transferred from Centennial to Walton for his senior season. Coach Brunner says Calhoun bounces around out there like he's 5-10. Two older brothers who played major college football in Vincent at Minnesota and Chris at Wake Forest.
Wendell Gregory – 6-3, 220, Senior – Committed to South Carolina over 20 other offers – Consensus 4-Star – Highest Ranking: ESPN No. 6 Edge in the country 2024 and No. 15 prospect in Georgia. Has really benefitted from his move to the Bandit position and so has the Raiders defense with 5 QB sacks and 7 TFL this season to go along with 114 career tackles. Brunner says his work ethic has been exceptional.
Jeremy Hecklinski – 6-1, 175, Senior – Committed to Wake Forest December 14, 2022, over three other offers including UCF – Consensus 3-Star QB. One of the most dynamic quarterbacks in the state. To steal a Coach Brunner comparison, "he's like a wild mustang." Can throw from many different arm angles and adept at keeping a play alive with his feet. Has thrown for 6,557 career yards with 67 TD while completing over 68-percent of his passes this season with 12 TD and just 1 INT.
Ashton Woods – 6-4, 220, Senior – Committed to North Carolina over 26 other offers including Baylor – Highest Ranking: Rivals 4-Star and No. 17 LB in the country 2024. Coach Brunner says he's never watched more film with a player than he has with Woods. Plays hard. Plays with passion. Intense. 274 career tackles with 23 TFL, 10 QB sacks and 5 INT.
MaKari Bodiford – 6-0, 205, Senior – Committed to Memphis over seven other offers including Troy and App State – Highest Ranking: ESPN 3-Star RB. Three yards shy of 3,000 rushing yards for his career with 48 TD in 38 GP. He's the Thunder to Austin Williams' Lightning in the Raiders backfield.
Hunter Teal – 6-2, 225, Senior – Committed to Miami (Ohio) over UAB – Highest Ranking: 247 Sports 3-Star TE. Would be a power conference tight end if he were taller. As it is, one of the best tight ends in the state production-wise. 87 career catches for 1,442 yards and 7 TD.
Jordan Bride – 5-10, 160, Senior Athlete – Committed to Navy over 21 other offers including Morehouse and Georgia Tech. Transfer from Alexander who has provided the Raiders with a big three-position boost. Starting WR and SAF and also big in the Raiders punt return game.
Wyatt Sonderman – 6-0, 175, Senior WR – Committed to Jacksonville State over four other offers including UMass. Plays the game with tremendous swagger. Coach Brunner says Sonderman believes he can't be covered. Since taking off his sophomore season to concentrate on baseball, he's proven over his junior and senior seasons that he's pretty good in football too. 60-1,008 yards receiving and 15 TD in just 16 career GP.
North Paulding Wolfpack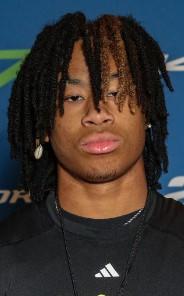 Javarius George – 5-10, 160, Senior WR – 11 Offers including Western Kentucky. Wolfpack's highest recruited player. 33 career catches for 882 yards and 6 TD. Coach Stark says, "Jav plays bigger than his size."
Ethan Maddox – 6-4, 225, Senior LB – Six offers including Georgia Southern, Eastern Michigan and Chattanooga. I haven't done a deep dive on "twins" research, but I can't imagine a pair of twins more productive and valuable to their team than Ethan and Aidan Maddox. Ethan has 176 career tackles with 18 TFL, and 9.5 QB sacks. Coach Stark says Ethan is to North Paulding what Ashton Woods is to Walton.
Aidan Maddox – 6-3, 225, Senior DL – Seven offers including Samford, Chattanooga and UT-Martin. Aidan plays DE for the Wolfpack with 141 career tackles with 27.5 TFL and 21 QB sacks.
Daniel Pitts – 5-10, 210, Senior DB (Plays OLB for Wolfpack) – Committed to Davidson – Coach Starks says he's the strongest player on the team and "a jack of all trades," with the ability to play in the box or cover in space.
Brayden Autenrieth – 6-3, 225, Senior TE – Offered by Southeast Missouri State. North Paulding will almost always have at least one TE on the field, if not two. More of a traditional TE while Ajax Anderson is more an H-Back type TE.
Walker Carpenter – 5-10, 245, Senior OL – Offered by UVA-Wise and Sewanee. Nicknamed "Chewy" as in Chewbacca the Wookie of Star Wars fame. Probably the Wolfpack's best offensive lineman.
Jayden Clayton – 6-0, 185, Senior RB – Offered by Kentucky State. Will be the first game that Wolfpack have had their top two backs Clayton and Scott healthy. Clayton is the bigger of the two. Averaging close to 11 yards per carry in limited action.
Calvin Scott – 5-7, 160, Senior Athlete – Offered by Sewanee and Bluffton. Coach Stark calls Scott their "Deebo Samuel" type back. He's shuttled between RB and WR during his career but back in the backfield for his senior season and the Wolfpack's leading rusher at 356 yards and 89 rushing yards per game making him the second leading rusher in Region 3-7A.
Marc David – 6-0, 215, Senior DL – Offered by Carleton College and Culver-Stockton College. Plays DT for the Wolfpack
So, join Wayne Gandy, Jon Nelson, Hannah Goodin, and me for our Emmy Award-winning Football Fridays in Georgia Game of the Week as the Walton Raiders host the North Paulding Wolfpack starting at 7:30 p.m. Remember at halftime Hannah will highlight this week's Make That Kid an Offer nominees.
You can watch Football Fridays in Georgia in so many ways. You have traditional TV (GPB), online at GPB.org, GPB Sports app, Facebook, YouTube, Twitter, and Twitch.
Now if somehow, you miss it live or just want to watch it again, don't worry, we replay the entire Football Fridays in Georgia Game of the Week at 11:30 p.m. or you can watch it on demand anytime at GPB.org. 
Enjoy your Football Friday in Georgia!
Secondary Content
Bottom Content