Section Branding
Header Content
Class 4A Preview: Blessed Trinity vs. Oconee County
Primary Content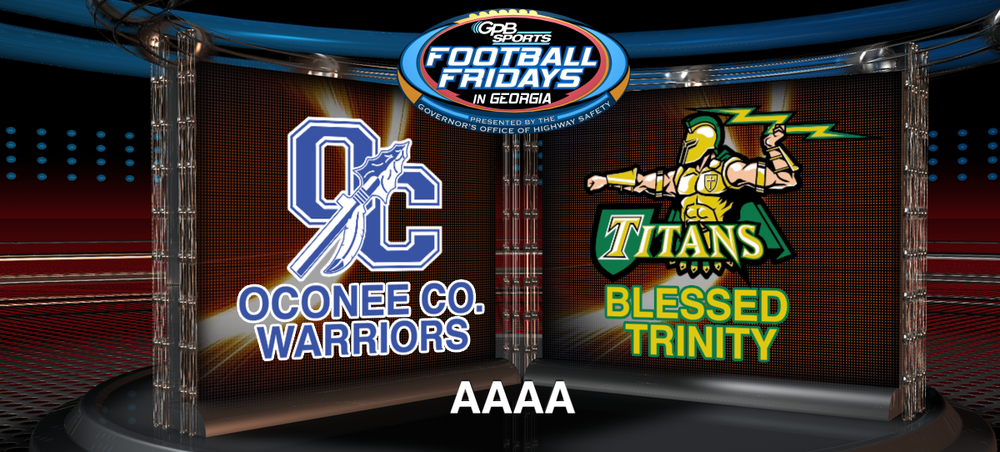 Class 4A
Blessed Trinity vs.  Oconee County
Saturday, 4:30 p.m., Georgia State Stadium
Blessed Trinity Titans
School location: Roswell
Record, ranking: 13-1, No. 2 in GPB rankings
Coach: Tim McFarlin (10th season, 103-19-1; overall 185-53-2)
How they got there: def. Troup 40-14; def. Baldwin 35-3; def. West Laurens 31-0; def. Woodward Academy 46-21. 
Top players: QB Duncan Reavis, RB Justice Haynes, RB Elijah Green, WR Carson Harof, WR/DB James Bryant, LB Ryan Dupont, DB Jackson Hamilton, LB Michael Mitchler, DL Nick Pereboom, DB Quinton Reese. 
Playoff history: Won two state championships – 2017 and 2018. 
Click here to read Sam Crenshaw's blog about Blessed Trinity. 
Oconee County Warriors
School location: Watkinsville
Record, ranking: 13-1, No. 7 in GPB rankings
Coach: Travis Noland (seventh season, 48-23; overall 121-53)
How they got there: def. Northwest Whitfield 41-14; def. Perry 39-7; def. Marist 17-7; def. Sandy Creek 35-28.
Top players: QB Max Johnson, RB Jimmy Boswell, RB Darius Norman, OL Carson Stocklinski, OL Nick Saunders, OL Kole Page, WR Jake Johnson, DL Harrison Padgett, LB West Weeks, LB Justin Coleman, LB Cam Lewis, DL Carson Stocklinski, DB Da'shawn Elder, LB Max Brown, DB Liam Lewis
Playoff history: Won its only state championship In 1999.
Series, last meeting: Blessed Trinity leads the series 3-0. The last meeting took play in the first round of the 2017, with Blessed Trinity winning 35-0.
Secondary Content
Bottom Content