Section Branding
Header Content
High Drama In Gwinnett County
Primary Content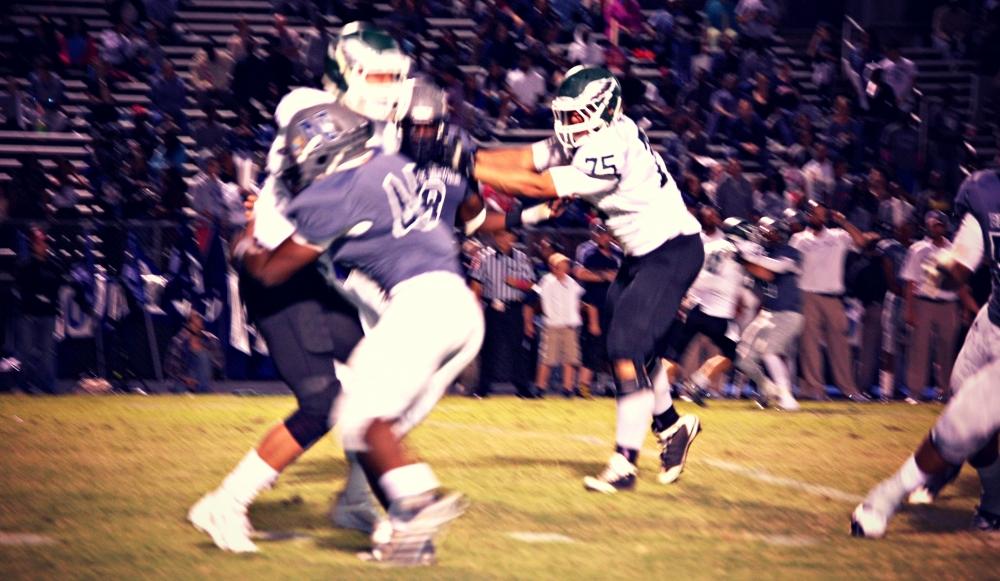 Let's jump right in with what was perhaps the most exciting game of the season to date. No one would be surprised to hear that #1 North Gwinnett defeated region foe Mill Creek 50-47 on Friday night. You may, on the other hand, be surprised to hear that #1 North Gwinnett had to survive by scoring 22 points in the final six minutes of the game. North Gwinnett's come-from-behind win is just a mid-season exclamation point on what has been a drama-filled season in Gwinnett County.
Having played football in Gwinnett County and having grown up there, my attention always seems to drifts toward what's happening with the football programs and communities. This season as I was trying to forecast what might happen across the state, I couldn't help but notice the depth in Gwinnett County, specifically in Region 7-AAAAAA.
Most high school football fans are familiar with Gwinnett County. After all, a Gwinnett team has taken home the state title 9 times in the last 17 seasons in Georgia's highest classification. Most casual fans hone in on Region 8 with the likes of Brookwood, Grayson and Parkview. Those 3 schools have combined for 7 of those 9 championships including 2010 and 2011.
Last year, that trend changed a bit when Norcross went 15-0 and won their first ever state championship in football. Over the past decade, Region 7-AAAAAA had a "what about us" mentality, and rightfully so. This can no longer be said of the "other guys" in Gwinnett.
For several years now, teams like North Gwinnett, Peachtree Ridge, Collins Hill and Mill Creek have been quietly putting on their hard hats and getting to work. Now, without a doubt, those teams have gone from second fiddle to some of the more marquee teams in the state. North Gwinnett is the #1 team in the state of Georgia and is shooting for their 8th consecutive 10-win season. Norcross has been a playoff team 7 out of the last 8 years and routinely fields one of the most talented teams anywhere; Peachtree Ridge shared the state championship back in 2006 and has been in the post-season 5 of the last 7 years; Collins Hill made it to the state semifinals back in 2010 and are shooting for their 6th straight post season appearance and Mill Creek, which opened in 2004, advanced to the quarterfinals in last season's state playoffs. 2013 could be the best season yet in Region 7. So far, each of the five teams I just mentioned have been ranked in the top 10 at some point this season and as of right now, North, Norcross, Collins Hill and Peachtree Ridge are all ranked in the top 10.
Trying to figure out which four teams will make the playoffs will be a challenge in itself. Unfortunately, one of the five will be sitting at home in late November pondering the "what ifs".
With four weeks to go before the end of the regular season, North Gwinnett is in the catbird's seat by virtue of Friday's win. They are 4-0 in region play with wins over Norcross and Mill Creek.
Norcross, who started the season #1, is finally hitting their stride. Although they lost the head-to-head with North, they have already beaten Mill Creek and Collins Hill. Peachtree Ridge, Collins Hill and Mill Creek will likely duke it out for the final two positions. Collins Hill beat Peachtree Ridge two weeks ago for their signature win of the season thus far, but they still face North Gwinnett and Mill Creek. Peachtree Ridge has big tests against Norcross and North Gwinnett still to come but has beaten Mill Creek head-to-head. Mill Creek may have the biggest challenge of all, having already lost three region games to North, Peachtree Ridge and Norcross. It could come down to the last week of the regular season when Mill Creek hosts Collins Hill. No matter the outcome, these next four weeks should be wrought with drama.
Speaking of drama, I would be remiss if I didn't congratulate the Meadowcreek Mustangs for breaking their 53-game losing streak with a 21-14 win over Habersham Central on Friday night. Congratulations to those boys, their coaches and the community for a long, overdue victory.
So what of the "other" Gwinnett County Region? Well, Brookwood, Parkview and are down this year and Grayson got off to a rocky start…so enter Archer. Who, you say? That's right, Archer! Archer, the 5th year school, is now 7-0 and ranked in the top 10. They have the inside track on taking home the Region 8-AAAAAA crown. After their first winning season last year, many thought Archer was two or three years away from making waves in the traditional powerhouse region. The Tigers, led by head coach Andy Dyer are ahead of schedule and under the radar no more. Their November 1st matchup with Grayson could decide the region's top spot. Most of the drama in Region 8 will come over from sorting out the remaining three playoff spots. I won't even begin to break down the scenarios.
My only advice for the next four weeks is to enjoy watching as much football as possible. You may want to have a scientific calculator, an abacus and coin standing by in case we need some help figuring it all out.
Secondary Content
Bottom Content