Section Branding
Header Content
STATE PREVIEW: Demons Seek Berth In Finals
Primary Content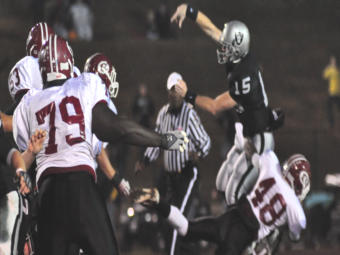 Middle Georgia is abuzz with the prospect of Warner Robins and Northside potentially meeting in the Class AAAA state finals. But both teams would have to win tonight in order to make that dream final happen. The resurgent Demons travel back to metro Atlanta for the third time in as many weeks to take on stout Lovejoy. Brian Way's club is back in the semis for the first time since winning the state title in 2004. Across town, Northside is preparing to host fellow AAAA-behemoth Tucker. The two traditional powers have played one time, a 31-28 Eagles win in the 2007 state semifinals at the Georgia Dome. Both teams teams come into the game undefeated and each has put up some impressive stats. Northside has allowed more than 20 points just one time this season (in the regular season game against Warner Robins) while Tucker has scored more than 40 points in 10 games.
Peach County and Cairo will face of tonight in an intriguing Class AAA semifinal. The two traditional powers have played four times in their illustrious histories and the Syrupmakers have won three of them. TH two programs split a regular-season home-and-home in 2008 and 2009, while the two previous meetings were in the playoffs in 1999 and 2000. The host Trojans hope their stout defense comes to play again tonight. Like Northside, Peach County has given up 20 points or more once this year. But stopping the Syrupmakers will be a challenge, as Cairo is fresh of a 21-0 whipping of Atlanta-power St. Pius X.
In a rematch of last year's state semifinal, Colquitt County will take on Grayson tonight in Loganville. This is no strange territory for the Packers, who have been in the past two Class AAAAA semifinals. But coach Rush Propst is a veteran of state final four berths. During his career, Propst has guided his teams to 12 semifinals. A win would bring the Packers back to the finals for the second time in a row and give them a chance to win the school's second state championship.
In Class A undefeated and top-ranked Savannah Christian will host upstart Prince Avenue Christian tonight. The Raiders have been knocking on the door of their first GHSA state championship and will get their chance to return to the finals with a win. It will be an interesting matchup between the Raiders defense, which has held opponents to 69 rushing yards per game, and the Wolverines offense, which excels at running the rush-based Wing-T. SCPS, meanwhile, will throw the tripe option at Richard Bell's Wolverine defense. The former UGA defensive coordinator will have to find a way to stop five SCPS runners who have each scored at least six touchdowns this season. The two teams have never played.
Burke County heads to Gainesville tonight to face a bunch of rampaging Red Elephants, which upset two-time defending state champion Sandy Creek. The Bears will have to overcome some demons, as they have lost seven consecutive road playoff games. But a win would bring Burke County back to the state finals for the first time since 1997, when the Bears lost to Thomas County Central 21-19.
Secondary Content
Bottom Content