Section Branding
Header Content
Georgia Traveler inspires a tasty new product for Georgians to enjoy!
Primary Content
My adventures around Georgia are all about having a good time, discovering new places and making new friends…I guess now we can add "inspiring new businesses" to that list!
My friend Abby Jackson from Blackhawk Fly-fishing in the little town of Batesville, GA has begun a new adventure…making salsa!
So here's how it happened…Abby and I went out fishing on the beautiful Soque River in Habersham County. I caught a trophy Rainbow Trout (23" long) and had to throw it back.  Blackhawk is catch and release on a barb-free hook, which is part of the reason these fish get so plentiful and big. When we got back to her river house after an awesome day on the river, she cooked me up some chili. It was made with locally grown products, and from what I remember it had a splash of beer in there. I'm not going to give away all of her secrets. Anyway, the chili was probably the best I'd ever had, so I told her that even after the cameras were off.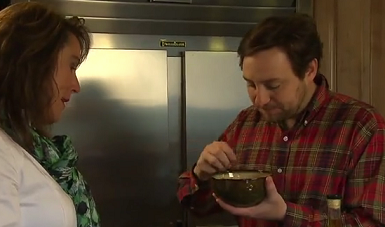 When you read her website link below, you'll see that this honest comment of mine inspired her to take this little recipe a step further, and now you can get Abby J's Salsa at Ingles Supermarkets all over North Georgia, East Tennessee and Western North Carolina. You will also find it at small country stores all around Georgia like the Mark of the Potter in Batesville and the Menhardt Winery and Tasting Room in Savannah, Ga.
Click HERE to learn more about Abbey J's "Georgia Traveler Inspired" Salsa.
Check out the Blackhawk Fly Fishing segment to watch my full experience!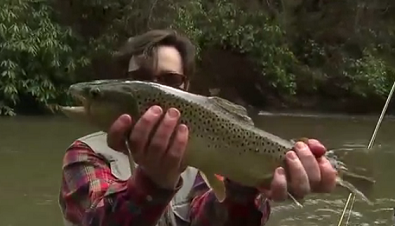 Secondary Content
Bottom Content