Section Branding
Header Content
Family-Friendly Halloween Fun
Primary Content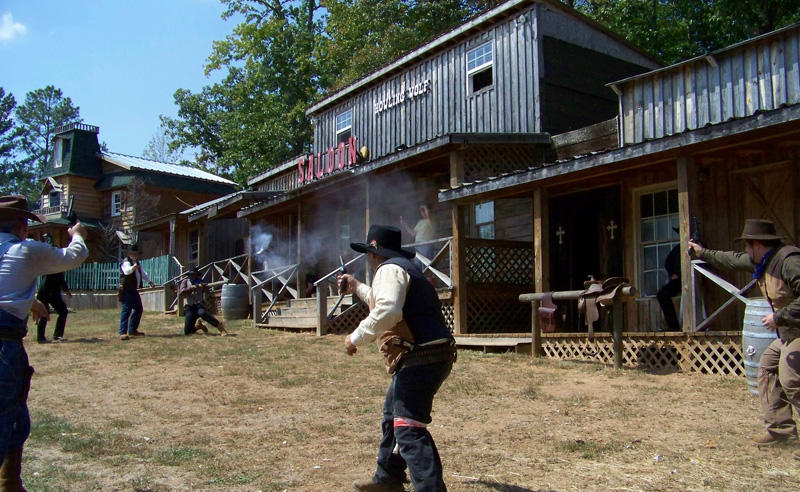 Hey Georgia Travelers! Check out all the interesting Georgia places to get you and your family into the Halloween spirit!
ATLANTA, October 20, 2011 – With Halloween just around the corner, Georgia is the perfect place for spine-chilling thrills, family-friendly fun or a much needed getaway. Cities and small towns throughout Georgia deliver the spirit of Halloween with events and attractions like you have never seen.
Nothing screams Halloween like our haunted houses. The Mansion of Terror Haunted House in Cleveland transforms the Historic Telford-Kenimer House into a house of nightmares and terror. This PG-13 experience features ghosts, goblins and other unimaginable creatures on October 21 - 22 and again from October 27 - 29. SCREAMERS Haunted House in Cartersville begins October 20 - 22 and encores 27 - 31. Join a group of family and friends at the Cartersville Fairgrounds as they scare locals with cannibals, monsters, ghosts and much more for a good cause. Netherworld Haunted House in Norcross features two separate houses, The Nightmares and Raw Meat. Take a journey through subways and sewers filled with giant alligators and cannibals on realistic sets with intense actors for heart-pounding fun. In 2010, USA Today ranked Netherworld the number one haunted house in America.
The city of Bremen channels supernatural spirits at the Rocky Branch Railroad and Old West Ghost Town event. This western heritage theme park brings the old West back to life through freakishly scary portrayals of real-life western characters, legendary events and a frontier town recreation every day in October.
Ghost tours are popular this time of year. Take the Decatur Ghost Tour in Historic Downtown Decatur to hear tales of murder, passion, war and tragedy. Travel down small streets untouched by time to the old train depot where late at night the cries of the wounded soldiers can be heard and the ghost of the station master will stare back from across the tracks. The Athens Heritage Walks: Haunted History Tour offers history, haunts, legends, ghostly apparitions, restless Confederate soldiers and unearthed coffins from October 27 - 31. Follow your mystery tour guide on a journey of the Classic City's dark history. On the University of Georgia's North Campus, you will hear tales of spirits, hauntings, superstitions, mysteries, murders, suicide and other legends. Make your way to down to Savannah every Monday through Friday in October for the Savannah Scary Ghost Tour. You will travel to haunted locations, such as Colonial Park Cemetery, Mercer House and Hampton-Lilibridge House.
Georgia is full of family-friendly Halloween events and activities. Head to The Rock Ranch on October 29 for their Not So Spooky Halloween Festival. This Halloween festival offers a pumpkin decorating contest and a costume contest. This festival hosts special entertainment and family oriented trick-or-treating in a safe environment. On October 31 in Dahlonega, the Dahlonega Gold Museum creates a one-of-a-kind of experience with Halloween themed contests, amazing prizes and lots of candy for trick-or-treaters. In October at Uncle Shuck's Corn Maze and Pumpkin Patch in Dawsonville the 20-acre complex allows kids of all ages to get lost on three maze trails, take a hayride, roast marshmallows and feed the climbing goats. In Woodstock on October 31, bring the younger ghouls and goblins to KidsFest for moonwalks, live DJ, Tim the Magician, Adam the Juggler, stringed apple and pumpkin bowling games, face painting, costume contest and candy giveaways in The Park at City Center. The Cochran Mill Nature Center's annual Halloween Hayride & Family Festival in Palmetto welcomes you for crafts, candy, night canoeing, hayrides, and a costume contest on October 22.
If you're interested in a Halloween getaway, go to Greensboro to enjoy Great Pumpkin Weekends at Ritz-Carlton Lodge on Reynolds Plantation through October 29. The fall inspired menu and cooking classes will entice your hunger for authentic Georgia cuisine. Guests can expect overnight festivities that include trick-or-treating, pumpkin carving, and ghost stories in the forest around a camp fire. Nearby is the 20-mile long Lake Oconee that surrounds the Reynolds Plantation and offers guests a spectacular view at any time of day. The Beechwood Inn in Clayton offers a Halloween dinner and ghost stories told by thespian Davie Fore. From October 29 - November 1, Fore will sing, play the guitar and spin a few tales about ghosts at the inn under dimmed lights. The cottages built in 1916 at the inn offer romantic accommodations and impeccable service that complement the individually decorated rooms and suites.
There are so many things to do in Georgia this Halloween. Whether you are up for a scary challenge or a subtle celebration, Georgia is the perfect place to visit and have a unique Halloween. To plan your adventure, visit www.exploregeorgia.org.
(information courtesy Georgia Department of Economic Development)
Secondary Content
Bottom Content