Section Branding
Header Content
Visit Georgia's Newest National Historic Site
Primary Content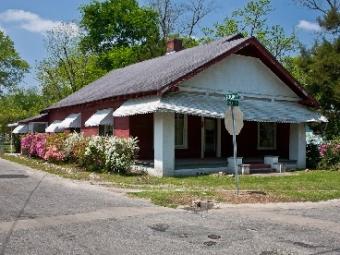 There are hundreds of historic sites to visit in Georgia (and Georgia Traveler has taken you to many of them!). Now, there's one more reason to make your way to Mitchell County to visit an important site in Georgia's history that's just been recognized with a national honor. Check out the news release from the Georgia Department of Natural Resources:
ATLANTA (April 18, 2011) - The Georgia Williams Nursing Home, located at 176 Dyer Street, Camilla, Mitchell County, Georgia, was listed in the National Register of Historic Places on April 8, 2011. The property owners sponsored the nomination and prepared the nomination materials. The property was listed at the state level of significance for its associations with the work and accomplishments of Beatrice Borders, an African American entrepreneur, and as a rare surviving example of a birthing center that operated during the years of segregation.
Beatrice Borders (1892-1971), the founder and operator of the Georgia Williams Nursing Home, was a trained midwife who began her career under the guidance of her mother, for whom the shelter was named. The property is important because Borders ran the only known commercial birthing center available to black women in Mitchell County from circa 1941 to 1971. During that time she and her assistants delivered over 6,000 babies, mostly at the nursing home, but also in the mothers' own homes. Access to major medical facilities was limited, and many African Americans (as well as other poor, rural women) could not afford hospital fees. Women often preferred the type of care provided by midwives. Over the years, Borders (also known as "Miss Bea") charged between $25 and $55. She accepted barter goods and time payments and turned no one away for lack of payment. The nursing home was licensed by the state. Midwives who worked in Georgia were required to take an exam given by an official of the state health department, and women had to be declared healthy enough by white doctors in Camilla in order to have a baby delivered by a midwife. Patients came to Borders from all over Mitchell County and surrounds, because no other place in the area fulfilled this need. Beatrice Borders was recognized as one of the most successful black businesswomen in Camilla.
The Georgia Williams Nursing Home is a circa 1935 bungalow that was the private residence and workplace of midwife Beatrice Borders. The outside appearance of the house belies its use as a birthing center and maternity home for thousands of African American women. Located in a historically black residential area of Camilla, the exterior is similar to other nearby homes, while the interior was modified with a birthing room, recovery rooms, bedrooms, nursery, small office, laundry room, and side lobby entrance for expectant mothers. The front rooms housed the owner's living room, bedroom, and dining room. A kitchen and breakfast room, plus one full bath (shared by all) and two half-baths, are also located in the back section of the house. The house was last used as a childcare center from 1972 to 2004 and a few minor modifications were made to accommodate this use. The owners hope to preserve the building, and eventually use it to display the medical artifacts and records related to the life and work of Beatrice Borders.
The National Register of Historic Places is our country's official list of historic buildings, structures, sites, objects, and districts worthy of preservation. The National Register provides formal recognition of a property's architectural, historical or archaeological significance. It also identifies historic properties for planning purposes and insures that these properties will be considered in the planning of state or federally assisted projects. National Register listing encourages preservation of historic properties through public awareness, federal and state tax incentives, and grants. Listing in the National Register does not place obligations or restrictions on the use, treatment, transfer, or disposition of private property.
Secondary Content
Bottom Content