Section Branding
Header Content
Listen: 'Burning of Atlanta' Legacies
Primary Content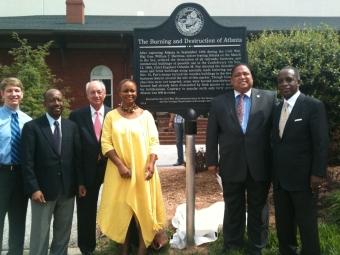 Tuesday is the 150th anniversary of the start of the American Civil War. A new marker now stands at the site where Union General William T. Sherman ordered what's known as the "Burning of Atlanta."
The site is two blocks from the state capitol on Dr. Martin Luther King Jr. Drive. Hermina Glass-Avery, Associate Director of the Center for the Study of the Civil War Era at Kennesaw State University, says one site can share historical legacies:
"This marker dedication is most appropriate for this site because it offers authenticity of setting and context. This is the location of the burning of Atlanta and this is the place to have it. And to have it elsewhere is akin to heresy."
The NAACP opposed placing the marker on a street that honors Civil Rights. It's one of 13 Civil War educational plaques unveiled this year across the state by the Georgia Historical Society, the Georgia Battlefields Association, and the Georgia Department of Economic Development.
You can hear Hermina Glass-Avery's entire talk about the burning of Atlanta here.
Secondary Content
Bottom Content