Section Branding
Header Content
How The Georgia Film Industry Helped Expand One Local Small Business
Primary Content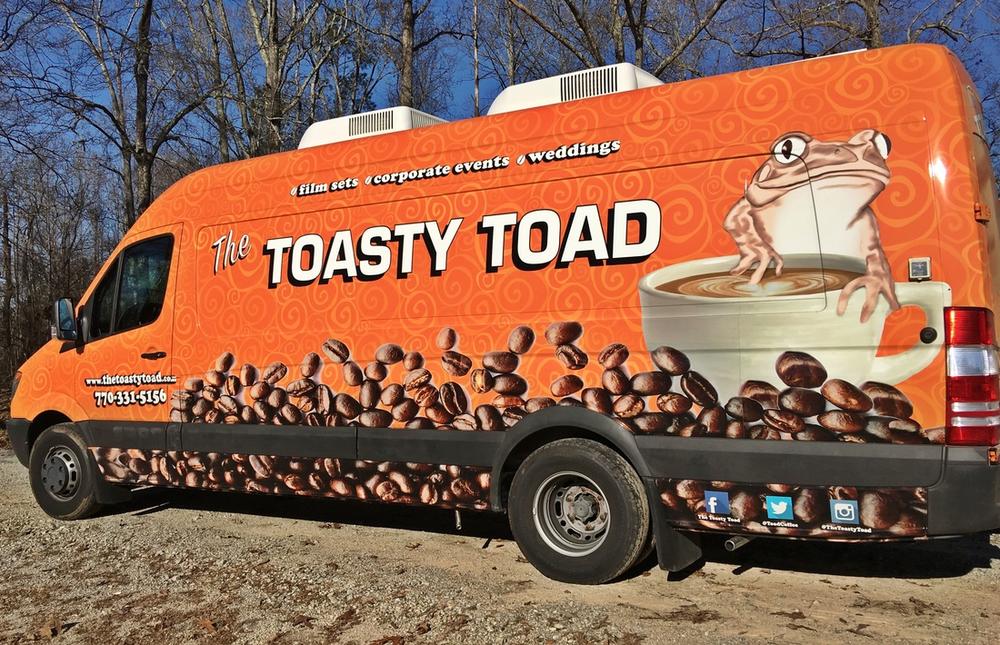 One of the great things about this new blog is I get to travel around the state meeting everyday people. For example, I was down in Senoia earlier this month working on a piece about how the town has been transformed into this exciting, unique place due in large part to the film industry. Be sure to check out the piece, which you can read here. Anyway, while I was in the area I stopped one morning for a cup of coffee and new local spot, The Toasty Toad. 
While waiting for my coffee I began talking to the owner, Sherri Woods. While chitchatting I found out they got their start in the food service world via the Georgia film industry. They had a New Orleans-style Sno-Ball food truck they parked on production sets to serve those working the shoots. One thing led to another and they've since expanded to a new truck and now a brick and mortar location. Below is a Q&A I did with Woods about her business, how the Georgia film industry has helped it (spoiler alert: a lot), and what the future holds. 
1. Walk me through Toasty Toad's Genesis. When did you begin? Why did you begin? What's your background?
We moved to Georgia in 2008 for my husband's job. He worked in the corporate world for 17+ years. After getting my M.S.B.A. degree, I decided to pursue a career in real estate. When we moved to Georgia in 2008, we decided it was time to start a family, and our daughter was born in December of 2009. In 2011, I decided that our area needed a New Orleans Style Sno-ball experience. We bought a trailer and began serving the public in June of 2011. Our business was definitely a seasonal business at that time. My goal was to make enough money to pay for our family vacations. In 2014, my husband came to work with me and we began to grow even more with our mobile business.
The Toasty Toad, Inc. began as a simple request to transition our New Orleans Style Sno-ball trailer (The Frigid Frog of Georgia, Inc.) into a coffee service by two local productions we were working with in the fall of 2014. We knew that it would take more than transitioning our current sno-ball trailer if we were going to seriously consider a new business venture. After more serious suggestion on the part of a local production, we actively researched mobile vehicles that would accommodate a top-notch coffee shop. 
In December 2014, we found an outfitted Sprinter van in Ohio and flew up to look at it and drove it home to Senoia. After replacing most of the equipment, researching techniques, and practicing our skills, we were ready to provide the requested product to the production industry. 
2. How did you find a niche within the film industry? How did you cultivate contacts? 
In 2013 a crewmember from a local production stopped by The Frigid Frog trailer. He enjoyed his sno-ball so much that he had us come serve onset the next day, and we were on other productions for the next two days. A wise woman told me on set that if I was able to be flexible and served a good product, I would see my business grow. She was right! Flexibility is the key. Having the right attitude and understanding what challenges the film productions face has served us well.
As for cultivating contacts, we simply provide a great service and are easy to work with and are blessed to keep getting on production vendor lists. Productions will come and go but the people that are making the calls for crew treats will remember how we treat them and call when they are working on another production. If it is a positive experience for them, it is likely that they will remember us and give us another opportunity.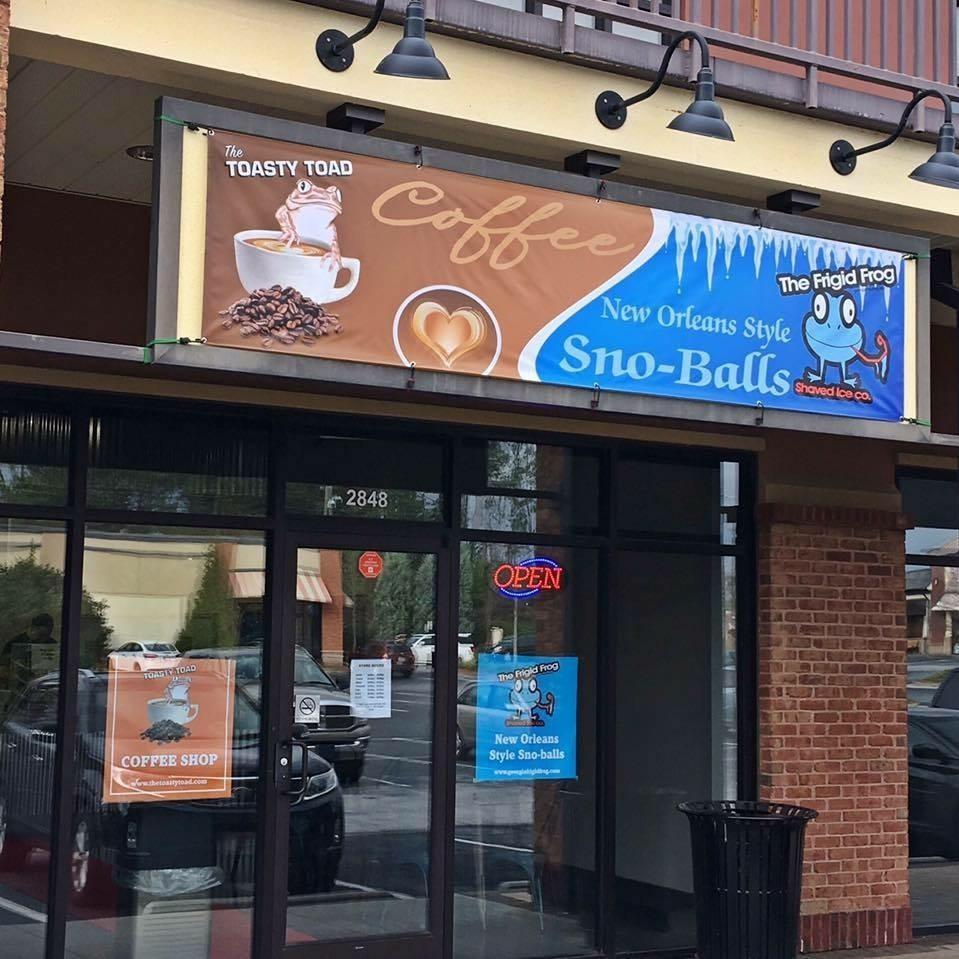 3. What made you take the leap and open a brick and mortar store? 
Being that [Sno-Balls] is in higher demand during the warm months I was hesitant. Now that The Toasty Toad has proven to be a successful product, putting the two businesses together seemed to make sense. We are looking forward to providing the best products to the public while continuing to serve the local filming industry for as long as they need us. 
4. What's it like working around the film industry? What productions have you catered to?
Every job is a new adventure. There is no telling where we will be asked to set up. We have been on the side of a cliff at a campground. We have driven down into a quarry to serve. We have been on bridges. We have served in cow pastures (with cows and everything that goes with those cows). 
We see many familiar faces while meeting many new faces. We are grateful for all of them. What we strive for is a balance of fun and professionalism each and every time we arrive on a production set. We want them to feel a little bit of love in every cup that comes through our window.
Our customer list is extensive. We have worked on many productions over the past four years. We have worked on movies that are filming locally for a short time as well as local productions that film several months out of the year locally. Those might be our favorites as everyone has the opportunity to become friendly.
5. What does the Georgia film industry mean to you and your family? Would Toasty Toad exist today without it? 
The Toasty Toad would not exist without the film industry at this point. It is easier to take a leap of faith with a specific request from the industry than just hoping for the best on you own.
We are always interested to see what productions will choose Georgia for filming. For us, we are excited to continue to serve within the film industry for as long as they choose to make Georgia their home. We have developed many wonderful friendships within the industry and certainly value what they do. 
6. What's it like owning a small business? What are some of your challenges? What makes you happy? What's the business environment like in Georgia as you see it?
Owning a small business is tough! Thankfully, the public only gets to see the fun part of the business. There are so many more facets that go into owning your own business that add to the challenges for sure. Knowing where to spend advertising dollars. Trying to figure out a balance regarding staffing. Finding employees who can see our vision and understand why we do what we do. 
We have a wonderful crew who has the ability to be flexible as well. They see what the need is and are ready to jump in wherever they are needed in order to help.
I'm happy seeing people enjoying our product! I'm happy when customers bring someone new into the store. I'm happy when a crewmember sings our praises to someone who hasn't had a beverage from The Toasty Toad. We are fortunate to be able to serve people from all walks of life. We hope to continue to see their smiling faces for years to come.
7. Where do you see this business moving forward? What's the 5-year plan?
We are just going to continue to provide a quality product and see where that takes us. Having just completed a large part of our business plan by opening up a brick and mortar location, we are going to work to have the best location in Peachtree City serving both fluffy sno-balls and gourmet coffee beverages. 
Secondary Content
Bottom Content