Section Branding
Header Content
Georgia Film Day Celebrates A Booming Industry In The State
Primary Content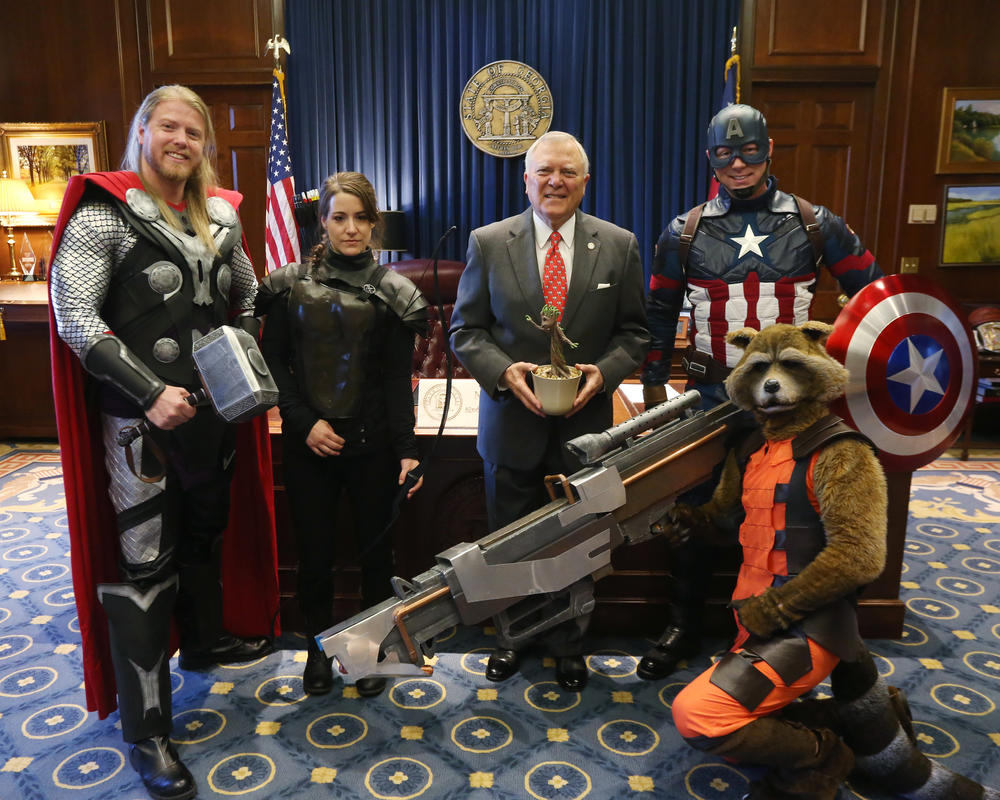 Today Governor Nathan Deal celebrated Georgia Film Day at the Capitol, but it wasn't the governor's appearance that made the day special.
Instead, it was people like Shay White, a Los Angeles-native who moved to Atlanta two years ago due to more film and television work coming to the state.
It was people like Billy Gabor, the managing director of Atlanta's Company 3 outpost, which is under the Deluxe umbrella, moved back to Georgia from New York in 2011. "I'd tell people I was moving to Atlanta and they'd be like, 'What? Are you nuts?'" he said. "They didn't see what was happening with the industry down here yet, but they do now."
The film and television industry in Georgia has been booming since 2008, when a tax incentive was passed by the state legislature. Entire towns have been transformed thanks to the influx of what has become a mega industry, most notably Senoia, Georgia, which you can read all about here.
Carrie Burns, founder and CEO of Atlanta Movie Tours, was recently named a Georgia Economic Developers Association Small Business Rock Star. She's capitalized on the movie industry by tapping into the tourism market that's developed over the last eight years.
She now employs nearly 30 people in Georgia, and her company held more than 800 tours around the state in 2016.
The film industry created $4.2 billion in wages in 2015 with an average salary of $85,000, per the Governor. That's not just for fancy, high-paid actors, either. Those are set creators with a construction background. It's caterers who started food truck services for the film and television shoots. It's the prop shops, the effects studios, and all of the ancillary pieces that sprout because of the film and television productions in the state.
As Scott Tigchelaar, owner of Raleigh Studios Atlanta said, "we're now training people to get into this industry that provides good, skilled jobs. What are we always talking about? We want to bring jobs back; we want to bring manufacturing back. That's what the film business is. We're manufacturing a product."
The Georgia film industry has led to more prosperity for Georgians in and around television and film production. The film tourism industry is driving people from all around the world to Georgia, which leads to dollars spent in the state at restaurants and shops.
The Georgia film and television tax incentive has been a major success, according to Speaker David Ralston, and one he'll ensure stays on the books for years to come.
"I'm excited by the success of this industry in our state," he said. "As long as I sit in my office, there will be no bigger fan of that tax credit and this industry than I am." 
Secondary Content
Bottom Content