Section Branding
Header Content
Summer Movies for Grown-Ups: 2015 Edition
Primary Content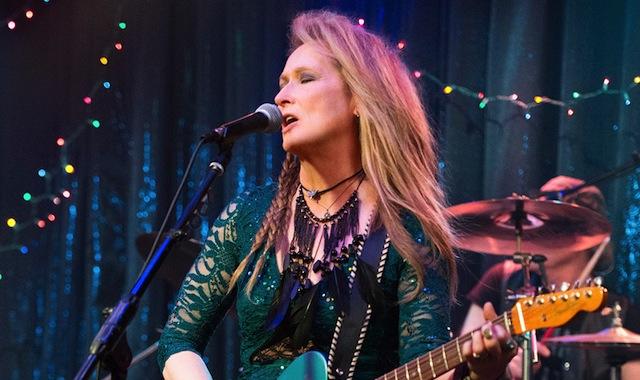 Chris Hewitt, a contributor to our partner site Next Avenue, gives us this guide to upcoming remakes, stories and film characters.
If you're an adult who likes movies, the most significant date this summer is Aug. 7, which could be dubbed Meryl Streep Day.
Since Mamma Mia in 2008, the end of July/beginning of August has been the spot for movies starring women of a certain age — usually Streep herself. Consider Streep's Julie and Julia (Aug. 7, 2009), Hope Springs (Aug. 8, 2012) and this year's Ricki and the Flash (Aug. 7).
Even without Streep, previous films like Helen Mirren's The 100 Foot Journey and Julia Roberts' Eat, Pray, Love stepped in to make money and demonstrate that adults are looking for late summer titles just as surely as some moviegoers expect the world to get blown up at the movies every Fourth of July weekend.
Meryl Streep Day is significant because it means there's an increasing awareness on the part of the movie industry that, to paraphrase another summer film for grown-ups, if they build it, we will come.
Here's a look at what's in theaters now through Labor Day, ranging from titles that revisit pop culture favorites from the 1970s and '80s to those that push characters to consider their lives and make them more meaningful.
The Connection
The French Connection, one of the best thrillers of the 1970s, wasn't very French. This summer's The Connection revisits the events of the Gene Hackman movie from the perspective of a cop who, like Hackman's Popeye Doyle, is trying to nab a drug-smuggling ring. He's played by Oscar winner Jean Dujardin (The Artist) and his nemesis is played by France's other biggest male star, Gilles Lellouche. (May 15 limited release, more theaters added June 5)
I'll See You in My Dreams
An honest-to-goodness romance between two characters in their 70s? Yup. Blythe Danner stars as a woman who thought the whole love thing was done until Sam Elliott showed her she was nuts. (opened May 15)
strong>Poltergeist
A young family in the suburbs inadvertently stumbles upon a portal to another, scarier dimension. No one of moviegoing age when the original was released in 1982 will forget the eerie cry of a child saying "hello" to alien visitors: "They're heeeeeere." (May 22)
Winning: The Racing Life of Paul Newman
Having conquered Hollywood, Paul Newman sought a new challenge as he neared 50. He opted to start racing high-performance automobiles at death-defying speeds. And, as loved ones — including his widow Joanne Woodward and buddy Robert Redford — reveal, Newman had nearly as much success in his new venture as he continued to have in acting. (May 22)
Love & Mercy
Beach Boy Brian Wilson enjoyed fame and wealth in his 20s, but it wasn't until several decades later that he found the peace and happiness that eluded him in his youth. The role of Wilson is played by both Paul Dano and John Cusack. (June 5)
Wild Horses
Octogenarian Robert Duvall wrote, directed and stars in this drama about a rancher given a final opportunity to reconcile with the estranged, gay son (James Franco) he rejected many years earlier. (June 5)
Live From New York!
The documentary portrait of Saturday Night Live goes all the way back to the glory years of the '70s, with John Belushi, Dan Aykroyd and Gilda Radner in the never-matched original cast. (June 12)
One Cut, One Life
The late Ed Pincus had been retired from filmmaking for years when he decided to pursue one last project: a first-person documentary about his search for meaning after a leukemia diagnosis. One Cut, One Life is shadowed by mortality, including the sudden deaths of two friends of Pincus' collaborator, Lucia Small, but it's really about discovering what is most important about living. (June 12)
Manglehorn
Like Blythe Danner in I'll See You in My Dreams, Al Pacino's A.J. Manglehorn is a septuagenarian who has given up on love. And like Dreams' Sam Elliott, Holly Hunter may have a thing or two to say about that. (June 19)
What Happened, Miss Simone?
Never-before-heard recordings, archival footage and the memories of friends add up to a portrait of fiery singer/songwriter and activist Nina Simone, still hugely influential a dozen years after her death. (June 26)
Self/less
A Frankenstein update that asks: What could possibly go wrong when a billionaire (Ben Kingsley) implants his mind in the body of a much younger man with much better abs (Ryan Reynolds)? The answer, of course, is everything. (July 10)
Boulevard
The late Robin Williams, who left behind a lot of unreleased films, has one of his last roles as a meek man who takes tentative steps toward health and happiness when he admits to himself that he is gay. (July 17)
Mr. Holmes
Near the end of his life, Sherlock Holmes (Ian McKellen, in maybe the most spot-on casting of the summer) buckles down to solve the mystery that has left him confused and unfulfilled for most of his life. Laura Linney co-stars as Holmes' devoted housekeeper. (July 17)
Best of Enemies
Frenemies Gore Vidal and Norman Mailer played out their intense, whose-latest-book-is-bigger feud on TV talk shows of the 1960s and '70s, as documented in this entertaining recap. (July 31)
Vacation
Any interest in revisiting the 1983 comedy, National Lampoon's Vacation? What if you knew that Chevy Chase and Beverly D'Angelo return in the supporting roles of Clark and Ellen Griswold? (July 29)
Ricki and the Flash
Meryl Streep is Ricki, a rock singer who deserted her family to pursue fame. Diablo Cody's comedy/drama gives Streep an opportunity to reconcile the two while belting half a dozen songs. And, given Streep's and Cody's feminism, Meryl presumably does it in a manner underscoring that women shouldn't have to choose between having a career and a family. (Aug. 7)
The Man from U.N.C.L.E.
The 1960s TV series was a James Bond spoof and so is this film, a Cold War comedy/thriller that features reigning Superman Henry Cavill out of his tights and in some very dapper suits. (Aug. 14)
Straight Outta Compton
That's Compton, Calif., where Dr. Dre, Eazy-E, Ice Cube and their buddies formed NWA, the rap group that would change the face of music in the 1980s. (Aug. 14)
Grandma
She calls herself a misanthrope. Others call her a grump or worse. Either way, Elle, played by Lily Tomlin in this road movie, has a chance to turn things around when her granddaughter shows up needing help and, oh yeah, implying that Elle could use some, too. (Aug. 21)
Learning to Drive
Things seem likely to work out a whole lot better for Ben Kingsley in this one than in his previous summer film, Self/less. Here, he plays a taxi driver who may be falling in love with the socialite (Patricia Clarkson) to whom he's giving driving lessons. (Aug. 21)
This article was originally published by Next Avenue, a website for people 50+ presented locally by this station. Find more like this at nextavenue.org.
Secondary Content
Bottom Content