Section Branding
Header Content
Community at the Farmers Market
Primary Content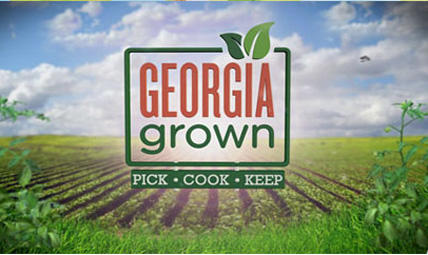 While Georgia's economy is based on a number of diverse categories – trade, manufacturing, tourism, etc. – no one will dispute Georgia's agriculture as both a historical and modern mainstay. Georgia grows and exports incredible amounts of cotton, soy, peanuts, peaches, pecans, blueberries, and so much more.
However, not all of these crops are grown hundreds of acres at a time. Many of them are grown on small family-run farms. Initiatives like Farm to School have increased awareness of local farming in communities. A resurgence in farmers markets has significantly contributed to consumer awareness about our food and where it comes from.
Increasingly, we visit our farmers market to engage with our neighbors and interact as a community. In short, it's fun. We have loved getting to know the folks who produce extraordinary amounts of food for the community in a one and a half acre lot at a local church. There's also Farmer Kathy, who introduced me to garlic shoots. They're the green stems, similar to spring onions, but garlic! Our favorite vendor may be the peach farm that brings boxes and boxes of fresh, Georgia peaches every Saturday. Once a year, I buy a whole box and make jellies, pies, breads, a delicious pork loin, and put a few gallon bags away for the fall.
It's not just fun, though. I like to think that when we go to the farmers market, we're teaching our son about good foods and where they come from and, just as important, how to make a positive difference in our community.
It's almost time for most seasonal markets to start up again. Visit the Department of Agriculture's list of farmers markets to find one near you. Contact them early and you may be able to help your community by preparing the venue. Georgia also has several State Farmers Markets, most of which are open year-round.
For more on Georgia's local crops and recipes for cooking with them, visit GPB's Pick, Cook, Keep.
Secondary Content
Bottom Content