Section Branding
Header Content
Fun Ways To Celebrate Earth Day
Primary Content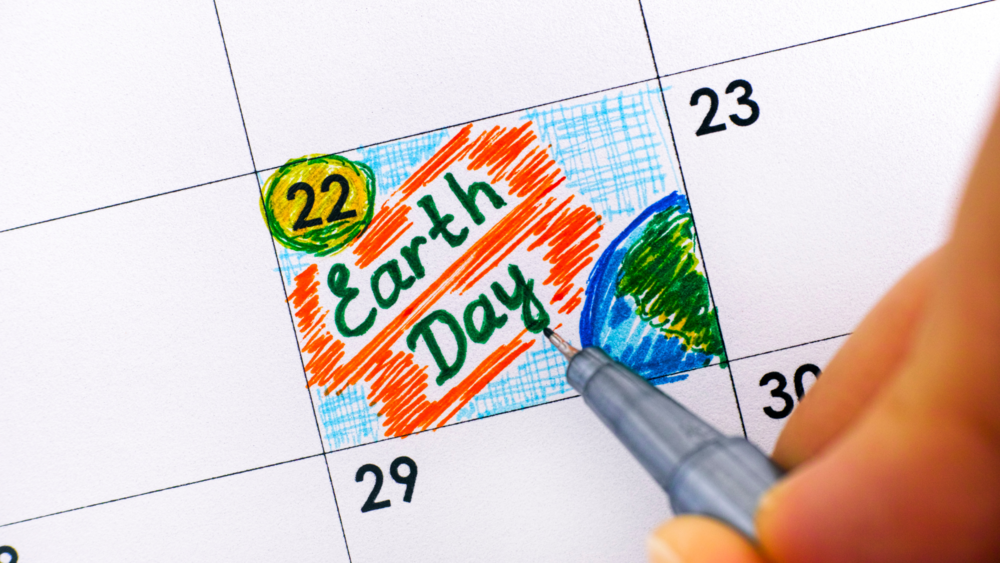 Earth Day was first celebrated on April 22, 1970, and is considered the birth of the modern environmental movement. Use these lessons and classroom activities to continue the tradition of promoting environmental awareness on April 22 or any time throughout the school year.
GPB's Live Explorations 
Georgia's Water Live Exploration
Grades: 3-8
Explore Georgia's freshwater systems and learn how they supply clean water to residents and businesses across the state in Georgia's Water Live Exploration!In this live virtual field trip, students will learn about the water cycle, witness how water is treated, hear from a variety of water professionals, and discover ways we can help protect our freshwater systems.
Reduce, Reuse, Recycle Live Exploration
Grades: 3-8
Help keep your community clean and green with GPB's live exploration: Reduce, Reuse, Recycle! The program offers students insight into the recycling process as they explore two types of recycling centers and see how one of the world's largest carpet manufacturers repurposes plastic bottles. Students will also learn how they can reduce, reuse, and properly recycle in order to protect the environment and reduce pollution.
Okefenokee Swamp Live Exploration
Grades: 3-8
Explore one of the last frontiers of true Georgia wilderness with GPB Education's live exploration of the Okefenokee Swamp. Hear from swamp experts, witness the power of the mighty alligator, and test your swamp knowledge!
Grays Reef Live Exploration
Grades: 3-8
Take your students on an exploration of Gray's Reef National Marine Sanctuary in this 30 minute virtual field trip. This unique experience teaches students about the animals that call Gray's Reef home, how the seafloor serves as a habitat and ways they can help protect the reef from major threats.
Resources from PBS LearningMedia
Celebrate Earth Day Collection
Grades: 6-12
Bring environmental justice and awareness into your classroom this Earth Day with these videos, articles, and lesson plans. Explore the history of the environmental justice movement, the racial implications of pollution and waste disposal, and the role of new technologies in conservation efforts. Use these resources to inspire students to preserve the health of our planet and its inhabitants.
Environmental Public Health Collection
Grades: K-12
The medical and technological advances of the past few centuries have helped improve human life on Earth, but technology has also had some unintended, harmful effects on human health and the health of other living things in our environment. This collection highlights these issues, examines how we are identifying the causes and effects of these health problems, and how public health works to improve conditions.
How Does Your Environment Affect Your Health?
Grades: 5-8
In this self-paced lesson, students learn how environmental factors affect the health of living things, including humans. They will view videos, use an interactive activity, and respond to writing prompts to investigate common environmental health hazards, routes of exposure, factors that influence the potential health effects, and ways to reduce exposure. They finish the lesson by completing a final writing assignment.
All About Sustainability
Grades: PreK-3
Help teach your students about sustainability and repurposing by using this set of Teacher Guides from the PBS KIDS show Ready Jet Go!
Using the 3Rs to Help the Environment
Grades: 5-8
In this blended lesson supporting literacy skills, students watch videos that focus on our environment and the ways individuals and businesses can reduce the amount of trash they create and the natural resources they use. Students develop their literacy skills as they explore a science focus on managing waste and natural resources. 
The Math of Trash: Percents and Proportions
Grades: 6-8
Discover how percents and proportions help explain issues like climate change, composting, and zero waste in this video. In the accompanying classroom activity, students estimate the percentage of various types of trash that they generate (e.g., paper, plastic) and calculate the pounds of each based on the United States daily average of 7 pounds per person. 
 
Follow GPB Education on Twitter and Facebook for more Earth Day ideas and resources! 
Secondary Content
Bottom Content