Section Branding
Header Content
GPB And Georgia Forestry Foundation Launch Georgia Forests Virtual Learning Journey II For High School Students
Primary Content
GPB Education and the Georgia Forestry Foundation are excited to announce the launch of Georgia Forests Virtual Learning Journey II, an interactive experience for high school students. Aligned to Forestry Management and CTAE Georgia Standards of Excellence, this virtual journey offers an exploration of Georgia's forestry industry, operations and forest products, sustainability efforts, and recreation and wildlife supported by the state's forests. A variety of career opportunities are also featured throughout this journey. 
In Georgia Forests II, key concepts are presented through text, images, videos, and interactive elements. Support materials, such as activities and vocabulary, are embedded throughout the experience. Teacher keys for the activities are provided in the teacher toolkit. 
"As Georgia's leading provider of digital learning resources, GPB is thrilled to add another great virtual learning journey to our library of content," said GPB Director of Education Laura Evans. "Having great partners like Georgia Forestry Foundation allows us to offer high-quality, standards-aligned resources at no cost to teachers and students."
The virtual journey is divided into four main sections: forestry; operations and products; sustainability; recreation and wildlife.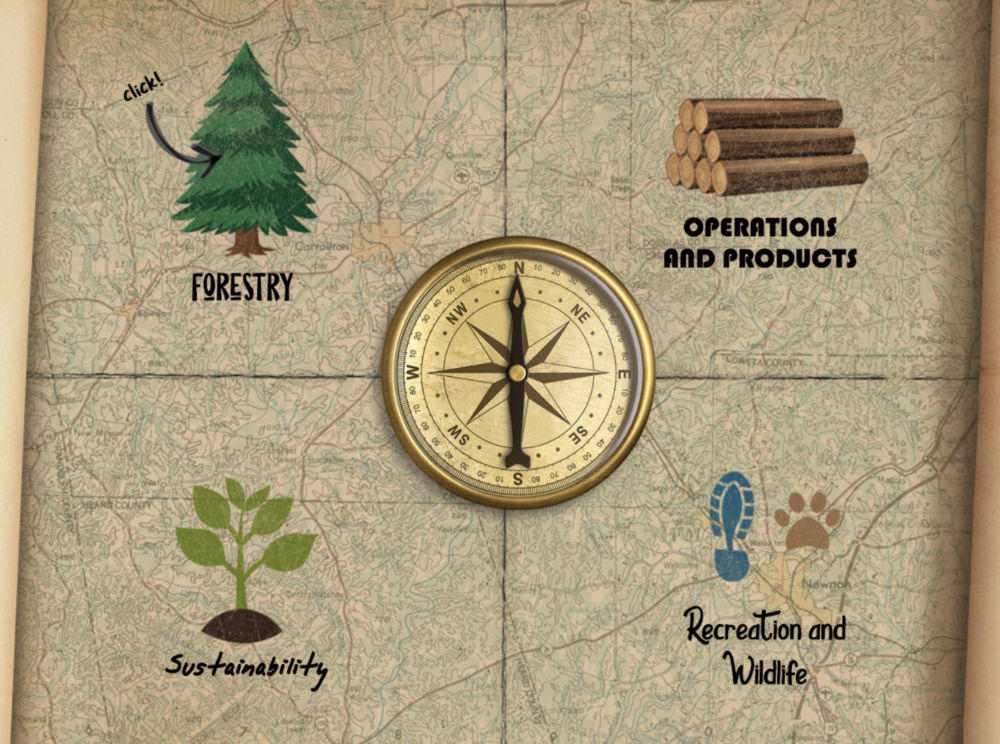 In the Forestry section, students go deep into the forest to discover the life behind trees and the forestry industry.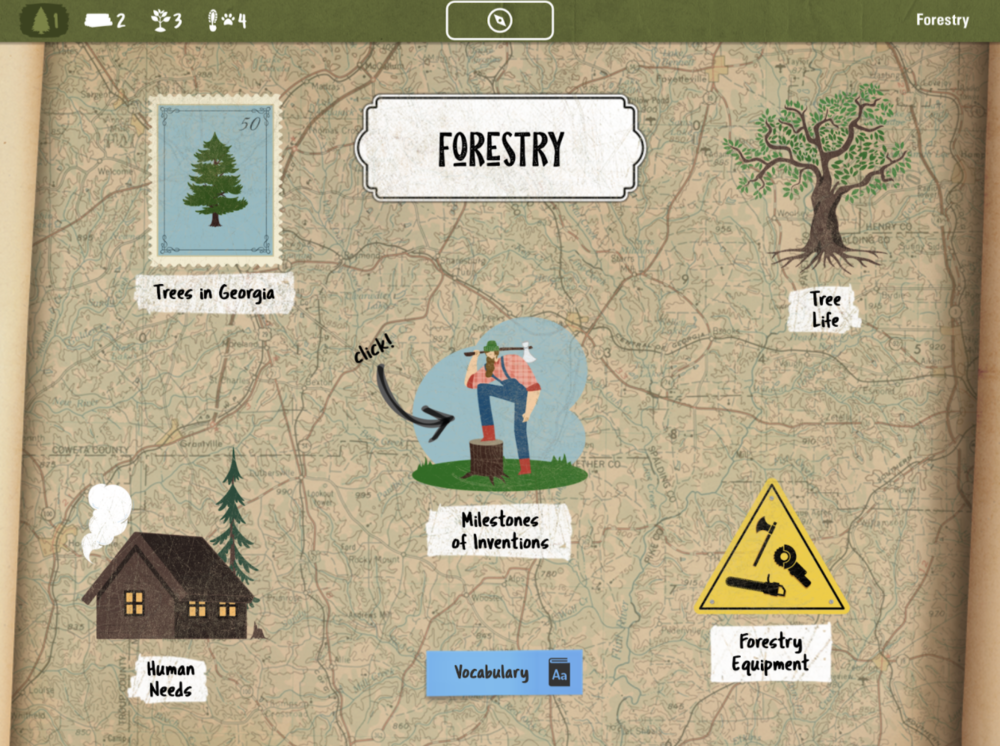 In the Forestry section, students go deep into the forest to discover the life behind trees and the forestry industry.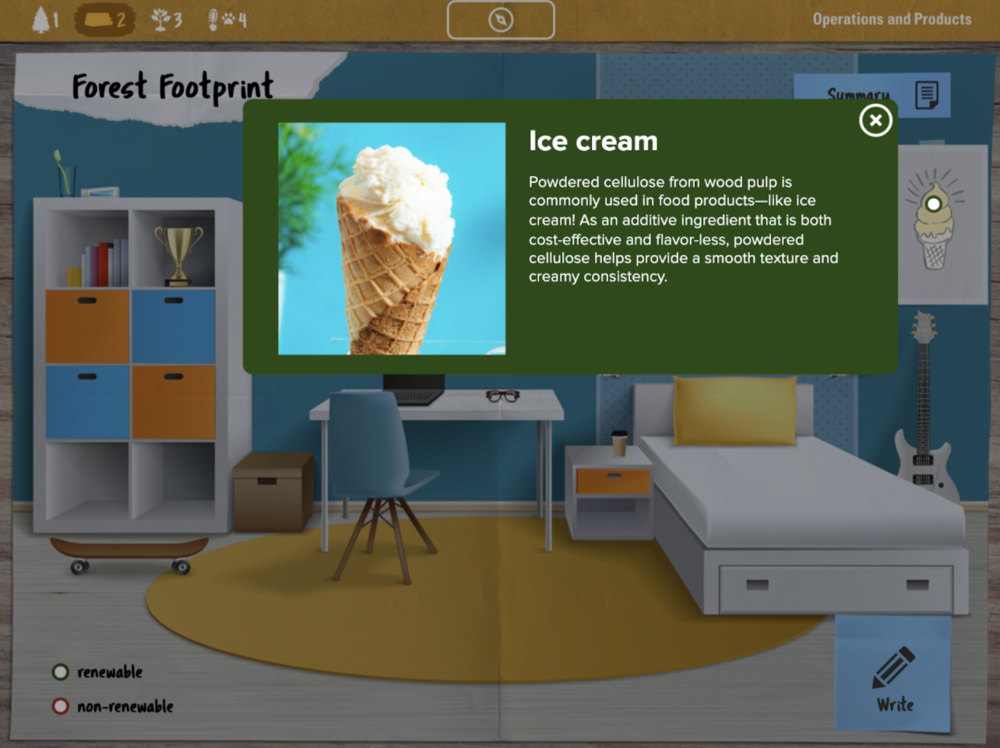 In the Operations and Products section, students learn about the economic impact of trees and explore the products and resources the forestry industry provides Georgia and beyond.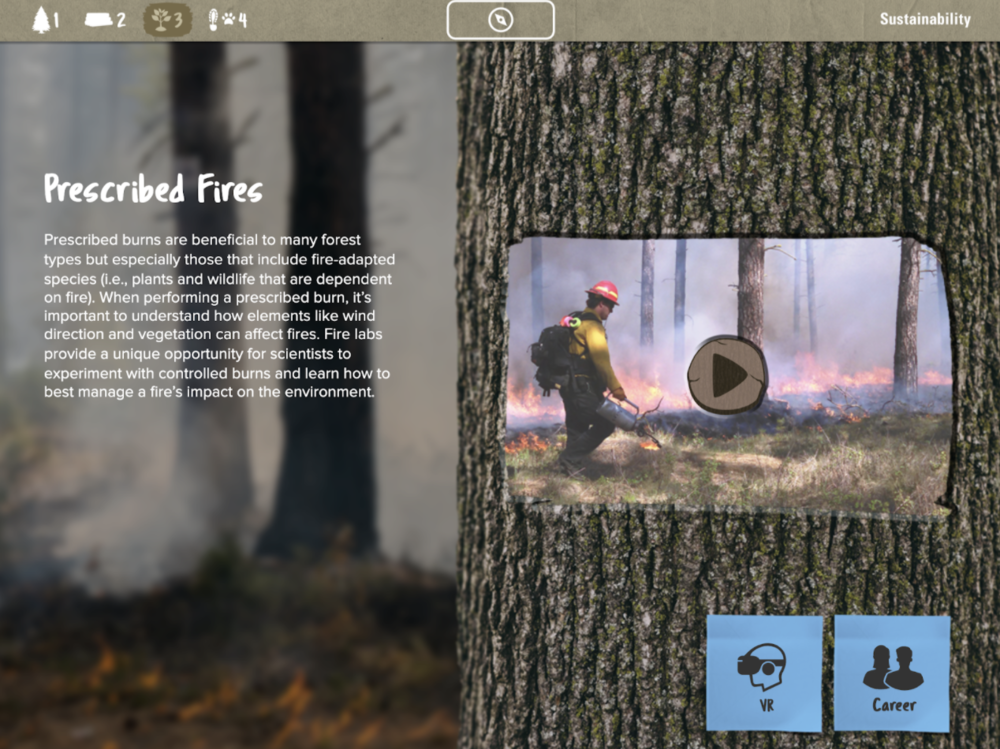 As students navigate the Sustainability section, they learn how sustainable forestry, prescribed fires, and urban forests all help sustain a healthy carbon cycle.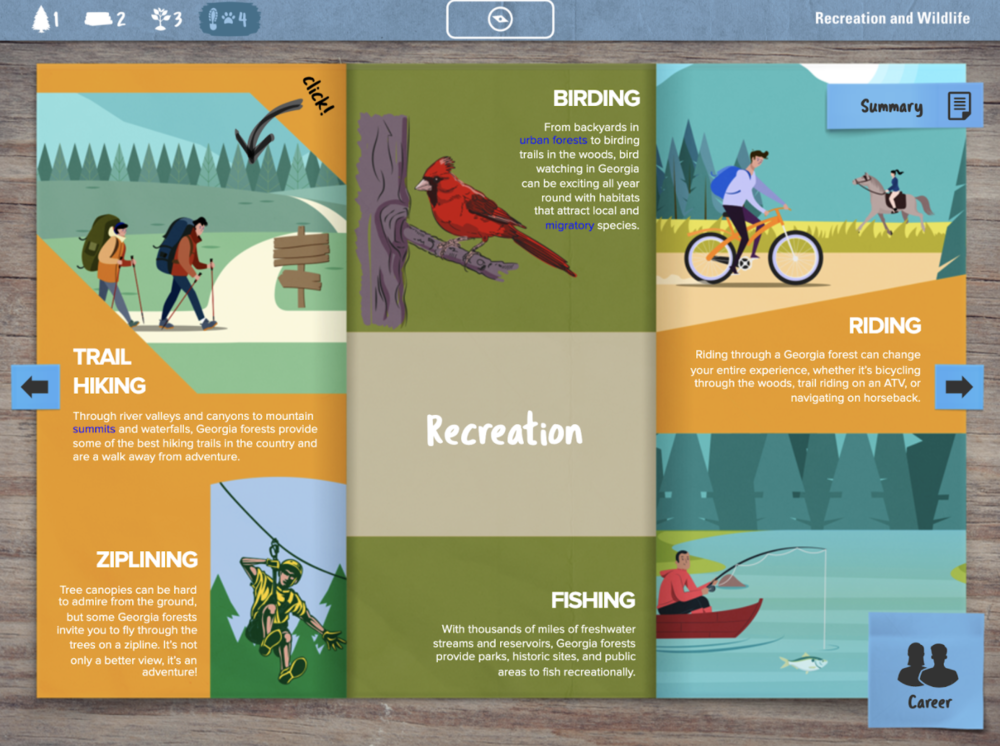 The final section, Recreation and Wildlife, offers a look at the variety of animals and activities that can be found in Georgia's forests.
"Georgia's working forests are serving as a solution to many of the state and nation's greatest challenges – sequestering carbon and cleaning our air, cleaning and cooling our drinking water resources, fostering critical wildlife habitat, supporting the rural economy, and providing innovative and sustainable alternatives to products consumed every day in countries around the world," said Andres Villegas, President and CEO of the Georgia Forestry Foundation. "This unique education resource provides engaging opportunities for every Georgia high school student to immerse themselves into forestry and learn about its significant impact on our everyday lives while also introducing them to the many careers involved in this natural resource sector."
Georgia Forests II is the third resource in GPB's Georgia Forests collection; other resources include Georgia Forests Virtual Field Trip I, an introduction to forestry designed for grades 3-6, and Make That Paper!, an online game designed to help high school students learn about the forestry industry and career employability skills. 
This virtual learning journey can be accessed by going to gpb.org/forests or by downloading the free GPB Education app on Apple's app store or Google Play. To experience the virtual reality component, download the free GPB Education VR/AR app or download the virtual reality experience in the Oculus store. 
Ready to explore Georgia's forests? Use this introductory video to learn more about the virtual learning journey. 
Bottom Content