Section Branding
Header Content
Downton Abbey Weekend At Sea Island Turns Into Fan, Cast/Crew Wrap Party
Primary Content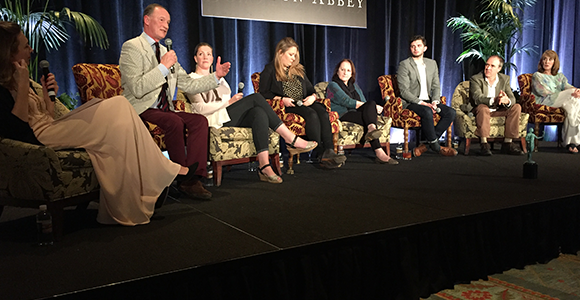 You and I have something in common with Downton Abbey historian Alastair Bruce: we didn't get to attend the show's wrap party last summer.
Bruce confessed at the Sea Island's Downton Abbey weekend earlier this month that he had to miss the series ending celebration at The Ivy to work his other job. You see, he's a commentator for Sky News, Britain's 24 hour news network and had to provide commentary for the 70th anniversary of VJ Day coverage.
"So I consider the Sea Island my wrap party!" exclaimed Bruce during the weekend's Friday night cast and crew panel.
I'm sure the fans who attended would agree with me that the event was our wrap party too!
We got to rub elbows with four stars: Phyllis Logan (Mrs. Hughes), Raquel Cassidy (Baxter), Michael Fox (Andy) and Kevin Doyle (Mr. Moseley) and also chat with executive producer Liz Trubridge, costume designer Anna Robbins (read our blog about her panel) and Jessica Fellowes, companion book author and niece to Julian Fellowes.
We enjoyed three panel discussions where cast, crew and historian shared what filming was like, how costumes are chosen and made and how history is kept accurate. After feasting on British dishes like fish and chips, we competed in a trivia contest where super fans showed off their knowledge.
The gang all here for https://t.co/wtSxfQhe8P Kevin Doyle shows off SAG Award. #DowntonAbbey @SeaIslandResort pic.twitter.com/icXnIidMfJ

— GPB (@mygpb) February 5, 2016
On the final night we attended a Downton ball where we wore our upstairs and downstairs finery.
The @DowntonAbbey Ball at @SeaIslandResort can begin now that Phyllis Logan & rjean_louis have arrived. pic.twitter.com/OT27mYX08J

— GPB (@mygpb) February 7, 2016
In my opinion, Friday night's panel was the highlight of the weekend. Bruce and company regaled us with behind the scenes stories. And he made my night by stopping me to take photos before heading back to England!
Thank you @AlastairBruce_ for these last photos. You made my #DowntonAbbey weekend! Be safe. pic.twitter.com/hMRM4mF9Pb

— Rosemary Jean-Louis (@rjean_louis) February 6, 2016


Here are some highlights and if you were there, share what you enjoyed most in the comments section below!
How The Success Of Downton Abbey Changed Alastair Bruce's Life
Bruce says he realized the drama was a big hit when he was interrupted while doing live commentary for the wedding of the Duke and Duchess of Cambridge by a text from a show producer. Though it was a national holiday, the Downton crew was still working.
"My mobile phone went off and it was a text message saying 'Should Isobel Crawley be wearing her gloves when she arrives home in the car?'"Bruce recalled.
"I typed back an answer of what it should be and at that point the Duke of Cambridge and Prince Harry (were coming out). I don't know if you know but the art of good commentary is silence so I was perfectly happy to say absolutely nothing as the car appeared until I finished sending the text."
But Bruce says his news producer was growing aggravated with the silence. Meanwhile Bruce was dealing with technical difficulty.
"I sent the text and it wouldn't go so I sent it again," he explained. 'Finally (it went through) and I said "His Royal Highness the Duke of Cambridge and Prince Harry make their way down the mile to Westminster Abbey.'
Lord Merton Became A Regular Because Of A Letter
Liz Trubridge shared that Douglas Reith who plays Lord Merton was only meant to appear in the one episode dinner scene where his son Larry Grey cuts down Tom Branson. But Reith became a series regular because of a piece of correspondence. He wrote to the show in character as Merton saying Lady Mary's godfather should be invited. The producers agreed and later Julian Fellowes developed him as a love interest for Isobel.
On What Phyllis Logan Thought About The Carson And Hughes Love Story
"I suppose I was slightly dubious because people seemed to be wanting this couple of post middle-aged people to get together." said Logan. "I thought, I wonder how that would change their relationship to have them being intimate and married and I thought it would change their dynamic together. But I don't think it did. And that's a tribute to Julians' writing."
Phyllis Logan's Hopes For Carson And Mrs. Hughes' Future
"As far as Carson and Mrs. Hughes, I (would like) to see them travel quite frankly," said Logan. "I'd like that to happen, even if it's around Yorkshire of course. I think she might decide that she wants to revisit her old haunts in Scotland."
"I do see them having a nice life together doing very gentle stuff because he always has the shakes!"
Secondary Content
Bottom Content