Section Branding
Header Content
Fans Rate Downton Abbey Season 4 With Thumbs up
Primary Content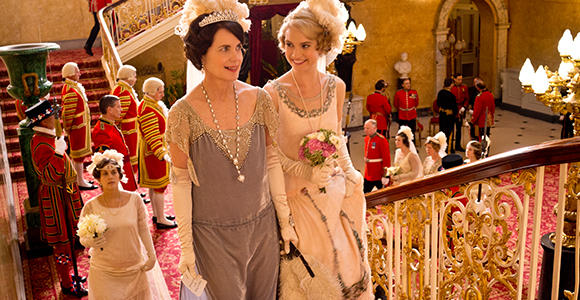 It has been nearly a month since season four of "Downton Abbey" ended. While many television critics gave the latest installment of "Downton Abbey" a thumbs down ("The Daily Beast" pronounced it a "ridiculous season"),fans gave it a positive rating.
The consensus is that Downton fans still care very deeply about their characters and were glad the main cast made it out of the season alive.
"I was disappointed with the soft ending but glad no one died," said live chat participant Yolanda Moore, about the season four finale that saw Mrs. Hughes and Mr. Carson walking hand in hand on the beach.
Others were just glad the season ended positively.
"I am glad it ended on (an) upbeat note," said live chat participant Atlholley.
Live chat participant Meimi concurred. "Lovely way to end the season. I like the focus on the servants this time."
I asked fans from the Google Plus Downton Abbey and Downton Abbey Fans communities about their take. Overall their reviews of season four were very generous. Here is what some members had to say.
"This was a season for falling even more in love with the characters" commented Leslie Jones. "I thought the writers did a good job of letting us get closer. I would like to have seen Bates commit the murder (if in fact he did), but I take satisfaction in knowing that Mary is on his side and that she burned the tickets."
Delta Haze says, "I liked seeing a more human side of Mary. The rape of Anna was obviously the low point for many in the house, but it seems now to have brought people closer. Carson and Hughes holding hands. I look forward to seeing more developments on that front! :)"
"It was such a transition year," points out David Schipper. "Death of Matthew had to be addressed and hang over Mary for a while. Hated the outfits and the hair styles. Loved Lady Rose and her wild new soul. It was a strange year for Edith and Anna, but you know life is like that and the show does well taking that on. Mary's Men love her but who wouldn't? Now the question is does she really love either of them? Pretty sure they won't add a 3rd suitor which is sad, I wanted the part!"
"I've seen lots of complaints (regarding) this season," says Jennifer Nanek. "It was good as always. Low point is obvious: Anna's assault. High points are Mary burning the ticket and beach scenes...esp Carson and Hughes holding hands."
Some members gave mixed reviews and agreed with the critics though.
"I hate to say it, but I miss Sybil, Matthew, William and even O'Brien," says live chat participant VPS.
"I enjoyed this season, but not as much as the previous seasons. I liked Lady Edith's storyline, and love Tom. I thought it was interesting that his comment spurred her to retrieve her daughter. However, I wish Tom claimed that the baby was a relation of his and he had to take care of her so she could be brought up in the nursery with Sybby and George. I can't see the pig farmer keeping his mouth shut and anticipate this plot line to be front and center next season." comments Sharon Gardner.
"It was good, but not as good as the other seasons," agrees Madeline Litty. "I love the new storyline with Mary and Edith's was good too I'm glad she finally got the spotlight for a little while. The only thing about the last episode that I didn't like was that it didn't end with a cliffhanger like all the other ones."
Secondary Content
Bottom Content