Section Branding
Header Content
Fans Endorse The Pig Guy as Lady Mary's Valentine
Primary Content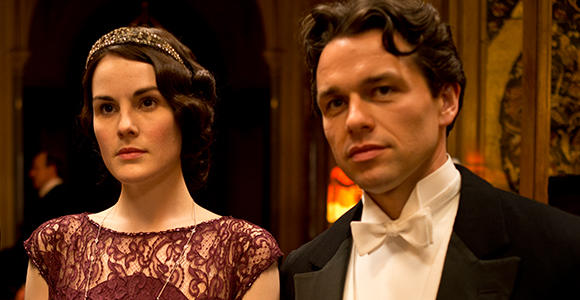 Cousin Matthew who?
Fans have fallen in love with Downton Abbey heartthrob Sir Charles Blake, played by classically trained actor/singer Julian Ovenden. After seeing him get down and dirty in the mud to save pigs, they have endorsed him as Lady Mary's Valentine.
In an informal poll conducted during a live chat with Ovenden this week, his character, Blake was voted the likeliest man for Lady Mary to find love with.
"I think Lady Mary found her match with you,"commented lola42. "I think you are a little bit of Matthew. You care about the little people not the (aristocrats). I like your character better than Matthew. (You're) down to earth - a good addition to the cast."
Another chatroom participant compared Lady Mary and Blake's relationship to classic fiery onscreen and offscreen couple Tracy and Hepburn.
"I thought that the most interesting way of playing him was to meet fire with fire," responded Blake regarding his snappy alter-ego.
Do You Think Sir Charles Blake is the Best Man for Lady Mary? Let me Know in the Comment Section.
Blake and Lady Mary didn't get along at all in his first appearance. Blake was sent by the government to research why large estates are failing. He sparred immediately with Lady Mary over his disapproval of how the aristocracy is still trying to maintain the status quo. But the unlikely pair saw each other's better sides in episode 6 when Blake jumped into the mud in his tuxedo to tend to some of Downton's ailing pigs and Lady Mary sank into the muck to help him.
That gesture endeared Blake to fans.
Ovenden revealed that the scene was indeed mucky and lots of showering was required afterward. But he had a good time acting it out. "It was a really fun scene to do as so much of Downton is quite physically restrained and rigid," he confessed. "To be playful and childlike was a real gift."
The actor was almost on "Downton Abbey" from the beginning. He had auditioned for a part on the first season. (He didn't reveal which character or what came of that audition.) But when he read the script he told his agent the "show would never work."
"I was SO wrong!"
Ovenden got another shot at the series and quite possibly had a hand in crafting his character. Producers asked him if he would be interested in playing the part of a character yet to be written."
"I met Michelle, who was lovely, and we discussed together with the producers, what kind of character would present the best dramatic options. All very (civilized) and gorgeous, frankly."
Playing Blake on Downton is not Ovenden's first foray in period dramas. MASTERPIECE fans may remember him as Foyle's son Andrew on the drama "Foyle's War" and as Val Dartie on "The Forsyte Saga." His day job is acting and singing on stage though.
In between shooting season five of Downton, he is performing at Carnegie Hall in New York on Valentine's Day.
Check out Ovenden's dazzling voice as he sings "Younger Than Springtime" at the BBC Proms
Secondary Content
Bottom Content