Section Branding
Header Content
Recap, Watch Video: Edith's Choice and Evil Returns
Primary Content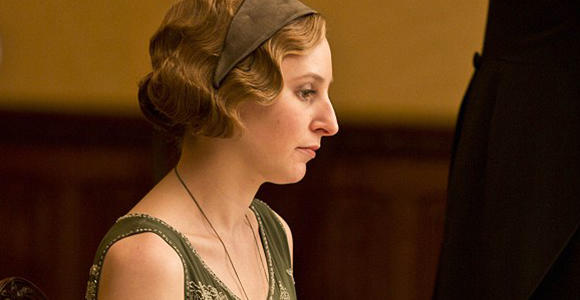 Episode six contained such a huge plot twist that those of us in the chat room emitted collective gasps of "Oh No!" "Oh Snap!" and "UGH!".
Spoiler Alert: If you haven't watched the episode, scroll past this mini recap and watch it to find out why we were so flabbergasted. If you have, proceed to the recap and relive what we watched.
Edith's Choice
Lady Edith confided in Aunt Rosamund that she is pregnant. But she sent shockwaves into the chat room and across Downton fandom by scheduling an appointment with a doctor to "get rid of it." Since abortions were illegal, unsafe and rare in the early twenties, her choice was startling. Aunt Rosamund was surprisingly compassionate and offered to go with her to the appointment. At the last moment, Lady Edith shocked us once more by changing her mind.
Too Many Suitors So Little Time
Sir Charles Blake continued to spar with Lady Mary over how she and the aristocracy manage their lands. They decided upon a tentative truce by taking a late stroll to visit Downton's pigs. What was supposed to be a short trip, turned into a late night session trying to save the animals as they were dehydrated and dying. Blake showed his tender side, getting into the mud in a tuxedo to nurse the pigs and Lady Mary demonstrated she is not above digging into the mud in a violet gown to help. The two gained a new respect for each other.
They returned to Downton where Lady Mary dazzled Blake with her cooking skills, by fixing him some scrambled eggs.
With pigs, mud and Blake still on her mind, Lady Mary's demeanor was tested by the arrival of her turned down suitor Lord Anthony Gillingham. Despite being engaged to Mabel Lane Fox, Gillingham's affection for Mary was as enthusiastic as ever. Gillingham and Blake knew each other from the first World War. They greeted each other warmly. But one could sense an underlying awkwardness since both were staying at Downton.
Evil Returns
Lord Gillingham's valet returned with him. Bates noticed Anna's discomfort when the Mr. Green slipped into the kitchen to join the staff. Mrs. Bates left as soon as she could. When the awful Mr. Green retired to his room, Mrs. Hughes confronted him. She revealed she knew about his assault on Anna and that he best beware not to try anything else otherwise he would face her wrath.
Who knew Mrs. Hughes had it in her? What do you think the head housekeeper should do next?
Episode 6 Part 1
WYSIWYG: EMBEDDED VIDEO
Episode 6 Part 2
WYSIWYG: EMBEDDED VIDEO
Episode 6 Part 3
WYSIWYG: EMBEDDED VIDEO
Episode 6 Part 4
WYSIWYG: EMBEDDED VIDEO
Secondary Content
Bottom Content