Section Branding
Header Content
Downton Abbey Cast Spill Beans on GMA
Primary Content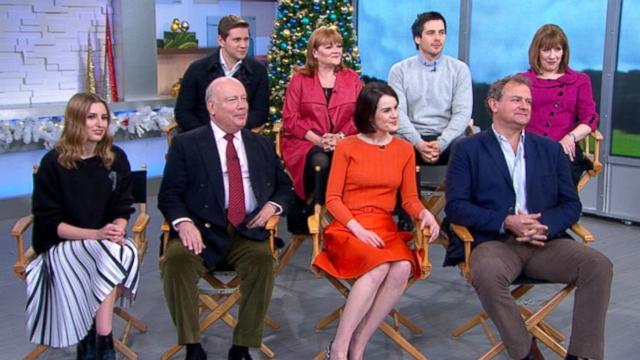 The Downton Abbey media blitz for season four has begun! Julian Fellowes and several members of the cast were on Good Morning America today hinting at what will happen this upcoming season. Unfortunately no major spoilers or shocking twists. (Darn!) But it was nice to see Michelle Dockery and company looking like regular people.
Yes they talked about Dan Stevens' departure again - it just never gets old. And apparently Downton friendships never die as Julian and the gang said they would hang out with cousin Matthew while they're in town.
Here are excerpts from the interview and scroll down to watch the full video below.
On the Intense Fan Reaction to Matthew's Death
"It was shocking." says Julian Fellowes. "I had letters saying I will not watch anything you have to do with again. And they didn't realize, in England, we only have three-year contracts. When people want to leave, they leave. And they can't just vanish. You can't send them up the chimney. They're still a member of the family. I'm afraid the grim reaper is the only answer."
On Lady Mary the Ice Queen Returneth
"Well, Mary very much reverts back to the kind of cold, icy side again," explains Michelle Dockery. "Inevitably because she's -- because of what she's going through. And it's something that I wasn't expecting."
On Missing Dan Stevens
"Missing him so much, we're going to have a drink with him tomorrow night," assures Julian Fellowes.
What do you think of the interview and the cast without their period make-up and clothes? Let me know!
Secondary Content
Bottom Content