Section Branding
Header Content
Thomas and the Handsome Footman: A Reason to Watch Episode 4 with Us
Primary Content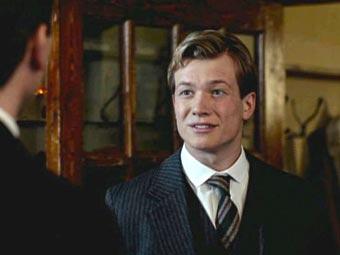 Downton Abbey may not be Shakespeare but it contains enough drama to inspire the bard to watch. (That comment is in response to Academy Award winning actor Jeremy Irons griping about a journalist comparing Downton to Shakespeare at a recent press conference. See what he said here.
The drama appears to be heightened on this Sunday's episode when Thomas seems to get too close to the new and very handsome footman, Jimmy.
"Mr. Barrow is too familiar all the time. I would like to tell him to keep his distance," he tells O'Brien in the promo below. See for yourselves - Thomas does take a hands on approach to showing the new cutey pie how to set a clock.
Mrs. Crawley decides to create a stir of her own by hiring Ethel who is now known by the rest of downstairs crew, particularly Mr. Carson, as "the prostitute." And what about Tom and Sybil? What lies ahead for them? Unfortunately this promo doesn't address that which is a major disappointment. We'll just have to find out together on Sunday at 9 p.m. during our watch party. Just sign into the chat box below the video player on this page and let the comments begin.
Watch Downton Abbey, Season 3: Episode 4 Preview on PBS. See more from Masterpiece.
Secondary Content
Bottom Content