Section Branding
Header Content
The secret source of FREE concerts near you: Colleges across Georgia
Primary Content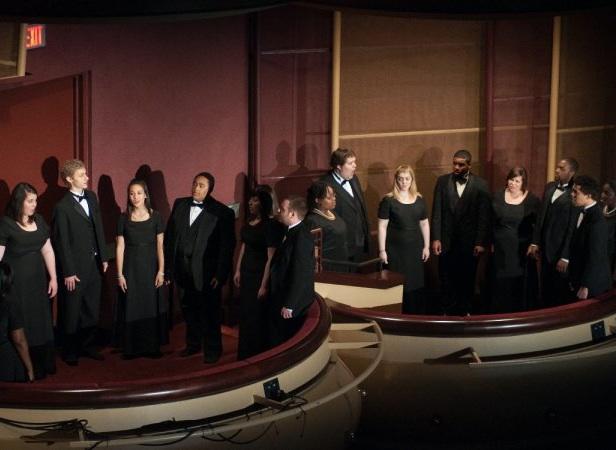 Sometimes we overlook what's right under our noses. Do you have any idea how much music-making goes on on Georgia's campuses? Fall through spring, colleges and universities across the state open hundreds of concerts to the community at no charge. Free music, people!
The free events typically include:
faculty recitals featuring the expert music professors in our midst,
student recitals by music majors performing either solo, with an accompanist or in small groups,
guest recitals by accomplished professionals from out of town, and
ensemble events: usually student choirs, orchestras and bands; maybe percussion ensembles, jazz bands, dance, musical theater, etc.
Quality may vary from program to program and of course from individual to individual, but the best can be truly excellent, and when it's free you always get your money's worth. (Some institutions present ticketed concerts of the nonfree sort as well. Here let's focus on the free and the nearly free.) Check out how many schools open their doors to the public. Many! To help you locate free events near you, I've grouped the schools geographically.
ATHENS
University of Georgia Hodgson School of Music.
ATLANTA & METRO AREA
Agnes Scott, Decatur. Kirk Concert Series inaugural 2012–13 season. Also student groups.
Clark Atlanta University, Atlanta. Upcoming events.
Clayton State University, Morrow. Music department recitals. (Not to be confused with the not-free Spivey Series.)
Emory University, Atlanta. Concerts and recitals, some free.
Georgia State University, Atlanta. School of Music.
Kennesaw State University, Kennesaw. School of Music concert program archive. To plan ahead choose "arts & culture" on this calendar.
Morehouse College, Atlanta. Music department.
Oglethorpe University, Atlanta. Skylight Gallery Concert Series (scroll down), $0-$10.
Spelman College, Atlanta. Music events.
AUGUSTA AREA
Augusta State University, Augusta. Music department events, $0-$5. (Not to be confused with the Maxwell Theatre Series.)
University of South Carolina, Aiken. Etherredge Center.
MACON & MIDDLE GEORGIA
Fort Valley State University, Fort Valley. Music program used to give recitals at the Austin Theater. Update?
Georgia College, Milledgeville. Calendar.
Mercer University, Macon. Townsend School of Music calendar. And McDuffie Center for Strings concerts, many free.
Wesleyan College, Macon. Arts & Entertainment.
NORTH GEORGIA
Brenau University, Gainesville. Arts calendar.
North Georgia College and State University, Dahlonega. Department of Performing Arts.
Piedmont College, Demorest. Music department.
Young Harris College, Young Harris. Music performances.
NORTHWEST GEORGIA
Berry College, Mount Berry, Rome. The Music Program's Facebook page mentions events. The Department of Fine Arts offers the Berry College Concert Series (2012–13 brochure) and more.
Dalton State College, Dalton. Concerts on Campus.
Reinhardt University, Waleska. School of Music ensemble concerts, faculty recitals and student recitals.
Shorter University, Rome. School of Fine & Performing Arts calendar. Also choral concerts.
University of Tennessee, Chattanooga. Music department.
SOUTH GEORGIA
Abraham Baldwin Agricultural College, Tifton. The 2012–13 First Tuesday Performance Series. Also the current music calendar.
Albany State University, Albany. Events calendar; under "category(s)," select College of Arts & Humanities. Or for $5–$15 there's the Fine Arts & Lyceum Performance Series.
Darton College, Albany. Events and performances.
Florida State University, Tallahassee. Concerts and events.
Georgia Southwestern State University, Americus. Music department. Student recitals are free. Chamber Series concerts cost nonstudents $5–$10.
South Georgia College, Douglas. Cultural events.
Valdosta State University, Valdosta. Music department.
SOUTHEAST GEORGIA
Armstrong Atlantic State University, Savannah. Fall 2012 calendar.
Charleston Southern University, Charleston. Events schedule; under "category" choose Arts/Entertainment.
Georgia Southern University, Statesboro. Department of Music.
WEST GEORGIA
Auburn University, Auburn. Music department events, $5–$10.
LaGrange College, LaGrange. Music department on Facebook.
University of West Georgia, Carrollton. Music department.
Columbus State University, Columbus. Select Schwob School of Music in the campus calendar under "category(s)."
With additions or corrections, please leave comments below.
Secondary Content
Bottom Content