Section Branding
Header Content
Atlanta History Center: Add Context To Confederate Monuments
Primary Content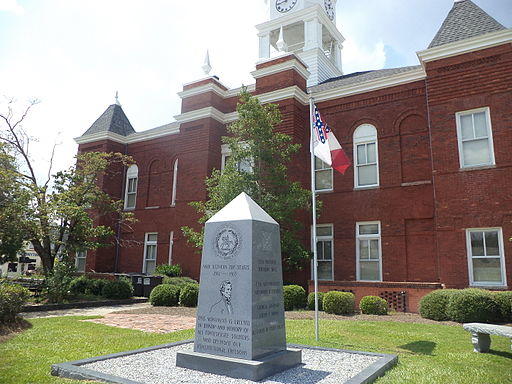 The Atlanta History Center is wading into Georgia's contentious debate about the future of its Confederate monuments and memorials.

The Center on Monday published a special web page "designed to include sample text that can be tailored for historical interpretation of specific monuments."

The goal, CEO Sheffield Hale tells me, is to remind today's observers that thousands of stone tributes to the Confederacy were erected a generation or two after the Civil War (1861 - 1865) in an effort to account for the tremendous loss of life suffered by white southern men. (Note: Scroll down to play my interview with Hale.)

This "Lost Cause" narrative that evolved in the decades following the war "stated that white Southern men defended their homes nobly against insurmountable odds. It insisted that slavery was not a cruel institution and - most importantly - that slavery was not a cause of the Civil War," according to the template provided by the Center.

That period, from 1870s through the 1920s, was also a time of Jim Crow laws enacted to maintain racial supremacy of whites. As the template reads, "celebrations of the Lost Cause often went hand-in-hand with campaigns to enact laws mandating Jim Crow segregation and disenfranchising African American voters..."

Hale said he wants to empower local communities to have a conversation about statues and monuments that became part of the local landscape during that time in history. Right now, decisions about removing Confederate monuments are being been made 'top down," said Hale.

Here's an excerpt from the organization's press release:

"The Atlanta History Center for several months has been developing a new approach that adds historic context, keeping the monuments in the places where they have become landmarks over many decades. Rather than remove statues, as is being proposed in a growing number of places across the South in addition to New Orleans, Atlanta History Center historians and staff are developing a customizable online marker template that local communities can follow and adapt to better interpret the statuary.

"By providing historical context we can begin seeing previously venerated monuments as artifacts with multiple stories and layers of interpretation," said Atlanta History Center President and CEO Sheffield Hale. "As artifacts they become objects of discussion, a way to learn about the Jim Crow era, the myth of the Lost Cause, and the political and social circumstances, such as the role of white supremacy, that created them."

"The banishment of Confederate monuments accomplishes little," said Hale.

Georgia's Civil War legacy has been a recent topic of debate among Georgia lawmakers.

Last week, State Representative Tommy Benton made controversial comments that the Civil War was not fought over slavery. He also characterized the KKK as a law and order organization.

Benton sponsored legislation this year that would amend Georgia's constitution to protect the carvings of Confederate leaders at Stone Mountain. He withdrew the legislation Monday, after fellow Republican and State Senator Josh McKoon took to the Senate floor to condemn Benton's comments. McKoon called the KKK domestic terrorists.

The below PDF is the template provided by the Atlanta History Center that it says would add context to monuments and statues erected in honor of the Confederacy.



Atlanta History Center President and CEO Sheffield Hale joined me in the studio to explain how the new signage template works. You can hear our conversation below.

Secondary Content
Bottom Content