Section Branding
Header Content
Radcliffe Bailey, artist whose work voiced dignity, joy and pain of ancestors, dies at 54
Primary Content
Renowned artist Radcliffe Bailey died Tuesday in Atlanta, according to Art News.
He was 54 years old.
His brother, Roy, confirmed the news, saying the artist had brain cancer.
Bailey's paintings, collages and assemblages bridged cultural history with the modern Black experience and became familiar sights to Atlanta locals and travelers alike.
His stalwart mural "Saints" was commissioned for Atlanta's Hartsfield-Jackson International Airport as part of the 1996 Summer Olympics and remains on display in Terminal E today.
Over the decades his work (including "En Route" and "EW/SN" from the High Museum's collection) followed the journey of Atlanta's rise and reconciliation with its past.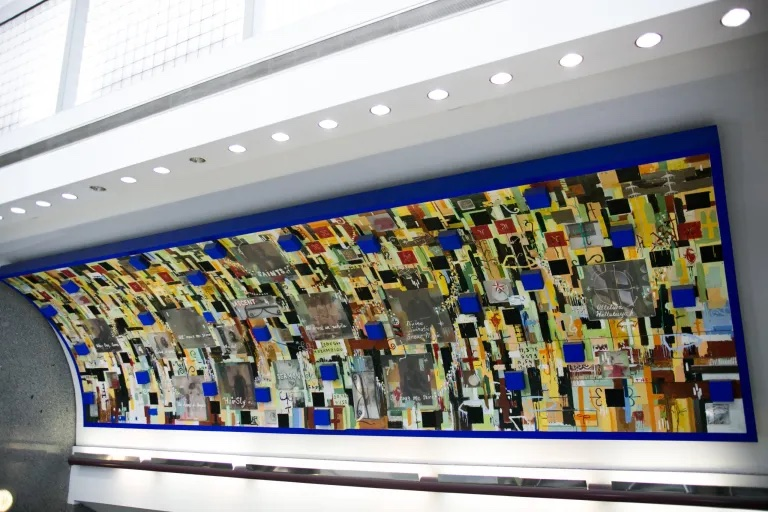 A prolific career
Bailey graduated from Benjamin E. Mays High School and finished at Atlanta College of Art in 1991, gaining regional fame with an exhibition of works he created as a student there. A member of Generation X, his work was influenced by the music, pop culture and graffiti of the 1970s and 1980s, but with a reverence for history.
By 1994, The Atlanta Journal-Constitution proclaimed him the city's "most promising young artist," walking readers through an exhibition at Fay Gold Gallery in Buckhead, where Bailey held his own in a space that regularly showcased the work of art stars like Cars Oldenburg, Andy Warhol, Jean-Michel Basquiat and Keith Haring.
Religion, music, slavery, the American Civil War and the civil rights movement of the 1960s and even baseball figured into Bailey's mix — always with a nod to those who came before. 
"The central element of all the work in this show ... is a photograph from a family album," visual arts critic Catherine Fox wrote of Bailey's 1994 presentation at Fay Gold. "Staring soberly at the viewer, these unknown relatives are ... symbols of family in both the specific and larger sense."
Bailey taught at the University of Georgia's Lamar Dodd School of Art from 2001 to 2006.
In 2011, the High Museum mounted "Radcliffe Bailey: Memory as Medicine," a show of 60 works assembled like a comprehensive retrospective, despite Bailey being only 42 years old at the time. 
An entire room at the High was devoted to Bailey's large installation, "Windward Coast," a deconstructed diorama of wooden key arms from 400 pianos piled into waves like matchsticks or planks from slave ships, demonstrating both the redeeming power of music and the devastation endured by ancestors.
Bailey told The New York Times how important the solo 2011 show was to him, because he had frequented the High Museum often as a child. He had a fond memory of meeting artist Jacob Lawrence there, a moment which impacted his future work.
He also said living in Atlanta challenged him to persevere. 
"Sherman burnt down the city," he said. "They say when you want to get rid of something, you burn it, but you don't really get rid of it. I can look out my back door and see a lot."
Bailey also gave a TEDx talk that year about his artistic process for "creating art that heals the lost kinship between people."
In 2014, Bailey curated and participated in "Art Against the Wall, An Artist Response to Civil Wars" at Atlanta's Gallery 72.
"I think the city has many stories up under the layers of the asphalt…under the cobble," he told GPB during the exhibition. "Throughout the woods. Throughout the areas where these things have happened in the past. We go from civil war to civil rights. When I think about the city, the city is for forever changing and growing. And I think some of that past and mistakes may have burnt. And the histories behind them and their resurrecting. All of that I find very interesting."
In 2017, Bailey was one of 54 artists to create artwork for Atlanta's Mercedes-Benz Stadium, installing the 84-foot "Conduits of Contact" along the walls of its 100-level concourse. That work featured images of sports teams from Atlanta's historically Black colleges and universities. Bailey told Atlanta Magazine the artwork would be seen by many more people in a stadium than in a museum, thus becoming a "marker to note my existence."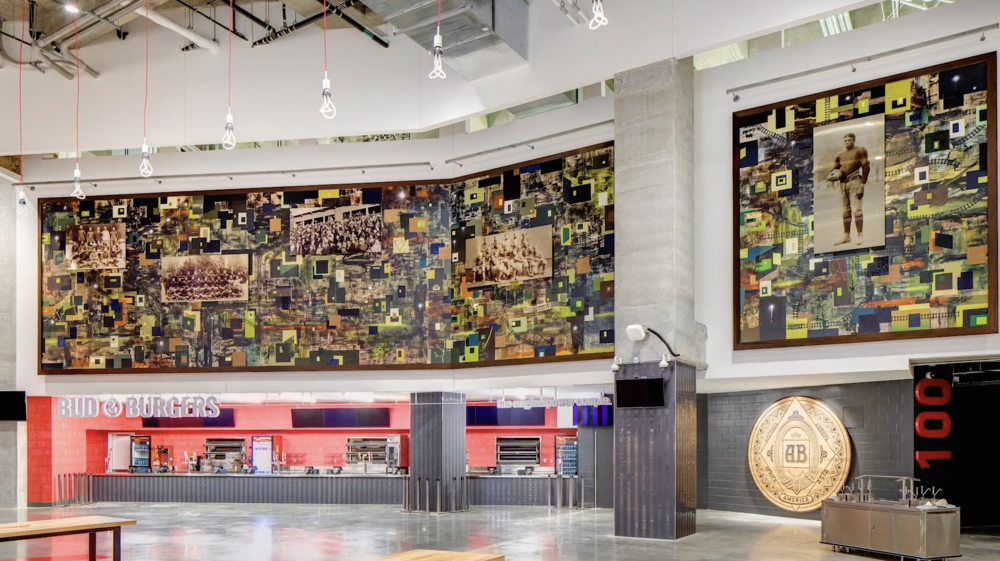 In 2021, Bailey appeared in the HBO documentary, Black Art: In the Absence of Light.
His work continues to be shown in museums, galleries and private collections around the world.
He was represented by Jack Shainman Gallery, among others.
A city remembers its artist 
Following news of his death, there was an outpouring of gratitude and sadness on social media. Speech, leader of Atlanta hip-hop group Arrested Development ,wrote that Bailey was "ATL's Romare Bearden or Jean-Michel Basquiat."
Atlanta City Council President Doug Shipman said he was "heartbroken" over the news of Bailey's passing.
And in a statement Wednesday afternoon, Atlanta Mayor Andre Dickens wrote, "Our hearts are heavy with the loss of Atlanta's own Radcliffe Bailey."
"For decades, Radcliffe has shaped Atlanta's cultural landscape through his own unique, creative genius," the mayor posted. "While often bringing the intersectionality of ancestry, race and art to the forefront of a discussion, his talent was both personal and accessible to our community."
"I had the privilege of visiting with him Friday to express Atlanta's gratitude for all his contributions to our city," Dickens continued. "Our Administration has been working with his family and team on a fitting way to honor his incredible life and legacy, and we look forward to sharing those details in the near future. My thoughts are with his family and all who knew and loved him."
This is a developing story.
Secondary Content
Bottom Content