Section Branding
Header Content
New study suggests antidepressants may improve long COVID symptoms. Georgia long-haulers are hopeful
Primary Content
LISTEN: A study published this month in the journal Cell shows depleted serotonin levels could explain memory problems, brain fog and depression associated with long haul COVID. GPB's Ellen Eldridge reports.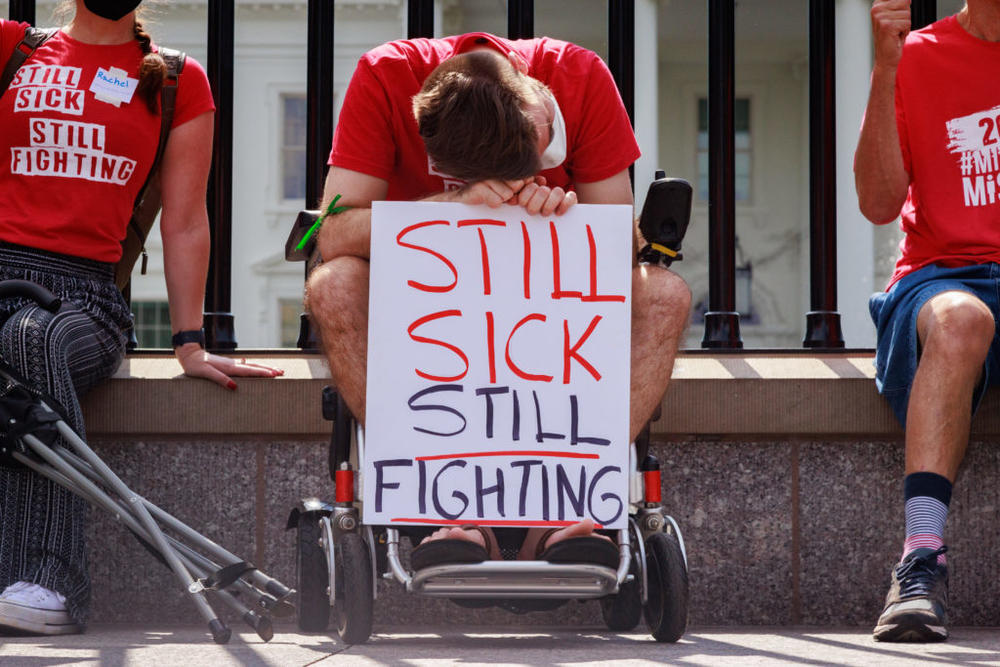 A study published this month in the journal Cell shows depleted serotonin levels could explain memory problems, brain fog and depression associated with long-haul COVID.
Many otherwise healthy people continue to say fatigue, autoimmune disorders, and chronic inflammation persist for months and even years after acute COVID-19 infection. 
Sarah Gerwig, a law professor at Mercer University, said she believes she may have contracted her March 2020 COVID infection while visiting a client inside a South Georgia prison.
"[A warden] ended up dying of COVID right after I was there," Gerwig said. "And within a week I was desperately ill, like, sicker than I've ever been."
Before widespread mask use and vaccines, several large funeral gatherings in the Albany area made the city one of the nation's early COVID hotspots.
To understand how the Cell study's findings about serotonin levels might relate to long-haulers in Georgia, it helps to understand the history of COVID in the state.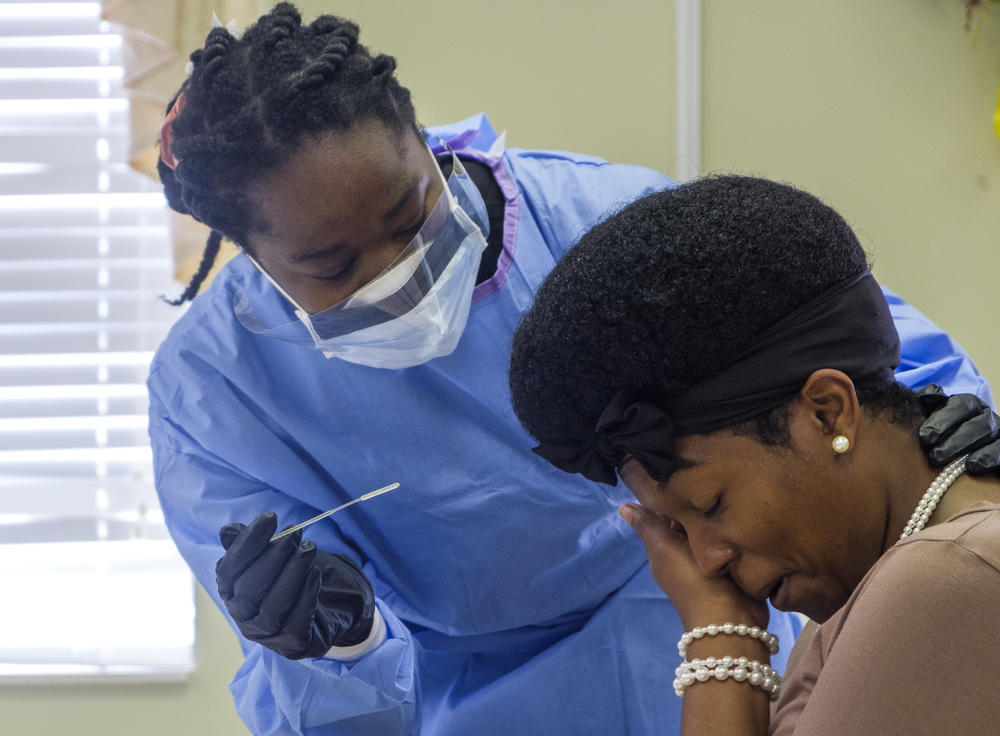 MORE:
Early timeline of COVID-19 in Georgia
February 2020: The World Health Organization declared a global public health emergency concerning a novel coronavirus after documenting more than 80,000 cases globally.
At that time, 3,000 people had died from complications related to a virus that appeared to have started in Wuhan, China. COVID-19 became the official name for the disease.
"COVI" comes from coronavirus. The "D" stands for disease, and the 19 represents 2019, the year the SARS-CoV-2 virus was first identified, in December.
Not long after, state health officials quarantined nearly 200 Georgia residents in their homes after they returned from recent trips to China where they could have been exposed.
When cases of coronavirus appeared on the West Coast, Gov. Brian Kemp addressed concerns in Georgia. 
There were not yet any documented cases of coronavirus in Georgia, but Centers for Disease Control and Prevention Director Dr. Nancy Messonnier told media outlets in a phone call, "It is now not a question of 'if' but 'when' the virus will spread across the United States."
March 2020: The Georgia Department of Public Health reported six presumptive and five confirmed positive cases of COVID-19 that were pending confirmatory testing by the CDC on March 8, 2020.
Kemp announced a public health emergency the following week, and he announced the creation of coronavirus task force subcommittees. Georgia Emergency Management and Homeland Security Director Homer Bryson was authorized in mid March to call as many as 2,000 Georgia National Guard troops to active duty to address novel coronavirus and COVID-19.
The governor shut down the schools March 16 and ordered a two-week quarantine as part of a national effort to slow the spread of SARS-CoV-2.
By the end of March, the five-county Albany metro area had logged 628 infections, and people in Southwest Georgia were dying at one of the highest rates in the nation.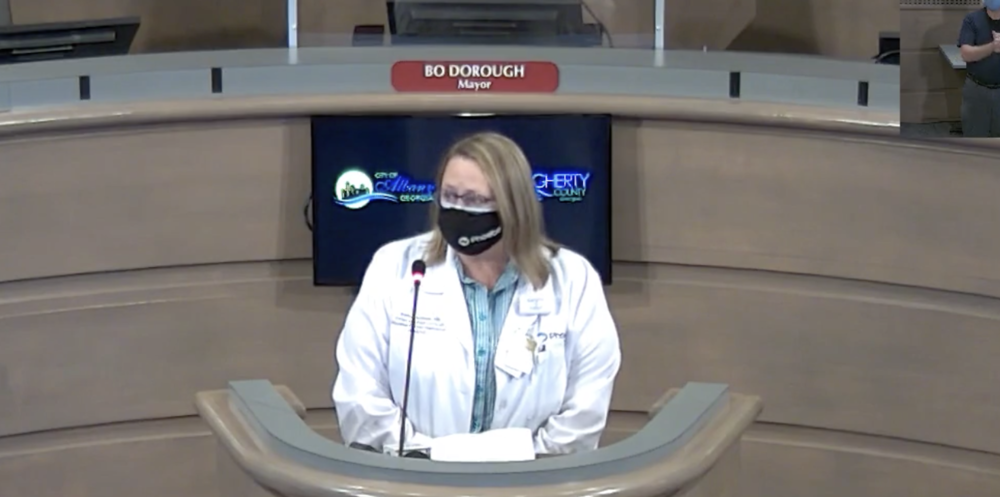 The first people to survive COVID rarely had access to tests
Tests to identify SARS-CoV-2 were so rare during the spring of 2020 that even some local physicians couldn't confirm their symptoms to alert patients. 
By fall 2020, people believed to have fought off COVID before a test could confirm infection were still fighting fatigue. These so-called long haulers reported increases in anxiety, depression and troubles adjusting to the changes and stresses of life during an ongoing pandemic.
Researchers at the University of Pennsylvania suggest in their study, published in October 2023, that remnants of the SARS-CoV-2 virus lingering in the gut reduce serotonin, which has long been associated with depression.
Serotonin also plays a role in short-term memory, and researchers proposed that depleted serotonin could lead to memory problems and other cognitive issues reported by many people with long COVID.
Participants in other long COVID studies, who had milder symptoms, did not always show depleted serotonin levels, which suggests people with more severe illness are more at risk of long COVID.
"That'll do a number on your mental health," Sarah Gerwig said. "Feeling like a healthy person and, overnight, going to being a 42-year-old invalid. Essentially, like, it sucks."
That is in line with Gerwig's experience.
"I went down to Calhoun State Prison, met with a client," Gerwig said. "But this is when everyone was saying, 'No, no, you don't need masks. What you need is gloves. And to wash your hands and hand sanitizer is really important.' So there's hand sanitizer at the prison, but nobody's wearing masks."
Her work in the legal system had previously exposed her to illnesses, which Gerwig thinks worsened her disease.
"I got walking pneumonia from death row in like 2015," she said. "I had developed some asthma, had some lung scarring from that."
In addition to previously existing illnesses like asthma, people exposed to high viral loads seemed more likely to suffer long COVID, Gerwig said.
She thinks so many doctors and nurses got sick and died because they were treating the most critical patients.
"This is my this is my own theory, after reading an awful lot about it," she said. "If I was in direct contact with someone who was so sick that he later passed away, I mean, very soon after our visit, that viral load must have been very high."
She said she continues to this day to struggle with the effects of her infection.
A connection between mental health and long COVID
Gerwig said her acute illness and lingering symptoms forced her to step back from work. 
"That'll do a number on your mental health," she said. "Feeling like a healthy person and, overnight, going to being a 42-year-old invalid. Essentially, like, it sucks."
In extreme cases, people living with long COVID have and continue to be at risk of homelessness.
Amanda Finley, who is the founder of a Facebook group for people living with symptoms of long haul COVID, contracted the disease early in the pandemic, lost work and struggled with affordable housing.
Finley moved into a tent in a state park for two years. She told NPR in Kansas City in 2021 that there is no paid time off with gig work.  
"If you can't work, you lose your home," she said.
Last year, she said she found a new place to live. 
"I finally got into housing in May 2022, and spent a lot of time in bed for six months," she said.
Long-lasting symptoms include extreme fatigue and memory problems often referred to as "brain fog."
"COVID trashes your immune system," Finley said.
She feels better now, but members continue to reach out to Finley via their Facebook group to support each other, she said, and share advice and resources, especially for those struggling with their mental health. 
"We lost another group member in August 2022," Finley said. "Suicide."
Finley rebooted a support line that she had started in summer 2021 following that death in August 2022.
Finley expanded the call/text service, but couldn't do much with it at the time.
"It's called the Brooke Line, after Brooke Hurley," she said.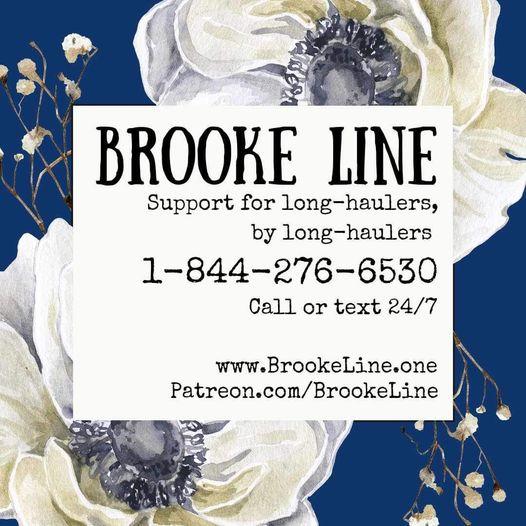 The line is answered by people living with long COVID, and anyone in the United States and Canada can call or text 24/7.
In 2022, American Foundation for Suicide Prevention recorded suicide as the third leading cause of death for 10- to 34-year-olds in Georgia, just a year after the CDC  recorded 1,676 suicide deaths for the state.
For people with existing physical and mental health concerns, COVID often worsens symptoms. 
Gwen Bishop is an autistic and disabled person who is at serious risk of losing her place to live, Finley said.
"She's starting a plant business essentially from bed," Finley said. "And she's been working on creating a nonprofit to establish a long COVID community, as in a physical community where we could go and live in a safe environment taking precautions, and having access to services. She's bed-bound often, but she just keeps going between crashes."
Bishop said she got COVID on Jan. 8, 2022, from her boyfriend's roommate.
"We had no idea outdoor transmission was a thing," Bishop said. "I thought I was losing my mind and dying. I lost the ability to visualize things in my head; I couldn't think or function."
She said COVID destroyed her life in every way; over the next year and a half, she lost her job, savings and family.
A friend of hers wrecked her car.
"It's like a bomb went off in my body and in my life," Bishop said.
More study is needed to understand mechanism of long COVID disease
The study linking serotonin to long COVID was not large, so further research, like that of Dr. Angela Reiersen, is needed. 
She is currently recruiting for a randomized controlled trial of fluvoxamine, a selective serotonin reuptake inhibitor (SSRI), versus placebo for long COVID.
"We are specifically trying to recruit people who have those brain fog types of symptoms like memory and concentration difficulties," Reiersen said.
The reason people were having respiratory deterioration and needing to go in the hospital was not directly because of the virus, Reiersen said, because severe COVID disease usually appeared about two weeks post exposure. By then, the immune system would have killed off the majority of the virus, she said, but, instead, it seemed that people were having severe and prolonged inflammatory response that was damaging organs, causing breathing difficulties, and increasing the risk of prolonged symptoms.
"I remembered that study with the mice and I thought, 'Well, maybe we could use Fluvoxamine to try to prevent that excessive inflammation or try to dampen it down once it starts,'" Reiersen said. "And that this might be helpful in treating COVID."
Fluvoxamine is an SSRI that decreases the amount of cytokines produced in response to an infection or inflammatory trigger, she said. Fluvoxamine and other SSRI drugs can inhibit platelet activity.
"One of the things about platelets is they can't make their own serotonin," Reiersen said. "They have to pick it up from their environment. And the selective serotonin reuptake inhibitors block the transporter that brings serotonin inside of cells. So they they actually keep the platelets from storing up serotonin."
Reiersen's study is expected to finish recruiting by 2024, and follow participants for 22 months.
While COVID long-haulers wait for relief, new studies remain the best paths to finding answers.
Secondary Content
Bottom Content