Section Branding
Header Content
Idalia is coming. Here's how the storm might impact Georgia
Primary Content
Tropical Storm Idalia is currently forecast to make landfall as a Category 3 hurricane along the Florida Big Bend on Wednesday morning, Aug. 30, 2023. 
The storm that is moving across the Gulf of Mexico is expect to weaken to a Category 1 hurricane as the center moves into far Southeast Georgia later on Wednesday.
According to the National Weather Service, storm force winds will begin to move into South Georgia around mid-morning Wednesday. Winds and heavy rainfall will increase throughout the morning and continue through Wednesday evening. Tropical storm force winds (40+ mph) are expected across southeastern Georgia and hurricane force wind gusts (75+ mph) will be possible in extreme southern Georgia, as well as along the entire immediate coastline late Wednesday morning through the afternoon.
Areas of flash and urban flooding, some of which may be locally significant, are expected across portions of the west coast of Florida, the Florida Panhandle, and southern Georgia from Tuesday into Wednesday, spreading into portions of the eastern Carolinas from Wednesday into Thursday.
Gov. Brian Kemp today announced that he has directed the Georgia Emergency Management and Homeland Security Agency (GEMA/HS) to activate the State Operations Center (SOC) to monitor and prepare for any impact caused by Tropical Storm Idalia. Partners from all relevant state response agencies will closely monitor the storm.
"Thanks to our response partners on both the state and local levels, Georgia will be prepared for whatever Idalia will bring," Kemp said. "Rest assured, though the system will likely weaken before crossing our border, we're not taking anything for granted. As the week progresses, I will work closely with GEMA/HS, the weather service, public safety organizations, and others to ensure we leave nothing to chance."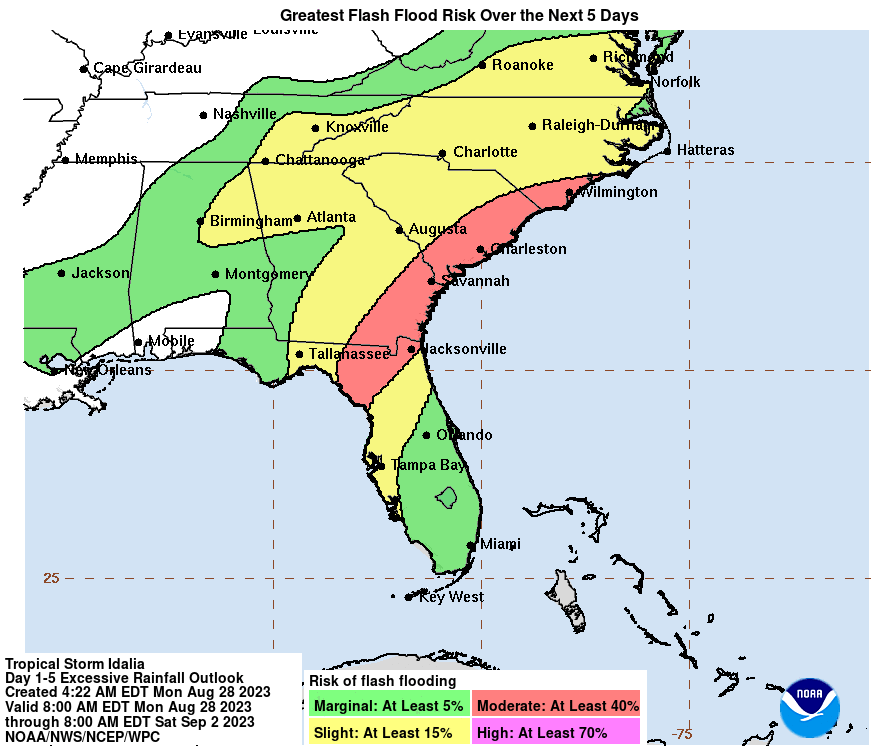 Hurricanes are among nature's most powerful and destructive phenomena, according to the NWS. By knowing what actions to take before the hurricane season begins, when a hurricane approaches, and when the storm is in your area, as well as what to do after a hurricane leaves your area, you can increase your chance of survival. Brush up on hurricane safety before any storm arrives and remember that hazards such as storm surge, flooding, winds, tornadoes and dangerous waves are among the hurricane effects that cause storm-related deaths in the United States.
Secondary Content
Bottom Content