Section Branding
Header Content
Analysis: Georgia's the No. 2 state for green tech projects since Inflation Reduction Act's passage
Primary Content
LISTEN: An advocacy group for clean power found Georgia to be a leading beneficiary of the IRA's financial incentives. GPB's Benjamin Payne reports.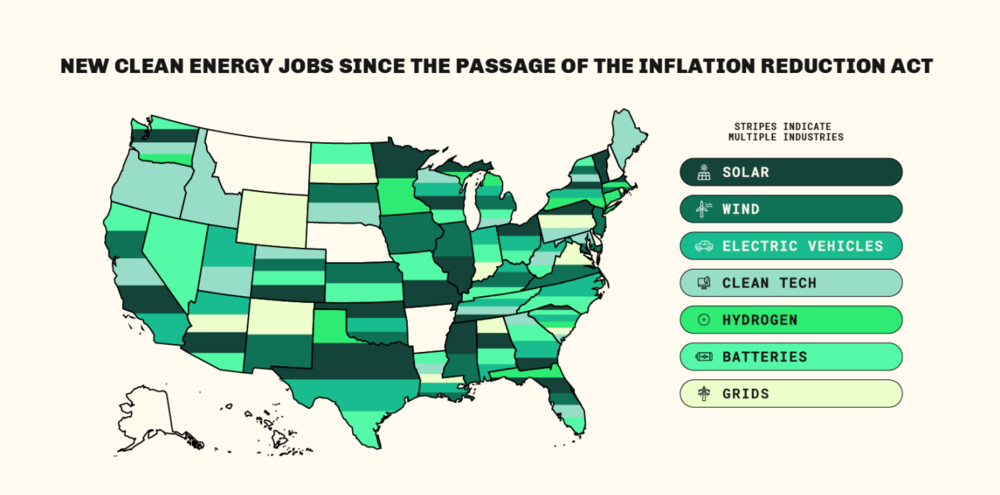 Georgia ranked as the second-highest state in the U.S. for new private-sector clean energy project announcements since passage of the incentive-heavy Inflation Reduction Act in August 2022, according to a new report by advocacy group Climate Power.
Released ahead of the law's one-year anniversary, the analysis identified 22 such projects linked to 16,678 expected jobs — second only to Michigan's 24 projects and Kansas's 20,600 jobs.
"The Inflation Reduction Act is uplifting the middle class here in Georgia," Savannah Mayor Van Johnson said at a media briefing hosted by Climate Power, where he commended the law's green energy investments for helping spur nearby development, including Hyundai's future electric vehicle plant in Bryan County and a related EV parts supplier in Chatham County.
"We can't be the best place in the country in which to do business, as our governor often likes to say, but at the end of the day not be the place that is harnessing the green energy opportunities that [the IRA] provides," Johnson said.
The Democrat was taking an apparent swipe at Gov. Brian Kemp for the Republican's criticism of the law, which Kemp recently said has had little to no bearing on the rapid expansion of EV and battery manufacturing in Georgia.
"It would be a travesty," Johnson added, "if we allowed MAGA Republicans and fossil fuel executives to destroy good-paying jobs and cause further harm to our environment. And in Savannah, our secret sauce is our environment."
In addition to the legislation's effect on EV manufacturing — which remains unclear, as its tax breaks currently bar overseas production — the new report highlights advancements in Georgia's solar industry, including a new Qcells supplier facility in Bartow County.
It is there that Northwest Georgia's solidly red 11th Congressional District has seen more than $7.4 billion in clean energy investments, which, according to Climate Power, ranks as the fifth-highest amount among all 435 U.S. House districts.
Republican-held districts throughout the country accounted for the majority of new clean energy projects and jobs since the IRA's passage: The report found that companies announced 151 projects there, driving $220 billion in investments and 95,866 jobs; by comparison, Democratic-held districts saw 95 projects, $38 billion in investments and 64,418 jobs.
Secondary Content
Bottom Content