Section Branding
Header Content
Macon had Georgia's worst air quality last week, thanks to Canadian wildfires, 'heat dome'
Primary Content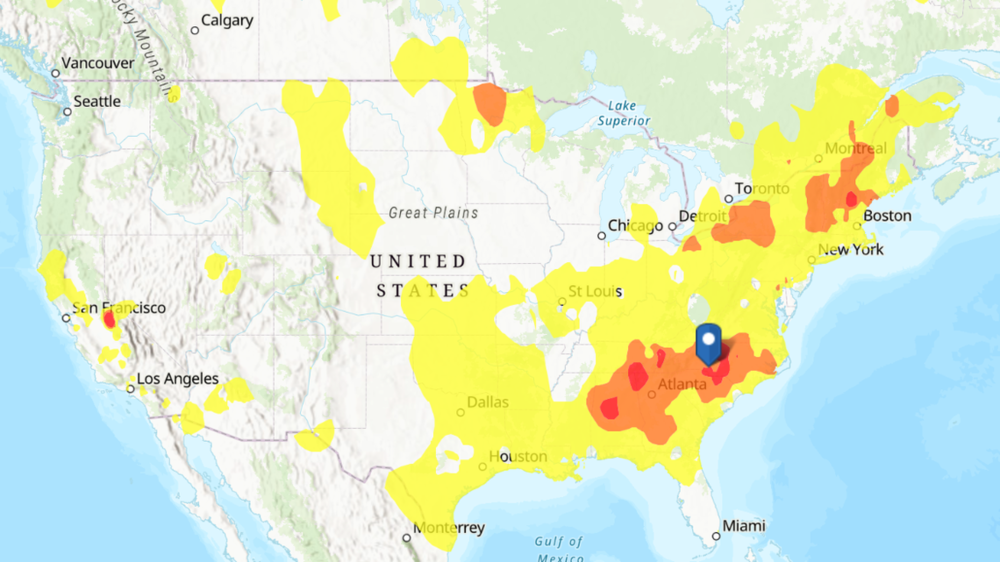 Smoke from a record-setting season of Canadian wildfires has floated across the United States all summer, and last week, Georgia experienced the consequences.
For a three-day period, air quality monitors across the state recorded dangerously elevated pollution levels — and Georgians experienced the consequences, from respiratory difficulties to hazy sunsets.
On July 18, the peak of the smoke event in Georgia, Macon had the state's worst air quality, with a 24-hour average of 64 micrograms of particulate matter per cubic meter, said Eleanor Partington, a service climatologist at the Georgia Environmental Protection Division.
The EPA considers amounts of particulate matter above 12 micrograms per cubic meter to be dangerous to human health.
Tuesday's pollution wasn't limited to Macon. 
"We had 18 of our air monitoring sites record an exceedance in air quality" on that day, rendering the air outside "unhealthy for sensitive groups" across the state, Partington said.
It was Georgia's worst smoke event in at least five years, Partington told the Telegraph.
The health effects are already apparent, according to Stanley Fineman, a Marietta allergist.
At his clinic, Atlanta Allergy & Asthma, "we've seen more patients who had a flareup of their asthma the last several days, correlating with the change in the atmosphere with the smoke coming in from Canada," Fineman said.
Asthma patients are particularly sensitive to increased particulate matter. 
"They've had more of their symptoms of cough and shortness of breath with wheezing," Fineman said. "We've had to give them extra treatment to get them through."
What caused the smoke to blanket Georgia?
In recent weeks, much of the South has been smothered by a 'heat dome' — a weather phenomenon in which heat is trapped in place by high pressure.
"The heat dome was centered to the west of us, over Texas, and that caused winds to run down from the northwest," Partington said.
The northwest wind acted "like a highway that the particle pollution could travel through" alongside the eastern edge of the heat dome from Canada directly to Georgia, Partington said.
Compounding matters, the high-pressure system responsible for the heat dome also trapped the particulate matter in Georgia for several days.
"High pressure systems cause limited air flow; there's not a lot of mixing in the atmosphere, and so that means that the pollution can't really escape," Partington said.
High temperatures were responsible both for the fires in Canada and for the weather system that propelled them to Georgia — and they are expected to rise further due to global warming, which is caused by humans releasing greenhouse gases like carbon dioxide into the atmosphere.
The wildfire smoke has compounded issues that climate change already presents for Georgia residents who suffer from asthma and allergies.
"We've seen that the pollen counts have been higher and the seasons are longer because of the heat; the general warming trend in the climate has affected that and affected our patients," Fineman said.
Even under normal conditions, this would be a bad time of year for air quality.
"In Georgia particularly, we usually see higher ozone and pollution in general in late August," Fineman said. "It seems to go up with the heat. Now, the heat has been so bad, the other pollutants are increasing too, plus you've got the particulate matter from the smoke — so it's kind of a double whammy."
How to monitor air quality
Last week's smoke event has dissipated for now — but particularly if you suffer from asthma or have other sensitivities to air pollution, or if you work outdoors, it may be helpful to keep track of the air quality in your area.
The Environmental Protection Division has forecasted air quality daily in collaboration with Georgia Tech since 1995.
You can see the air quality forecast, as well as the current status at your location, at AirGeorgia.org.
The website includes specific forecasts for the Macon, Columbus, and Atlanta regions. Detailed reports and historical data for locations across the country are also available at AirNow.gov.
Air quality reports are color-coded according to the Air Quality Index, a national standard.
"If it's orange and you have asthma, you might want to just throw on a mask. And if it's red, that means that it's unhealthy for everyone, regardless if you have asthma or not," Partington said.
This story comes to GPB through a reporting partnership with The Telegraph.
Secondary Content
Bottom Content