Section Branding
Header Content
Dialing 988 for mental health crisis reaches its first year. Here's why you may not have heard
Primary Content
LISTEN: This month, the nation's 988 mental health help line turned a year old. But Georgia is only now promoting it. Why? Because when it comes to reaching those experiencing a mental health crisis, 988 may work too well. GPB's Ellen Eldridge explains.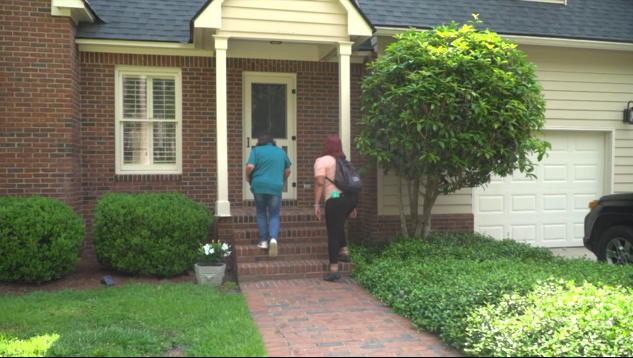 When someone starts choking in a restaurant, people grab their phones and call 911. They enter the same three-digit number when their kitchen catches fire or someone tries to break in.
We all know 911 can save a life in an emergency, but, now, so can 988: the easy-to-remember number for the National Suicide and Crisis Lifeline. 
Anyone anywhere in the United States experiencing a mental health crisis can call 988 and talk to a trained mental health counselor. If necessary, someone can be dispatched to help in person. 
The Georgia Department of Behavioral Health and Developmental Disabilities led the state's rollout of 988. 
DBHDD's Anna Bourque spoke at National Alliance on Mental Illness conference in Atlanta and told attendees the hotline rollout last year made her nervous because call volume was expected to double.
"Now, they stepped back last year and said, 'Wait, wait, wait, we're not going to advertise. We're not going to advertise. Because if we give that volume across all states, many states will really fail.'" Bourque said, adding that she wasn't worried because the infrastructure was not the problem. The national 10-digit national suicide hotline was already connected to the state's 24-hour crisis and access line — or GCAL. 
"Our problem is workforce shortage," Bourque said. "Those [jobs] are very hard to staff and maintain."
It's a problem nationwide. In the first year, 5 million people across the country reached out to 988. Even without promoting it, the numbers went up. 
25,718. That's the number of calls, texts and chats that came in during January in Georgia, according to DBHDD. About a quarter of those came from people who called 988 directly — and 239 people required active rescue.  
In 2020, Georgia's existing mental health crisis and access hotline saw a 24% increase in calls for help. It was the highest number of calls answered in the call line's history. 
But Bourque says, so far, Georgia has been able to keep up. 
The anticipated increase in call volume also meant more mobile units were needed to take people to crisis centers.  
Mobile response teams don't show up in an ambulance, and they don't bring emergency medical service workers. 
In a video provided by DBHDD, Certified Peer Specialist Elvin Gittens responded to a crisis call from a 23-year-old man at risk of suicide.
"That's always a plus when they call for themselves," Gittens says in the video. "That way, they are more apt to be open to receiving services, and to get the help that they may need."
The cars aren't marked, and they don't use flashing lights.  
The fact that someone with a mobile response team might not show up for two or more hours means emergency situations may still need 911. 
Kayla Bergeron, who works with a recovery community organization in Forsyth County, knows about 988 and when to call 911.
"Somebody walked in the street and said he was going to kill himself right then and there," she said. "And so we called, actually, the sheriff's office."
She says people often don't know who to call for help, which is why raising awareness of 988 is as crucial as reducing shame and guilt associated with mental illness. 
Bourque says DBHDD is rolling out billboards and a social media campaign this summer to make sure everyone knows they can call 988.
If you or someone you know is experiencing a mental health crisis please call, text or chat with the Suicide and Crisis Lifeline at 988 or contact the Crisis text line by texting TALK to 741741.
Secondary Content
Bottom Content