Section Branding
Header Content
Forecasters predict 'near-normal' 2023 hurricane season after Ian's near miss with Georgia last year
Primary Content
LISTEN: five to nine hurricanes are projected to form during the 2023 Atlantic hurricane season. GPB's Benjamin Payne reports.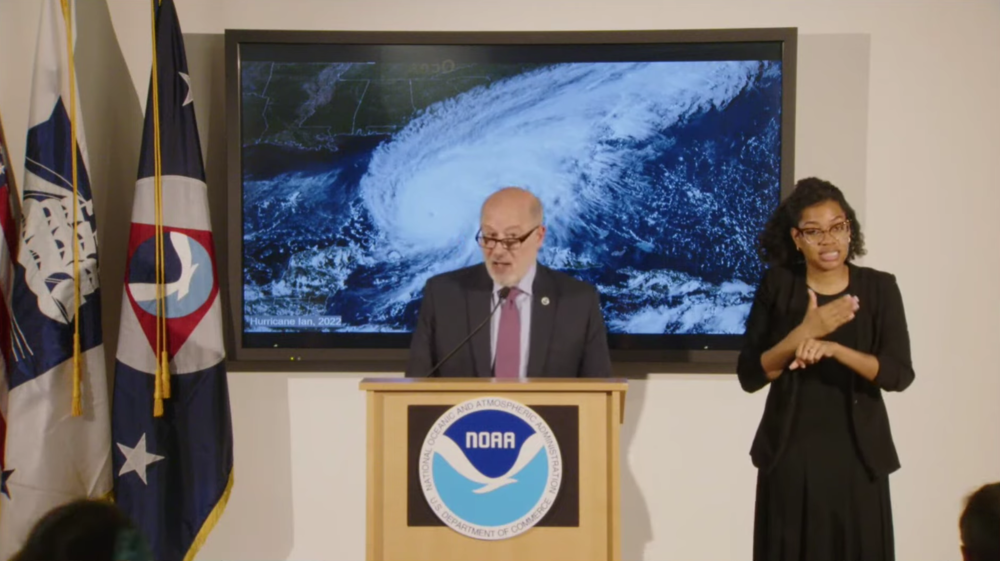 Months after Coastal Georgia narrowly avoided a direct hit by Hurricane Ian in September, federal forecasters are predicting a "near-normal" hurricane season for 2023, featuring 12 to 17 named storms likely to develop throughout the Atlantic Ocean.
In its annual outlook for the season — which runs between June 1 and Nov. 30 — the National Oceanic and Atmospheric Administration on Thursday projected that 5 to 9 of the storms would become hurricanes (meaning winds of 74 mph or higher), of which 1 to 4 would develop into major hurricanes (winds of 111 mph or higher).
Lead NOAA hurricane forecaster Matthew Rosencrans cautioned that there is a greater degree of uncertainty in this year's outlook due to a rare combination of two conflicting forces: an impending El Niño climate pattern — which is less conducive to hurricanes than the La Niña that has held sway in recent years — and warmer-than-normal sea surface temperatures, which can fuel more intense storms and are caused in part by climate change.
"It's kind of like a clash between those those two big features," Rosencrans said. "The stronger an El Niño event, usually the less amount of storms you have. But, we are also in an active era, and having a strong El Niño with an active era and such warm [sea surface temperatures] — I've only seen it one other time in historical records."
As a result of the historical data shortage, Rosencrans said that this year's outlook only bears a 40% chance of a near-normal season, followed by a 30% chance each for above-normal and below-normal. By comparison, last year's outlook called for a 65% chance of an above-normal season.
NOAA did not provide state-specific data or insights, but FEMA Administrator Deanne Criswell warned that even places not historically prone to strong hurricanes, like Georgia, should avoid being complacent in their emergency preparedness.
"It's going to be a cultural shift, a mind shift, for the people that live in areas that are typically going to say, 'Well, I've lived through a category one [hurricane],' and then all of a sudden it's a category three," Criswell said. "Or, 'I've lived through this before, and now we have intense storm surge and we have increased rainfall that's creating additional hazards that [we] haven't experienced before.' The risks of these storms are different than the risks that they faced ten years ago."
Secondary Content
Bottom Content