Section Branding
Header Content
Fulton DA seeks to disqualify lawyer for some GOP fake electors, citing 'ethical mess'
Primary Content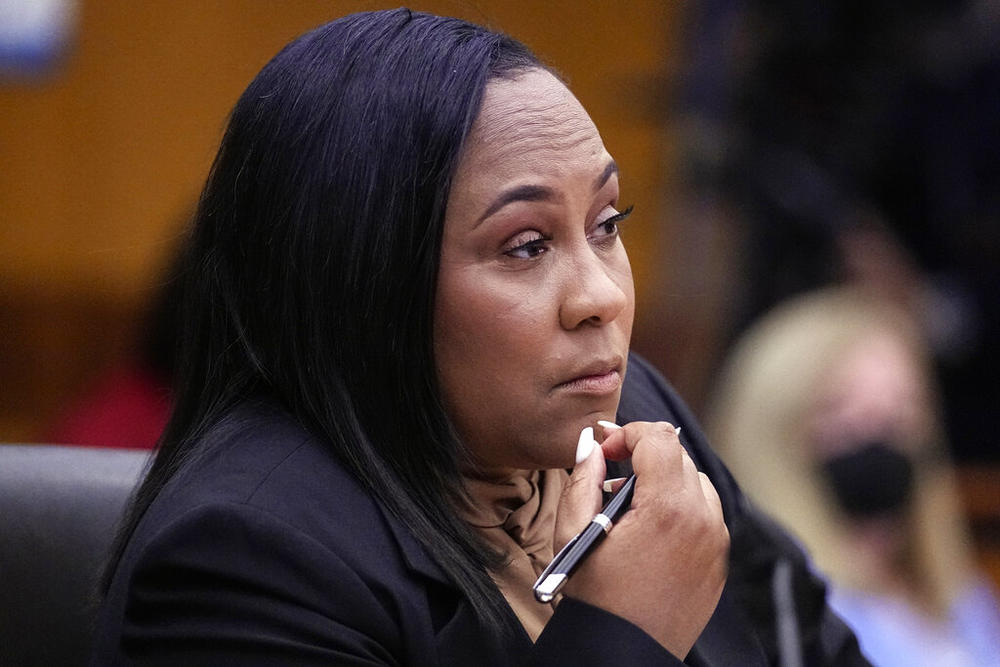 Fulton County District Attorney Fani Willis is seeking to remove a lawyer from representing 10 Georgia Republicans who served as fake 2020 electors for Donald Trump after several of them allegedly accused a fellow elector of breaking state law last week.
Tuesday's filing also alleged that attorney Kimberly Burroughs Debrow also failed to notify her clients of potential immunity deals that prosecutors offered last summer, and comes as charging decisions are expected soon in the sweeping investigation into the Trump-led effort to overturn the presidential election results in Georgia.
 
Debrow and attorney Holly Pierson initially represented 11 of the 16 people who falsely signed documents claiming to be Georgia's electors, including Georgia GOP chairman David Shafer, but Fulton County Superior Court Judge Robert McBurney ruled in November 2022 that Shafer took on a more active role in convening the alternate electors than the rest of the 11 so he had to be represented separately. Pierson agreed to be Shafer's lawyer while Debrow retained the remainder of the 10.
The DA's filing reveals that as recently as last week, her office interviewed some of the fake electors represented by Debrow and some of them said that another elector represented by Debrow "committed acts that are violations of Georgia law and that they were not party to these additional acts."
Practically speaking, Willis argues that the new information means the 10 electors Debrow represents are no longer similarly situated, and creates a conflict of interest that means she can not ethically represent any of the electors anymore.
"Debrow representing 10 of the electors has reached an 'impracticable and ethical mess,'" Willis wrote, further compounded by news that some of the electors were allegedly never informed of the possibility of immunity deals with prosecutors when they were first approached last summer.
According to the filing, attorneys for the fake electors previously indicated none of them were interested in conversations about immunity.
It is not clear how many of the 10 Republicans are accused another of committing a crime, or what the crimes may be. Most of the names of those who met in the state Capitol and signed falsified documents purporting to be official electors are prominent members of the state's Republican party apparatus, including Brad Carver, a current Congressional District GOP chairman, state Sen. Shawn Still and Cathy Latham, a former GOP official in Coffee County who was involved with an effort to make an unauthorized copy of election data by Trump-aligned attorneys and election deniers.
Willis' motion comes after weeks of relative radio silence following a ruling in mid-February that released parts of the brief recommendations from the special purpose grand jury that investigated the sweeping efforts to reverse Trump's defeat. The special grand jury did not have the power to issue indictments, but its findings apparently offered a road map for Willis to take evidence to a regular grand jury to seek charges.
"Having reviewed the final report, the undersigned concludes that the special purpose grand jury did not exceed the scope of its prescribed mission," Judge McBurney wrote in his February order. "Indeed, it provided the District Attorney with exactly what she requested: a roster of who should (or should not) be indicted, and for what, in relation to the conduct (and aftermath) of the 2020 general election in Georgia."
The decision to redact most of the recommendations citing concerns over due process has been appealed by a coalition of media outlets and is being taken up by the Georgia Court of Appeals.
Meanwhile, this disqualification request also comes as the DA's office faces a May 1 deadline to respond to a sweeping motion from Trump's lawyers seeking to invalidate the special grand jury statute, disqualify Willis from prosecuting anyone in relation to the election interference investigation of the special jury, prevent any evidence gathered in the process from being used by any prosecutor and essentially end any probe into the 2020 election's aftermath.
Trump was never interviewed or subpoenaed by the special grand jury, though it is possible that Willis could seek charges against him based on existing public statements and evidence, testimony from more than 70 witnesses heard in private or through the state's racketeering statute.
Secondary Content
Bottom Content