Section Branding
Header Content
Trump files motion seeking to derail investigation into Georgia election interference
Primary Content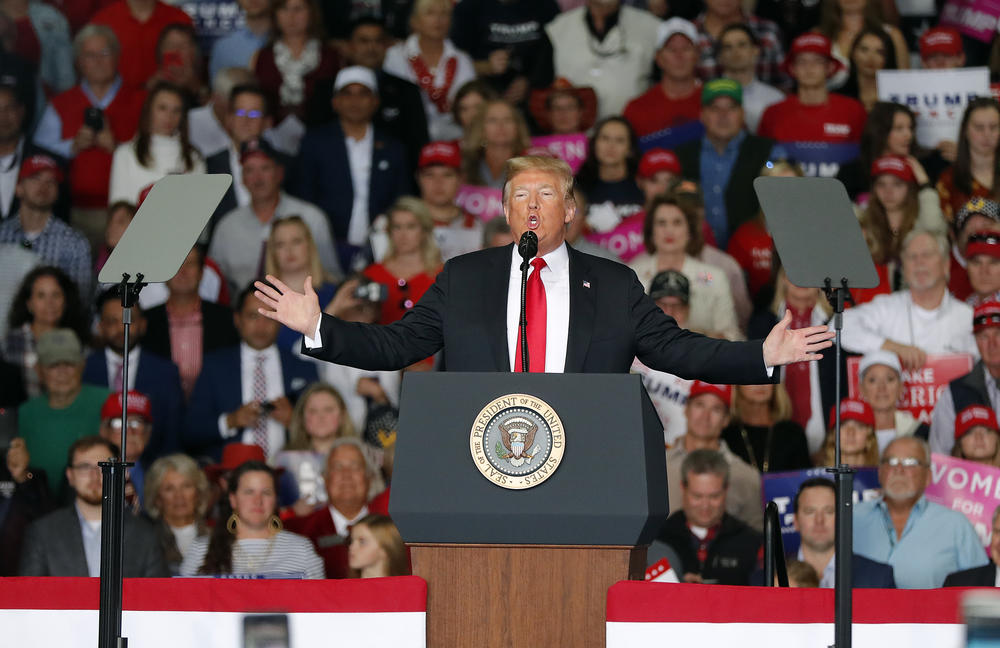 Former President Donald Trump's attorneys filed a motion Monday seeking to essentially shut down prosecutors' ability to issue indictments based on a special purpose grand jury investigation into the failed attempt to overturn Georgia's 2020 election.
In a 51-page filing that includes more than 430 pages of exhibits, Trump's lawyers want a judge to quash the SPGJ's final report — which is already partially public — and expunge it from the record, prevent any prosecuting body from using evidence gathered by the jury investigation and to find that the Fulton County district attorney's office be disqualified from investigating or prosecuting cases based on the jury's work.
The request in Georgia comes a day before Trump declared (without evidence) over the weekend he would be arrested in relation to a longstanding investigation in New York into allegations of hush money payments to an adult film star and as Fulton DA Fani Willis is weighing what charges, if any, to bring against Trump and others for pressuring officials to undo his election loss. Trump has attacked both Black prosecutors and their inquiries as "racist" and defended his actions in Georgia repeatedly.
Despite never being called to appear before the SPGJ, Trump has paid hundreds of thousands of dollars to high-profile Georgia defense attorneys to represent him in Georgia, and the unusual sweeping request comes before indictments against anyone — Trump or otherwise — have been filed by Willis.
Monday's filing argues that the special purpose grand jury and its efforts should be discredited by the court, and statements made by various parties have tainted public opinion on potential cases stemming from the investigation. (The filing itself will surely also influence public opinion about future potential cases and indictments, regardless of the final outcome)
Attorneys Jennifer Little, Drew Findling and Marissa Goldberg write that: the law authorizing the rarely used special purpose grand jury is unconstitutional; Judge Robert McBurney assisted the jury using improper legal guidance; they claim Willis and her office have a conflict of interest in conducting the investigation; and that various interviews by the DA and members of the special grand jury show a process that "was confusing, flawed and, at times, blatantly unconstitutional."
"The SPGJ involved a constant lack of clarity as to the law, inconsistent applications of basic constitutional protections for individuals brought before it, and a prosecutor's office that was found to have an actual conflict yet continued to pursue the investigation," the filing reads. "The errors and flaws detailed above are fatal to the report and recommendations made by the SPGJ as fruit of the poisonous tree."
The investigation into the failed attempt to undo Georgia's presidential election results have deep roots that go beyond the closed-door questioning of the special purpose grand jury. 
In 2021, just after a call where Trump pushed Republican Georgia Secretary of State Brad Raffensperger to "find" votes for him was leaked to media outlets, Willis announced an investigation into potential crimes committed in the aftermath of the 2020 election.
The SPGJ began its work in May 2022 and spent eight months hearing from more than 70 witnesses from inside and outside of the state about an array of events, ranging from Trump's calls to Raffensperger and other top officials to the scheme to send documents from Republicans claiming to be presidential electors to hearings where an army of Trump loyalists tried to convince Georgia lawmakers they could choose the state's victor.
Trump's filing argues that statutes allowing special purpose grand juries in Georgia are unconstitutionally vague. More specifically, the laws fail to delineate if a special grand jury inquiry is civil or criminal, do not outline the roles of assisting judges and prosecutors or enumerate the rights of anyone named in a final report, in addition to a lack of clarity about the "form and substance" of said report.
After legal questions about how much of the Fulton SPGJ's report should be made public, McBurney ruled in February 2023 that most of the brief final recommendations should be kept under wraps, citing due process concerns for people that the report names as likely violators of state laws.
"These three portions include the introduction and conclusion to the final report, as well as Section VIII, in which the special purpose grand jury discusses its concern that some witnesses may have lied under oath during their testimony to the grand jury," McBurney wrote. "Because the grand jury does not identify those witnesses, that conclusion may be publicly disclosed at this time."
In Monday's filing, Trump's lawyers argue that any recommendations included in the report were driven by evidence obtained "through an illegal and unconstitutional process" and should not be used in any indictments. Georgia law does not allow an SPGJ to issue indictments and the recommendations are not binding, so Willis would have to present evidence to a regular grand jury if she wants to charge anyone — named in the report or not — for violating state law. 
Throughout the filing, Trump's lawyers attack the investigation despite not having any involvement with the process, castigating the DA for behavior that "does not paint the piicture of an open-minded, uninterested prosecutor," accusing the judge of making "improper comments" and blasting interviews given by the grand jury foreperson and other grand jurors after their service was complete.
The motion also asks that a judge other than McBurney hear the request. 
Secondary Content
Bottom Content