Section Branding
Header Content
'Tranq' drug xylazine causes irreversible overdose and withdrawals — worse when mixed with fentanyl
Primary Content
LISTEN: Xylazine is a tranquilizer used to treat animals. But the U.S. Drug Enforcment Administration says it's making an already deadly drug, fentanyl, even more dangerous. And GPB's Ellen Eldridge reports use of xylazine is growing quickly in Georgia.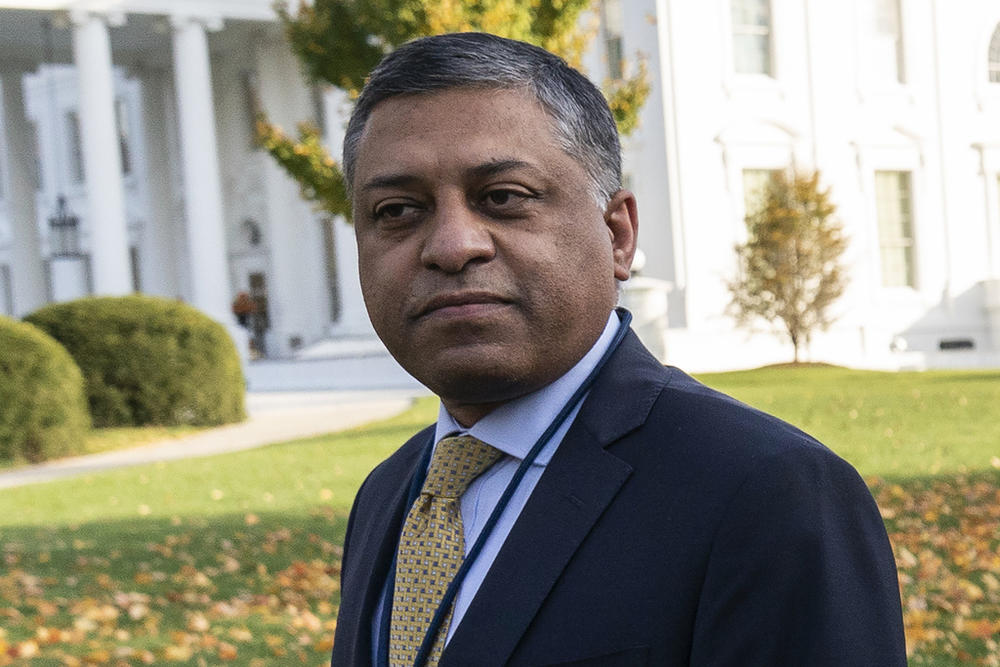 Even after emergency room doctors removed her breathing tube and returned her heart to normal function, a 30-year-old woman who nearly died of an overdose of fentanyl and xylazine went right back out to injecting the dangerous combination of drugs.
This happened in 2021, in the Philadelphia area, Dr. Guanhui Chen, a pharmacist in New Jersey, said at a recent drug summit in Atlanta.
The woman was lucky to survive an overdose that nearly stopped her heart's ability to pump blood.
She had been trying to wean herself off of fentanyl, an opioid far more powerful than heroin, while also being treated with methadone. Chen reported positively that the 30-year-old woman survived and entered a rehab program.
Chen and another pharmacist, Dr. Bill Lynch, traveled to the summit earlier this month from the Northeast to warn health care professionals, law enforcement officers and emergency responders about xylazine, a sedative used in veterinary medicine that had been diverted and used as a cutting agent in illegal sales of fentanyl for years.
The U.S. Drug Enforcement Administration only recently issued an alert about a "sharp increase in the trafficking of fentanyl mixed with xylazine," which is also known as "tranq" or "Philly dope."
The Philadelphia area, which borders New Jersey, is the epicenter for this drug's use as a cutting agent for fentanyl, Lynch said.
Xylazine is dangerously addictive and its withdrawal is unlike withdrawal from opioids.
Opioid addicts' lives have been saved with naloxone, also known as Narcan, after an overdose, but because xylazine is not an opioid, it will not respond to Narcan. And those responding first to a xylazine overdose often incorrectly assume the fentanyl or other opioid is simply too strong to reverse.
But this is not the case, Lynch said.
Patients with opioid use disorder can be helped with medication-assisted treatments including buprenorephine and methadone.
But those interventions will not stop someone with a xylazine addiction.
"We know patients who actually sign out against medical advice to continue treatment because the withdrawal syndrome is not controlled well enough," Lynch said. "And when that happens, they leave [the hospital]."
The pharmacists want to make sure health care professionals throughout the country understand the challenges ahead.
While doctors in emergency rooms may be familiar with cardiogenic shock and how to reverse it, they're not familiar with xylazine withdrawal syndrome, Lynch said.
The effects of coming off of xylazine include serious concerns about blood pressure and wound care.
Lynch described how patients' repeated use xylazine in the same injection sites causes ulcers, sepsis and intensely painful wounds, and how that pain is exacerbated by the pain of physical withdrawal.
"There are a lot of reasons why this person is going to sign against medical advice and go back to using," Lynch said. "Because their withdrawal is not being managed; their pain is not being managed. And when you try to treat their wounds using surgical debridement and everything else, that's even more painful."
Those telltale injection sites give away the existence of xylazine, and the best way to treat the skin-rotting infection is to amputate.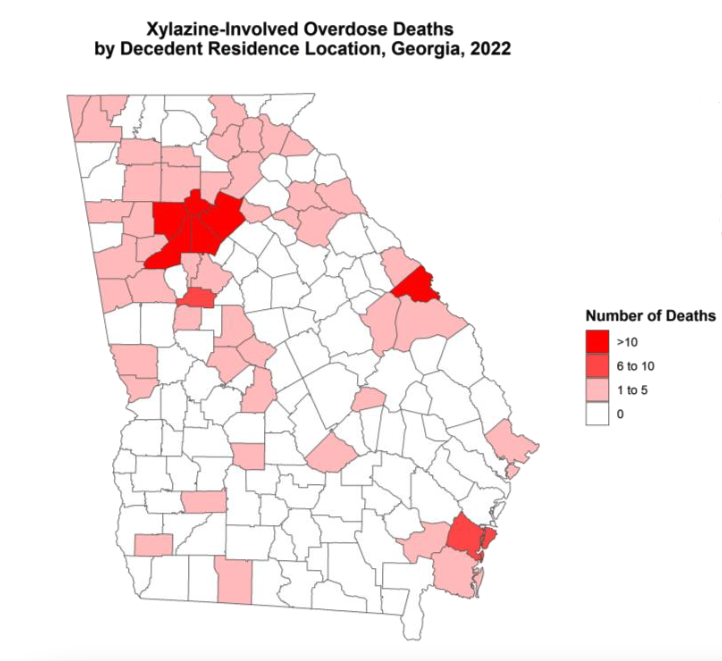 The Georgia Bureau of Investigation has no problem identifying xylazine and its crime lab has seen xylazine mixed with fentanyl in Georgia, the organization said in an email. 
"We're not able to provide you the stats on it though because if it is a mixture with a Schedule I drug like fentanyl, it is not reported since the Schedule I drug is reported," the GBI said. 
Another concern, according to both pharmacists at the drug summit, is that cartels and other drug trafficking organizations could start diverting xylazine themselves.
"AKORN Pharmaceuticals has closed shop," Lynch said of one of the U.S.'s main distributors of xylazine. "So that's another red flag you have to worry about."
DEA Special Agent in Charge Robert J. Murphy said most of the drugs seized up and down the coast have come through Atlanta at one point because multiple factors make Atlanta a good distribution hub for fentanyl, including its location on an extensive interstate system and the Hartsfield-Jackson International Airport.
"The interstate system is the No. 1 way [drugs are] being transported up and down the coast," Murphy said, adding that once drugs reach Atlanta, they're moved to the Northeast, Midwest and down to south Florida.
"We're seeing it everywhere," he said. "Unfortunately, we're seeing it in colleges, seeing it in high schools."
The latest drug data from 2020-2021 shows a stunning increase of fatal overdoses linked to xylazine, with deaths in the South surging more than 1,000%.
Secondary Content
Bottom Content