Section Branding
Header Content
New grant helps Children's Hospital meet families' emotional needs after pediatric cancer diagnosis
Primary Content
LISTEN: Children's Hospital of Georgia is using a grant to fund additional resources for pediatric cancer patients and their families. GPB's Ellen Eldridge has more.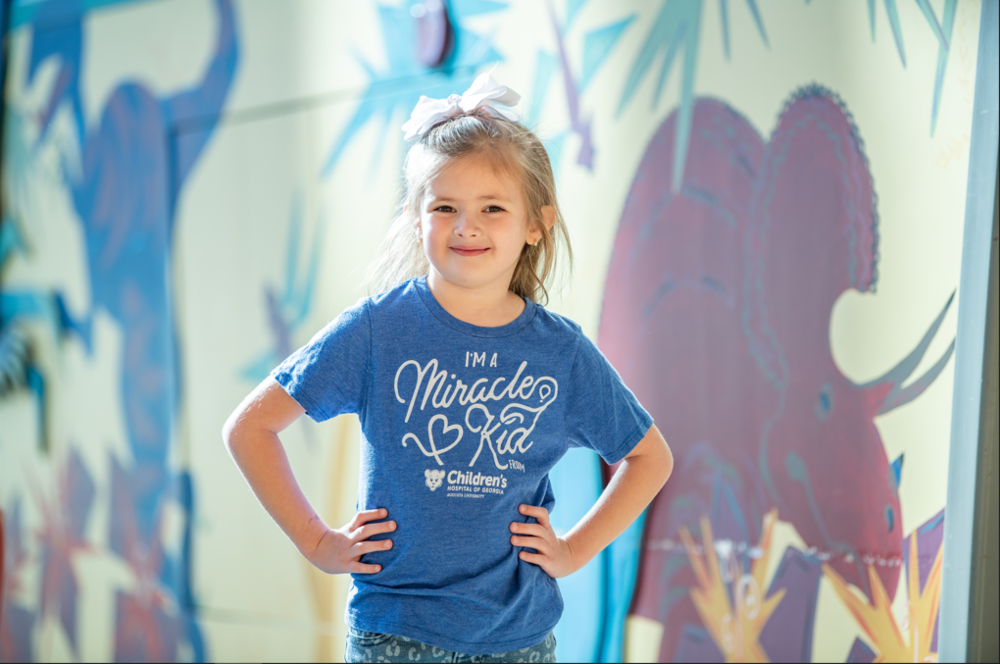 Augusta is likely better known for its Masters Tournament than as the home of the state's second-largest children's hospital.
But for families of kids with cancer, the hospital is everything, and now, thanks to a grant from the Dallas, Texas-based Jordan Spieth Family Foundation, Children's Hospital of Georgia will soon be able to hire a new social worker. Additional money from the grant will offset costs associated with travel and housing, pediatrician-in-chief Dr. Valera Hudson said.
"We are extremely pleased by the generosity of the Jordan Spieth Family Foundation in choosing to be a community partner with the Children's Hospital of Georgia in our pediatric cancer program," Hudson said.
Learning that your child has cancer is devastating news that carries a wealth of social, emotional, financial and other stressors.
The social workers are the people who first meet with families to assess their needs and connect them to resources. They are an essential part of the the team approach to the care of children, Hudson said.
The challenging aspect, Hudson said, is the fact that Children's is a nonprofit organization, which relies on philanthropic support to be able to provide the highest level of care and to meet all of the needs of children.
"That is a well-known phenomenon for all children's hospitals throughout the country," Hudson said, adding that grants from foundations like this one are essential.
The amount of the grant has not been disclosed, but will fund a social worker and travel expenses, according to a press release.
RELATED:
Hudson said some people may not be aware that those trained in social work have skills for providing at least some initial counseling and support for folks with their mental health challenges.
A network of community resources for mental and social support for families presents challenges, such as parents missing work travel to Augusta for an undetermined period of time. 
"So a social worker helps to facilitate those sorts of connections," Hudson said. "The social worker is the one who is the link to our Ronald McDonald House to help families with navigating that support as well."
Clinical social workers are core members of the oncology and transplant program," said Dr. Amir Mian, director of the Pediatric Bone Marrow and Stem Cell Transplant Program at Children's and chief of the Division of Pediatric Hematology/Oncology in the MCG Department of Pediatrics.
"They provide expertise in psychosocial care for patients, caregivers and families throughout cancer treatment and during the transplant and recovery process," Mian said. "Social workers also connect families with cancer support groups, financial assistance resources, and ongoing advocacy during each patient's cancer journey."  
In addition to supporting a dedicated pediatric hematology/oncology social worker, the remainder of the grant will create a patient financial assistance fund to provide supplementary financial support for cancer patients and their families.   
"Travel to and from the hospital for critical treatment appointments and unexpected overnight or prolonged stays (hotel and meal support) can create a financial burden on families who are already overwhelmed with a pediatric cancer diagnosis. I thank the Jordan Spieth Foundation for helping us to reduce this burden," Mian said.  
Families need that direct support, emotional support and support of challenges around anxiety and mild depression that can occur when you're faced with a chronic illness, Hudson said.
But parents don't often know how to handle logistics on top of processing a child's prognosis.
Equally important as meeting emotional and mental needs that are part of the journey of supporting a child through a cancer diagnosis is their awareness and connection to the other, higher-level, resources that a family may need to address both physical needs, food, shelter, travel, she said.
Secondary Content
Bottom Content