Section Branding
Header Content
Day-by-day Masters forecast swings from warm to cool, sunny to soggy
Primary Content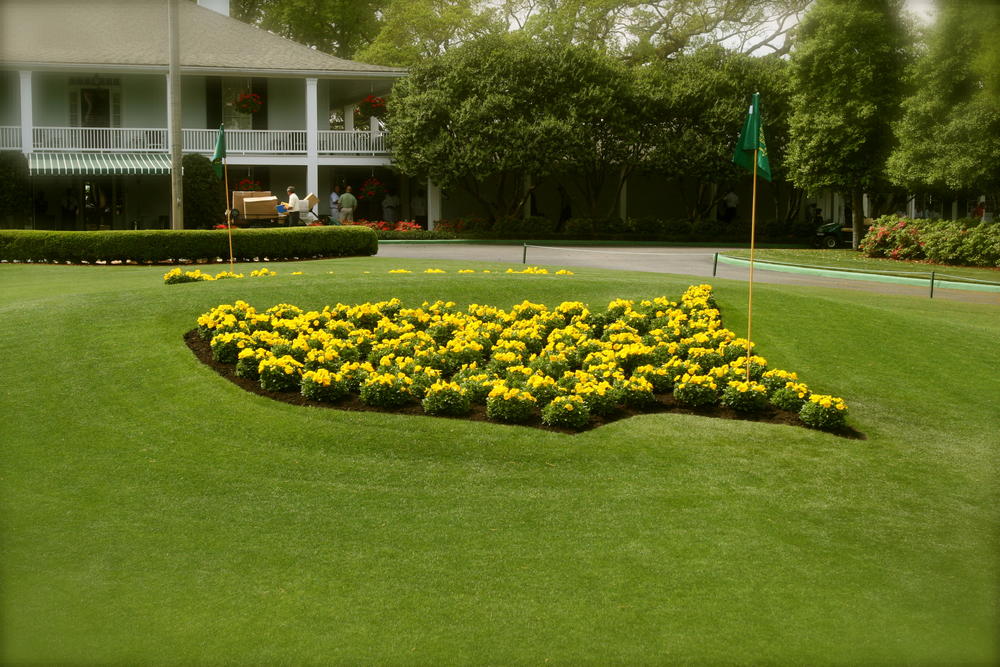 Macon station WMAZ-TV, which serves central Georgia, is forecasting rain for Easter weekend. And meteorologist Alex Forbes has some tips for golf lovers headed to Augusta for the Masters.
"If you are headed to Augusta National Golf Club this week, pack your poncho." he told viewers. "If you're planning on watching the Masters on television, pack your patience. Mother nature is planning on bringing potentially record-breaking heat followed by days of rain during tournament days."
Below, Forbes predicts the weather for the world-famous golf course today through Sunday. Click on WMAZ's site for updates. 
 
Wednesday, April 5
High temperature: 90 | Low temperature: 63
After two days of practice rounds, the Par3 Contest happens on Wednesday as temperatures soar near 90 for a high temperature under partly cloudy skies.
The record high temperature for April 5 in Augusta is 91 degrees, set back in 2010. 
Thursday, April 6
High: 86 | Low: 66
20% chance of rain
Thursday will be the start of a big pattern change into the weekend. Look for temperatures to rise into the mid-80s as the tournament begins with honorary starters Gary Player, Jack Nicklaus, and Tom Watson.
Play will happen all day with the first official tee time at 8 a.m.
Any weather delay on Thursday would be from a passing shower and should be short lived. 
Friday, April 7
High: 74 | Low: 63
70% chance of rain
Friday will be the first of two, potentially three rainy days in Augusta. A front will arrive and stall across the southeastern United States. A steady rain that could be heavy at times is expected to be around most of the day. The full slate of participants are scheduled to play Friday, before the cut. 
The expectation is for rain to impact play on Friday.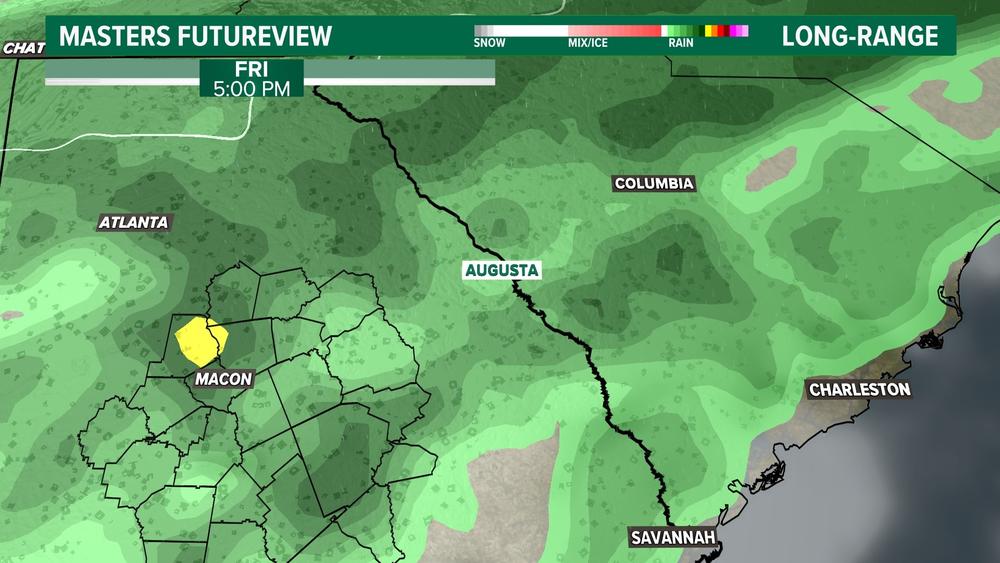 Saturday, April 8
High: 55 | Low: 49
90% chance of rain
Tee times on Saturday are slated to begin at 10:20 a.m. Our long-range models are showing widespread rain lasting Friday night into Saturday in Augusta. It's important to know that golfers can play in light rain, but not heavy rain.
However, the persistent rainfall that could be heavy at times is expected to keep the course wet and impact play once again on Saturday.
If a delay happens on Friday, it's possible the second round, which has more players than the originally scheduled third round, is delayed into Saturday initially.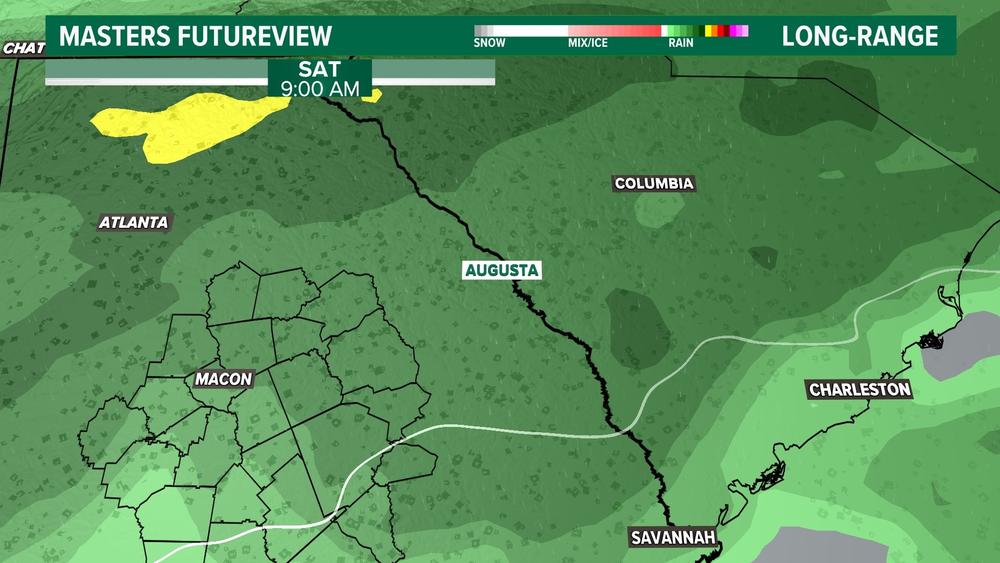 Sunday, April 9
High: 64 | Low: 46
40% chance of rain
Sunday doesn't appear to be a total washout but has the potential to be pretty wet. With tee times once again slated for 10:20 a.m., the last of the showers should be moving out during the morning hours with only a few sprinkles for the afternoon.
Of course, by this point, grounds crew will assess the course and determine whether or not it is too wet to play. 
Delays from Friday and Saturday could extend into Sunday.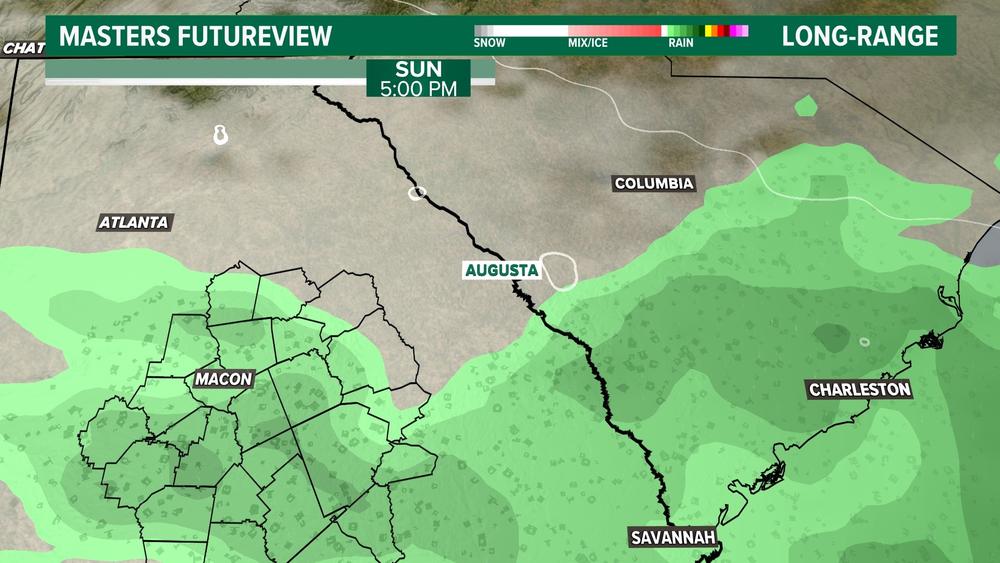 If play is extended into Monday, the weather should cooperate better than the weekend. It won't be completely dry but will have many more dry hours as temperatures continue to warm closer to normal for early April.
According to NationalClubGolfer.com, the Masters Tournament has only finished on Monday five times in its history: 1936, 1938, 1961, 1973, and 1983.
Secondary Content
Bottom Content