Section Branding
Header Content
10th Alzheimer's Music Fest features popular '90s bands raising money for caregivers
Primary Content
LISTEN: The popular '90s bands Cracker, Cowboy Mouth and Arrested Development are headlining a music festival in Atlanta this weekend in order to shine a light on a disease that's becoming more prevalent. GPB's Ellen Eldridge reports.
Vince Zangaro founded the Alzheimer's Music Festival a decade ago, after he stepped away from building a career in his mid-20s to help his dad through his disease journey.
"I like to sometimes call it the Benjamin Button Syndrome, where, you know, it goes backwards." Zangaro said. "You're not seeing him grow into this amazing person and move on; you're seeing him grow into eternal life."
According to the Georgia Department of Public Health, 130,000 Georgians have dementia, and those numbers are expected to climb in the next decade as the population ages.
The 10th anniversary show is the biggest yet — and Zangaro said he expects this year's nonprofit event to raise a lot of money to help caregivers find resources and to help fund their time off — because caregivers, especially unpaid family caregivers, need a break.
Alzheimer's disease is one of the diseases of dementia. A diagnosis usually means the person will slowly deteriorate over many years, especially with early onset that can affect people in their 40s or 50s.
"In my case, it was 14 years," Zangaro said.
Many working Georgians do not have a single paid sick day from their employers. State Democratic legislators filed House Bill 1517 last session, with the hope of creating the Georgia Family Insurance Act, but the partisan bill died in committee.
If passed, the act would have created a family and medical leave insurance fund from which residents could draw when they need time to care for family members. The money would come from joint contributions from employees and employers combined, rather than putting the burden on employers alone.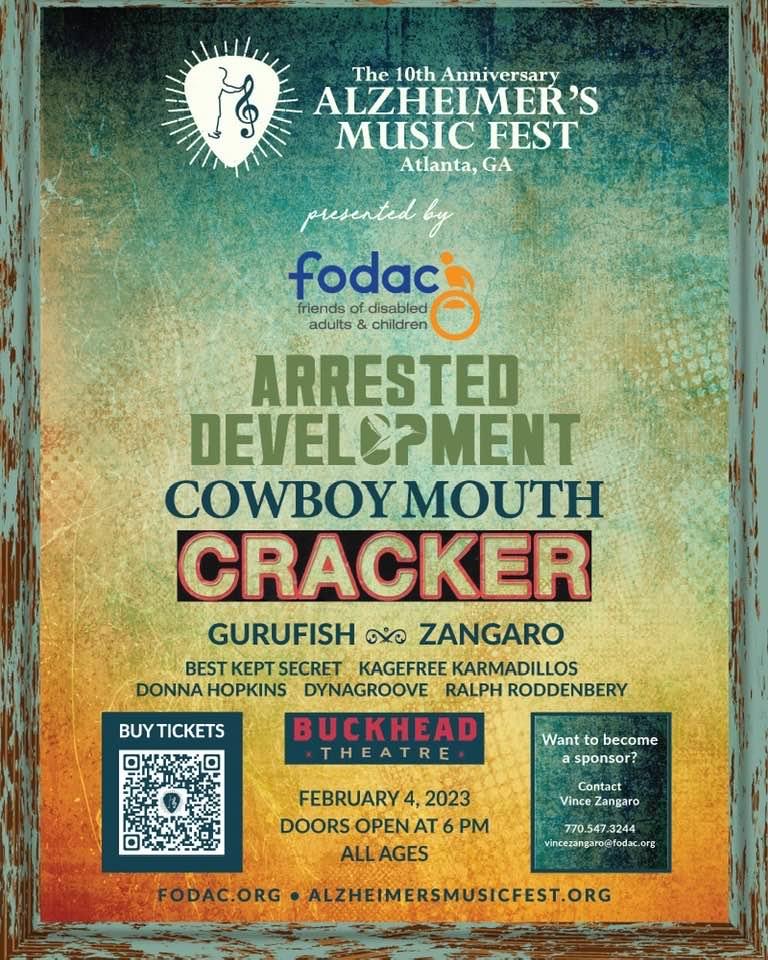 Respite care isn't covered by insurance and hiring a person to help in the home can cost upwards of $35 an hour.
That's why Zangaro said he found a way to combine his love of playing with his network of musicians.
"I was starting with a music festival and working with nonprofits to get people resources that me and Dad didn't have," he said. "When I got in the real world, it was overwhelming."
The Dementia Spotlight Foundation helped grow the Alzheimer's Music Festival over the decade, and now, Zangaro has merged his benefit with the Friends of Disabled Adults and Children.
"This is one of my favorite nonprofits based out of Georgia," he said. "They're really on a bubble that they're going to be expanding in 2023, and that's to help more people."
FODAC's executive director, Chris Brand, said the mission is to enhance the quality of life for those with disabilities, including Alzheimer's/dementia families, by providing low- to no-cost home medical equipment that promotes mobility and independence.
"Without a cure for dementia in our near future, we must take action for change and focus on providing mobility and independence," Brand said. "Caring for persons and families living with dementia is overwhelming and costly. In many cases, medical insurance will not provide the resources needed."
RELATED:
Zangaro said the aftereffects of caregiving are often the hardest.
After his dad died, Zangaro realized that he wasn't sure what would be next, but Brand recruited him to work for FODAC as the community outreach/special event director.
"I just put everything into the nonprofit work," Zangaro said. "I put everything into the festival, finding the right teams to work with to help families. And it hasn't stopped, and I don't think it ever will."
This year's headliners include popular '90s bands Cracker, Cowboy Mouth, and Arrested Development.
The artists said they have all been affected by Alzheimer's disease.
"We wanted to get involved in bringing awareness to this horrible disease," said Arrested Development singer Todd Thomas, better known as Speech.
Speech said that his father as well as many members of the Black community struggle with high blood pressure, which is a key risk factor for dementia in later life.
Older Black Americans are twice as likely to have dementia than older white Americans, according to a report from the Alzheimer's Association.
This year's festival will be held Saturday, Feb. 4, at Buckhead Theatre in Atlanta.
Alzheimer's Music Festival tickets are available through Live Nation.
Secondary Content
Bottom Content