Section Branding
Header Content
Atlanta protest update: National Guard troops arrive downtown; Memphis releases Tyre Nichols video
Primary Content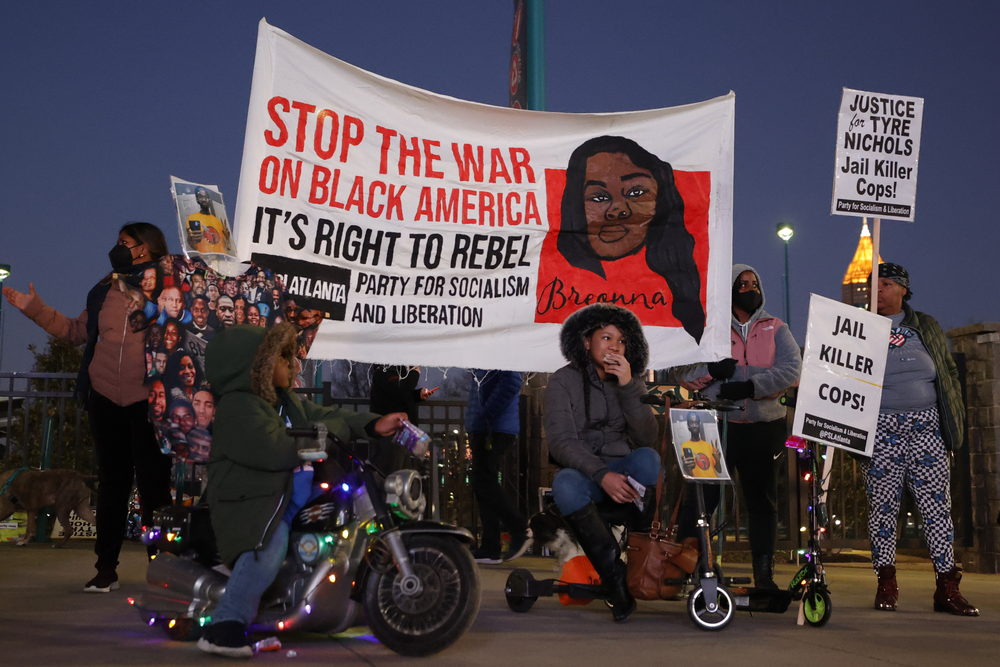 Saturday, Jan. 28, 9:35 a.m.
 
After last night's release of the video of Tyre Nichols' arrest and fatal beating by Memphis police Jan. 7 and his death Jan. 10, demonstrations in Atlanta on Jan. 27 were peaceful. PSL Atlanta, one of the organizing groups that participated in the gathering downtown, distributed an online flier calling for more demonstrations at noon today in Atlanta's Centennial Olympic Park.
Friday, Jan. 27, 10:15 p.m.
Statement from City of Atlanta Police Chief Darin Schierbaum
"I am deeply disturbed and heartbroken by the murder of Tyre Nichols at the hands of 5 former Memphis police officers. The video of the arrest was disturbing and showcased multiple failures by these officers to handle this situation professionally or competently. The actions of these officers has severely impacted law enforcement's relationship with our communities, from coast to coast.
As chief, I will work to restore and improve the trust our communities have had in the APD. We will not tolerate brutality. We will hold officers accountable when they violate the law. The Atlanta Police Department will continue to be a constitutional agency, committed to our communities and this profession, competent in our skills and training, as well as compassionate wherever we go.
I'm proud of the members of the Atlanta Police Department who uphold their oath daily."
Friday, Jan. 27, 8:40 p.m.
At 8:40 p.m. EST this evening, Atlanta Mayor Andre Dickens reacted to the release of the video of the Tyre Nichols arrest in Memphis.
Friday, Jan. 27, 8:05 p.m.
At 8:05 p.m. EST this evening, Gov. Brian Kemp reacted to the release of the video of the Tyre Nichols arrest in Memphis.
Friday, Jan. 27, 8:00 p.m.
At 7:00 p.m. EST this evening, video footage of the arrest of Tyre Nichols was released. Nichols was beaten by police during a traffic stop in Memphis on Jan. 7 and died Jan. 10 from his injuries. The five Memphis police offers who were involved have been fired from their posts and charged with murder.
Law enforcement across the country were on alert Friday evening for possible unrest in response to the release of the video.
Protests began shortly after the release of the video Friday evening. Demonstrations began in Memphis, New York City, Atlanta and other cities.
The family of Nichols asked for protests to remain peaceful.
Earlier on Friday, National Guard troops arrived in Atlanta.
Thursday, Jan. 26, 6:00 p.m.
Thursday afternoon, Georgia Gov. Brian Kemp made a preemptive move to prepare for the possibility of a repeat of last weekend's violence in downtown Atlanta.
On Saturday night, Jan. 21, rioters destroyed a police vehicle and businesses during a protest in response to the death of activist Manuel Esteban Paez Terán, otherwise known as Tortuguita, who was killed at the planned police training center in Dekalb County known as 'Cop City' on Jan. 18. A gun used at the site to shoot a Georgia State Patrol officer that day was traced to Terán.
Today, Kemp issued a state of emergency which gave him the power to call up 1,000 National Guard troops to assist local law enforcement. The full State of Emergency can be downloaded here.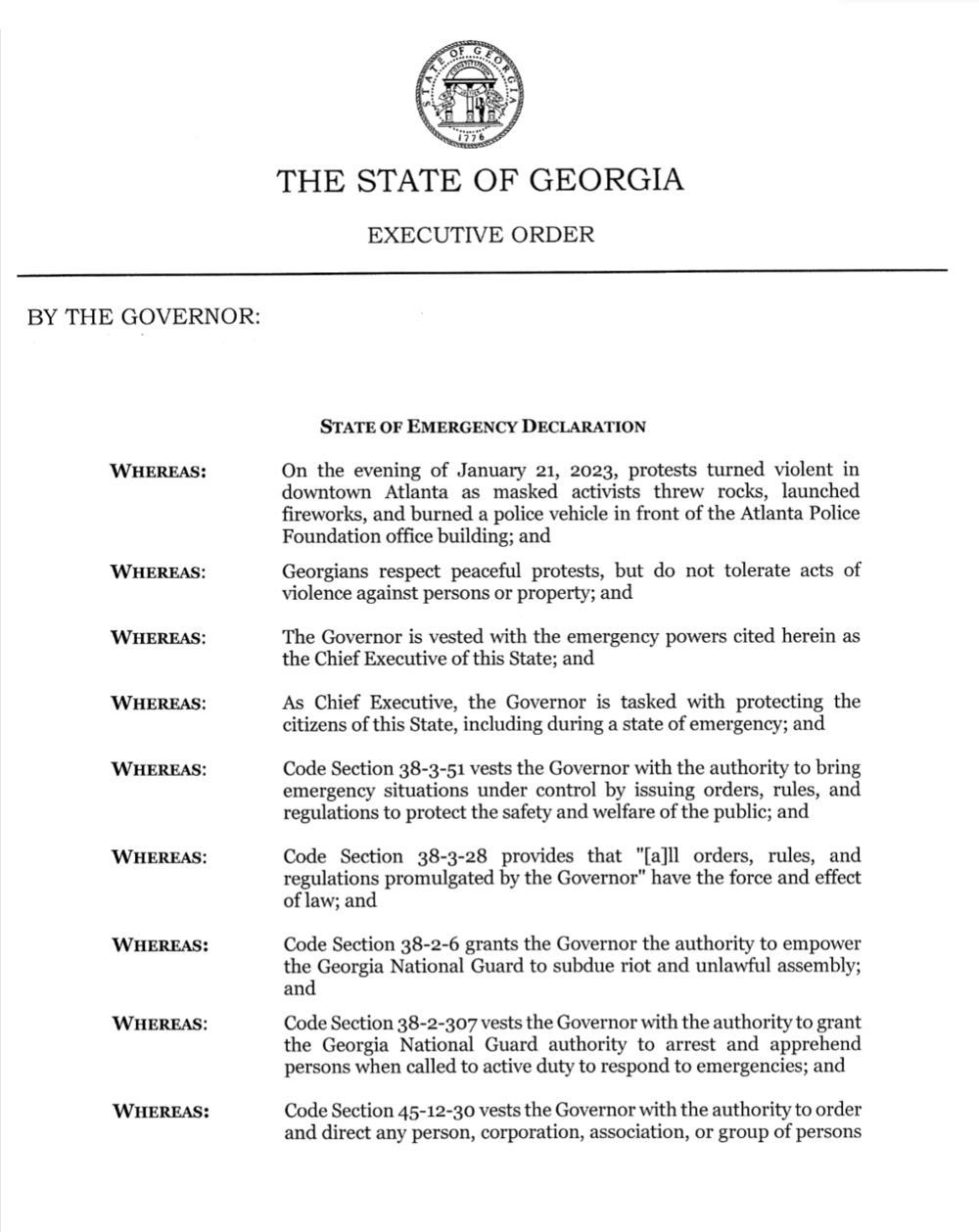 In addition, law enforcement across the country are on alert for possible unrest in response to the death of Tyre Nichols , who died Jan. 7 after a violent arrest by police in Memphis, Tennessee.
On Jan. 26, NPR reported that body camera footage of the incident has been shown to Nichols' family but has not been made public. Authorities told reporters they will release it sometime Jan. 27 after 6 p.m. local time.
As of Thursday, there had been no official statements from the City of Atlanta or other Georgia cities regarding possible protests related to Nichols's death.
Here are the latest developments:
This is a developing story. Check back for updates.
Secondary Content
Bottom Content