Section Branding
Header Content
Georgia Today: Violent protests, Fulton County's investigation into Donald Trump, fentanyl testing
Primary Content
On the Monday Jan. 23 edition of Georgia Today: Violent protests erupt in Atlanta, portions of Fulton County's investigation into Donald Trump may by made public, and strips of fentanyl testing will be available.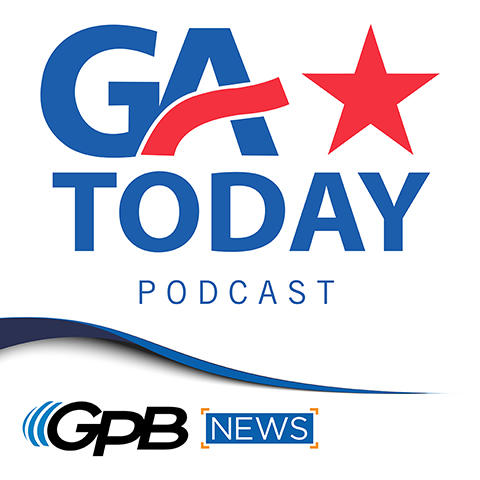 Peter Biello: Welcome to the new Georgia Today podcast from GPB News. Today is Monday, January 23rd. I'm Peter Biello. On today's episode, protests in Atlanta turned violent over the weekend. The CDC wants to help stop accidental fentanyl overdoses. A new flag is now flying over Macon City Hall. These stories and more are coming up on this edition of Georgia Today.
Story 1
Peter Biello: A Fulton County judge is weighing how much of a recent report from the Fulton County grand jury investigating election interference should be made public. GPB's Stephen Fowler has more on tomorrow's court proceedings.
Stephen Fowler: For the last eight months, the special purpose grand jury requested by Fulton County District Attorney Fani Willis has heard testimony from countless witnesses about efforts to overturn the 2020 election in Georgia. The grand jury can't issue indictments, but can write a report with recommendations. So now Fulton County Superior Court Judge Robert McBurney will hear arguments from the DA's office, as well as potential targets of the investigation, about what, if any, parts of that report should be public. A group of news outlets has also filed a motion arguing the entire report should be made public. For GPB News, I'm Stephen Fowler.
Peter Biello: A protest turned violent in downtown Atlanta on Saturday night in the wake of the death of an environmental activist who was killed last week after authorities said the 26-year-old shot a state trooper. Masked activists dressed in all black threw rocks and lit fireworks in front of a skyscraper that houses the Atlanta Police Foundation, shattering large glass windows. They then lit a police car on fire and vandalized other buildings with anti-police graffiti. The violent protesters were among hundreds of demonstrators who had gathered and marched up Peachtree Street to mourn the death of the protester. Manuel Teran. Teran was killed last Wednesday as authorities cleared a small group of protesters from the site of a planned Atlanta area public safety training center that activists have dubbed "Cop City." The Georgia Bureau of Investigation has said Teran was killed after shooting and injuring a state trooper. But activists have questioned officials version of events, calling it a murder and demanding an independent investigation. The GBI says it has received confirmation from a firearms transaction record that in September 2020, Teran legally purchased the firearm that was used in the shooting of a GSP trooper. Word of Saturday's protest has been widely circulated ahead of time on social media and among leftist activists, with some passing out fliers that read "Police killed a protester. Stand up, fight back." A police statement said the protesters damaged property at several locations along Peachtree Street, a corridor of hotels and restaurants. Adding that several arrests were made and order was quickly restored to the downtown space. Atlanta Mayor Andre Dickins says peaceful protests are welcome in Atlanta, but violence will not be tolerated. Speaking on CBS's Face the Nation yesterday, Dickens said many groups called for better police training after the 2020 police killing of George Floyd, but don't seem to want that training to happen.
Mayor Andre Dickens: We can't train imaginary. We have to do it in a facility that allows for police, firefighters and the community to train together. And so this is bringing about the change that we wanted to see in 2020. And now while we're doing it, these individuals don't want to see any resources go towards that.
Peter Biello: According to the Centers for Disease Control and Prevention, U.S. life expectancy fell for the second year in a row. They cite 2022 deaths from COVID-19 and drug overdoses. But as GPB's Ellen Eldridge reports, a new program could address at least one of the causes.
Ellen Eldridge: Fentanyl is a deadly opioid that is increasingly found in illegal drugs like pain pills, cocaine and even marijuana. Daryl Carver with the Fulton County Board of Health says they will partner with organizations to provide fentanyl test strips so people can check drugs for its presence. The campaign will also connect people to other resources. 
Daryl Carver: Eventually, when they keep coming back to us on the regular for these tools and we build a relationship with them, it's really easy to build a relationship of trust and support so that when people are ready to make other decisions in their lives, we're here for it and can help navigate them accordingly.
Ellen Eldridge: Free fentanyl test strips are available in health centers where folks can receive HIV resources. For GPB News, I'm Ellen Eldridge.
Peter Biello: Leaders of Macon Bibb County raised the flag of the Muscogee Nation of Oklahoma over Macon City Hall Friday in a public ceremony between local and tribal leaders. GPB's Grant Blankenship explains.
Grant Blankenship: The bond between Macon and the Muscogee Nation has strengthened during the effort to create Georgia's first national park at the Muscogee Mound site, which the Muscogee considered part of their ancestral home. But as a nation, the Muscogee have not lived in Georgia for 200 years. As was explained in the reading of the land acknowledgment, the Bibb County Commission recently voted to enshrine into the county code.
Speaker 1: In 1821, the Muscogee Creek people were forced to relinquish this land.
Grant Blankenship: In his remarks, Muscogee principal chief David Hill said people may then wonder why he and others still feel a connection to Georgia.
David Hill: This is where our people are buried. Our stories are still here.
Grant Blankenship: Unless some future county commission votes to remove it, the flag of the Muscogee Nation will fly above Macon City Hall forever. For GPB News, I'm Grant Blankenship in Macon.
Story 5
Peter Biello: A collaboration between the Bibb County Sheriff's Office and one of the state's largest providers of mental health care will create the first mental health co-responder unit in central Georgia. GPB's Sofi Gratas has more.
Sofi Gratas: Signatures on a couple of agreements made Bibb County's mental health co-responder unit official last Wednesday.
Speaker 1: All right. It is like buying a house.
Sofi Gratas: The new partnership between law enforcement and River Edge Behavioral Center will help officers better respond to mental health crises by placing experts within easy reach of officers. William Barnes is the senior director at River Edge.
William Barnes: We only have funding for one person, but we know it's a 24-hour issue. So 24 hours a day, the sheriff's teams will be able to call our facility and get a consult when our person isn't available.
Sofi Gratas: People who need additional support after intervention will be transferred to a new River Edge mental health center rather than to the county jail. For GPB News, I'm Sofi Gratas in Macon.
Story 6
Peter Biello: Protesters who have been camped out for months in opposition to the construction of a police training center in an Atlanta forest are mourning the loss of Manuel Teran. The 26-year-old protester was shot and killed last week by law enforcement who claim Teran shot first wounding a state trooper. The shooting has inflamed tensions between protesters and police, which persisted over the weekend as a protest in downtown Atlanta turned violent. Joining me now is David Peisner, who's been covering the story for The Bitter Southerner. He spoke with Teran and other protesters for months. Thank you very much for speaking with me, David.
David Peisner: Thanks for having me.
Peter Biello: Let's talk a little bit about Manuel. Over the course of your reporting, you got to know them. And we should mention that we are using they/them pronouns for a Manuel Teran as they preferred. Who was Manuel Teran to you? 
David Peisner: Manny was first and foremost a source. They were someone I met when I first went down to start reporting on what was going on down in the forest. Manny was an intelligent, thoughtful, funny, self-aware person. I didn't know Manny socially. We weren't friends, but we did spend a lot of time talking. I wouldn't presume to be able to speak for Manny or any of the Defend the Forest movement or for even the wider movement of people and activists who are trying to protect the whole — the South River Forest. I'm just a journalist working on a story.
Peter Biello: As far as I understand it, Manny was not from Georgia. I imagine in the course of your conversations with them, you spoke a bit about their motivations, why they were there, why they were protesting. What did they say about why they were there?
David Peisner: On a very specific level, Manny came to the forest for what they called a week of action. These were things that the forest defenders would have to kinda promote what was going on down there within the activist community.
Peter Biello: And when was that week of action?
David Peisner: I don't know exactly. So this conversation I had with Manny, it would have been in August, and they had been down there at least several months at that point. But it could have been any time, probably, early in 2022. But Manny had come down for the week of action and as they put it to me really fell in love with the forest and fell in love with living there. The way they put it was, "I love being a forest hobo." So they really fell in love with the forest. But they had a really deep commitment to environmental and social justice issues.
Peter Biello: And you spoke with other people protesting in the forest as well. I'm wondering how much Manny's motivations were shared by those you spoke with.
David Peisner: They were broadly shared. I think that that would be the case. You know, it's a tricky thing because this movement is an autonomous, decentralized movement. So there are no leaders. There is no one in charge of anyone else. And so everyone's essentially part of a movement, but not really part of a group, if that makes any sense. ... So in other words, if somebody is setting fire to a construction machinery and someone else doesn't agree with that, those people can coexist in this same movement without sort of taking responsibility for that person's actions. This is kind of a complicated setup, and it's a distinction that people outside this movement do not make. It's been a little bit of a problem because certainly elected officials and police will paint the movement in broad strokes as being violent or destructive, even though the movement will lean on this autonomous, decentralized structure to say, "Look, I'm responsible for what I do, not for what anyone else is doing." In reality, the distinctions aren't being made broadly and the whole movement gets tarnished by these sorts of actions, I guess.
Peter Biello: You write in The Bitter Southerner that Manny was against violence in protests. The police allege that they fired first and they say they have the gun they allegedly used. How do you square what they said about their position on nonviolence with what the police are saying now?
David Peisner: I mean, there's a disconnect for me, too. We spoke at length about nonviolence, about nonviolent resistance, about tactically how nonviolence was the only way that this was going to work. The way Manny put it, and I don't remember the exact quote, but it was something to the effect of: "We're not going to outviolence the police. They're good at violence. We're not." For me, the way that I have to reconcile that is one of a couple of ways. One: the official narrative is not correct [that Teran didn't fire on them first]. I should say I have no idea what happened. If it did happen that way, if it did happen exactly as the police laid out or close to the way the police laid [it] out, there are a couple of ways I could think about it, which is that ... Manny was playing me, that they were telling me what they thought I wanted to hear, what they thought would look good in print, and that is an absolute possibility. There is also a possibility that Manny's views changed.
Peter Biello: You mentioned that this is a decentralized movement and to some extent that could be problematic especially for those who want this to be a nonviolent movement. Does that decentralization also make it hard to actually sit down at the table with law enforcement? Because whoever you have at the table with law enforcement doesn't have any sway over those who refuse to negotiate and who have just one goal, all or nothing, in mind.
David Peisner: Sure. I mean, that's that was so many conversations I had during my reporting. If no one can negotiate...the way I put it was [that] it's unreasonable by design. Like, no one can negotiate. Sure, there were people who had been down there longer who had sort of more moral authority maybe within this group. And maybe the police or law enforcement or politicians could have sat down with them and said, "Is there something we could work out?" My guess is that they wouldn't have even sat down with them.
But let's say they did. And that person might have said, "Okay, what with the politicians and the police are offering here is reasonable. They're going to shrink the footprint or maybe they're going to move this to someplace else. There's a parking lot in DeKalb County that's not being used and they're going to move the whole thing there. And there's going to be no destruction of the forest." And that sounds reasonable. And we agree with that. That person has no authority to then say, "All right, we're leaving."
But some people just liked living down there. Some people literally said to me, "I'm not leaving no matter what. This is my home now. I like living in the forest." And I think that's really problematic for this movement because, you know, they were those people would say, "Oh, well, it's squatter's rights. Why shouldn't I be okay?" Like, those are those are legitimate arguments to make. But that's not the arguments that are being made by their allies outside the forest. And there's such a movement, a sort of impulse to turn this story into two sides, that there's the forest defenders and there's the cops. And, you know, you're on one side or the other. And unfortunately, that's the way it kept going until the forest defender and the cop had this confrontation and two people were shot and one of them was killed. But there are actually a lot of other people involved —  a lot of other people on both sides.
Peter Biello: Who would those be?
David Peisner: Those would be, you know, local activists. Local activists —
Peter Biello: People who care but are not parked in the forest right now?
David Peisner: Right. People who weren't living down in the forest, but they maybe they live nearby. They were concerned about policing issues. But they weren't necessarily about to abolish the police. They're South River Watershed Alliance, the South River Forest Coalition Group, the Great Park Conservancy, which is on the other side. They wanted to see development in their neighborhood. These are some people who live nearby. The area has been neglected for years and years and years, and they wanted to see positive development, a new park. And I don't think that those people are unreasonable. And if you could have gotten the reasonable people talking, maybe this doesn't come to the point that it came to.
Peter Biello: David Peisner has been writing about the protests over Atlanta's plan to build a police training facility in South River Forest for the Bitter Southerner. You can find a link to his work at GPB.org. David, thank you so much for speaking with me.
David Peisner: Thanks so much.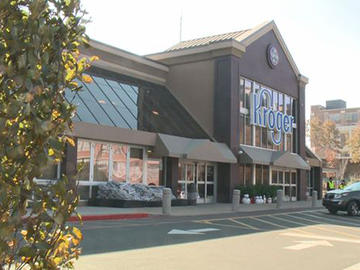 Peter Biello: A recent merger between Kroger and Albertsons has led the companies to close stores in several states, including in Georgia. GPB's Amanda Andrews explains how metro Atlanta officials are helping residents after one store, affectionately known as Little or Baby Kroger, shut down after more than 20 years in Decatur.
Amanda Andrews: Downtown Decatur is known for its walkability, but the Kroger, the last supermarket within walking distance for many residents, closed last month. In response, the city of Decatur and the local Publix are teaming up with Lets Ride Atlanta, an electric shuttle service, to offer rides to the nearby Publix through mid-April. Operations manager Shundel Cooper says the rides will help reach seniors that public busses don't service.
Shundel Cooper: There's no routes that come from, you know, a lot of these senior home communities directly to the Publix. It's just a more convenient way for a lot of folks to pass with more on demand service.
Amanda Andrews: Kroger also closed a store in Buckhead, mirroring a national trend of mergers and subsequent closures. For GPB News, I'm Amanda Andrews.
Peter Biello: And that is it for today's edition of Georgia Today. If you haven't had a chance to subscribe to the podcast yet, please do so now, so that way we pop up in your feed tomorrow. And if you've got feedback, we'd love to hear it. Email us at GeorgiaToday@gpb.org. I'm Peter Biello. Thank you so much for listening. We'll see you tomorrow.
GPB's Georgia Today newsletter hits your inbox on Tuesdays, Wednesdays and Thursdays with top stories from around the state. Featuring news, politics and more. Subscribe here.
Secondary Content
Bottom Content