Section Branding
Header Content
Political Rewind: Cases on serving same-sex couples, independent legislatures before Supreme Court
Primary Content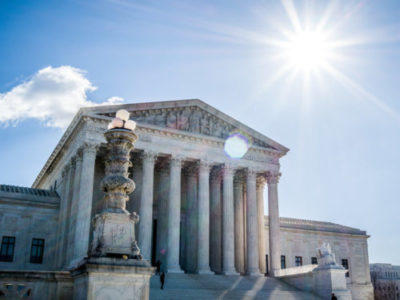 The panel
Anthony Michael Kreis, @AnthonyMKreis, professor of law, Georgia State University
Fred Smith, @fredosmithjr, professor of law, Emory University
Jim Galloway, @JimJournalist, former political columnist, Atlanta Journal-Constitution
Lori Ringhand, professor of law, University of Georgia
The breakdown
1. The 11th Circuit finalized its decision to eliminate the special master's position in the Mar-a-Lago investigation.
Trump's legal team has signaled that it will not appeal to the Supreme Court.
Several Trump-appointed judges sit on the 11th Circuit, a sign that partisanship isn't playing a role in the investigation.
2. Congress passed the Respect for Marriage Act, which recognizes same-sex and interracial marriage.
The bill, now headed to President Biden's desk, requires that states recognize marriage licenses for same-sex and interracial couples issued by other states, allowing access for Medicare, Social Security, and other federal benefits.
After Dobbs overturned Roe v. Wade, the House rushed to codify other civil liberties based on a similar prescedent as abortion access.
3. A Colorado woman has taking a case involving religious liberty and the right to refuse service to same-sex couples to the Supreme Court.
Lorie Smith is starting a business to provide web services to clients. She's signaled she wouldn't refuse service to a LGBTQ+ person, but she would deny a same-sex couple a website for wedding planning.
The case is built on a hypothetical, since no same-sex couple has requested the service from Smith.

She alleges that Colorado's public accommodations law violates her First Amendment rights, which states businesses open to the public must provide equal access to everyone, regardless of race, religion, sexual orientation, and gender.

The case echoes a 2018 case from Colorado, in which a baker refused to bake wedding cakes for a same-sex couple. The court's opinion sided with the baker.
4. The Supreme Court is hearing a case that could determine how much power state legislatures have over federal elections.
The North Carolina state legislature proposed redistricting that was struck down by the state's Supreme Court. The state's theory, titled "independent state legislature" theory, posits that legislatures have authority over courts, and in its most radical interpretation, a governor's veto.
Immediately, concerns around election integrity sprang up. Legislatures could approve federal electoral ballots for president that were not chosen by voters, recalling Georgia's false slate of electors sent to the Library of Congress.
Monday on Political Rewind: The AJC's Patricia Murphy joins the panel.
Secondary Content
Bottom Content