Section Branding
Header Content
Political Rewind: High turnout during Saturday voting; Walker retreats; Abortion ban now law again
Primary Content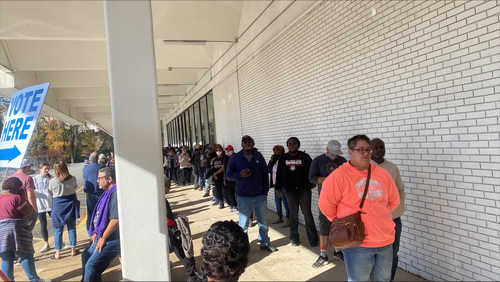 The panel 
Charles Bullock, professor of political science, University of Georgia
Kendra King Momon, professor of political science, Oglethorpe University
Patricia Murphy, @MurphyAJC, political reporter and columnist, The Atlanta Journal-Constitution
Rick Dent, political ad expert, vice president, Matrix Communications
The breakdown
1. Early voting for U.S. Senate runoff sees long lines amid high turnout
Gabriel Sterling from the Georgia Secretary of State's office said that weekend turnout totaled nearly 200,000.

Statewide early voting for all 159 counties begins today and ends Friday, Dec. 2, with runoff election day on Tuesday, Dec. 6.
2. Herschel Walker retreats from the campaign trail
This past week, Sen. Raphael Warnock hosted 16 events while Walker hosted just two. 
Walker's TV and mail ads also lean heavily on incumbent Gov. Brian Kemp.
3. Political ads focus on hot-button issues and Walker's past. 
Meanwhile, a Warnock PAC released another ad zeroing in on Walker's violent past. 
4. The Georgia Supreme Court reinstates abortion ban.
The high court on Wednesday reinstated the state's ban of abortions after roughly six weeks of pregnancy.

It put a lower court's ruling that overturned the ban on hold while it considers an appeal.
Tuesday on Political Rewind: The AJC's Tamar Hallerman joins the panel. 
Secondary Content
Bottom Content