Section Branding
Header Content
Behind Stacey Abrams' concession speech — and what might be next for her
Primary Content
LISTEN: Stacey Abrams faced harsh criticism after refusing to concede in her 2018 loss of the gubernatorial race. Four years later, election night played out much differently. GPB's Riley Bunch reports.
——
On the campaign trail in Stacey Abrams' rematch against Kemp, there was one question that she couldn't escape: Would she concede to Kemp if the numbers weren't playing out in her favor?
The high-profile voting rights organizer has faced unrelenting criticism for refusing to plainly concede in her first matchup against Gov. Brian Kemp in 2018 — a decision she has consistently defended over the years. 
Abrams and her organization Fair Fight went on to file a lawsuit against Kemp in the weeks following the 2018 election. But after years tied up in court and a narrowed-down focus, this October a judge ruled against the challenge and found that the state did not violate voters' constitutional rights.
The ruling reinvigorated the debate of whether or not Abrams was right to refuse to admit defeat after losing to Kemp by about 55,000 votes.
The closer it got to election night, the more frequently she was asked if she'd do things differently this time around.
On a call with reporters on Nov. 7, Abrams' campaign manager Lauren Groh-Wargo painted an optimistic picture of the Democrat's chances. Again, she pushed back against the notion that Abrams wouldn't concede after votes came in.
"As in 2018, Stacey is going to accept the election results," Groh-Wargo said. "And she's addressed that question herself directly many times in the past weeks."
She estimated that voters wouldn't have a result until Wednesday evening due to narrow margins — after counties were able to tally mail-in ballots and work through any voter challenges.
"We are preparing for the results to take that time to come in so that we may not have a result until Wednesday is absolutely possible," she said.
But Georgians did not have to wait until the day after the election to know who would be their next governor.
Abrams called Kemp to concede just before 11 p.m. on Election Day. The Republican's team said the governor described the brief conversation as "cordial, gracious and polite."
Shortly after, the Democrat started her speech to supporters by offering congratulations to Kemp. The opening statement drew a few scattered cries of disappointment from audience members in the room.
"Tonight, I am doing what is clearly the responsible thing: I am suspending my campaign for governor," she said. "I may no longer be seeking the office of governor, but I will never stop doing everything in my power to ensure that the people of Georgia have a voice."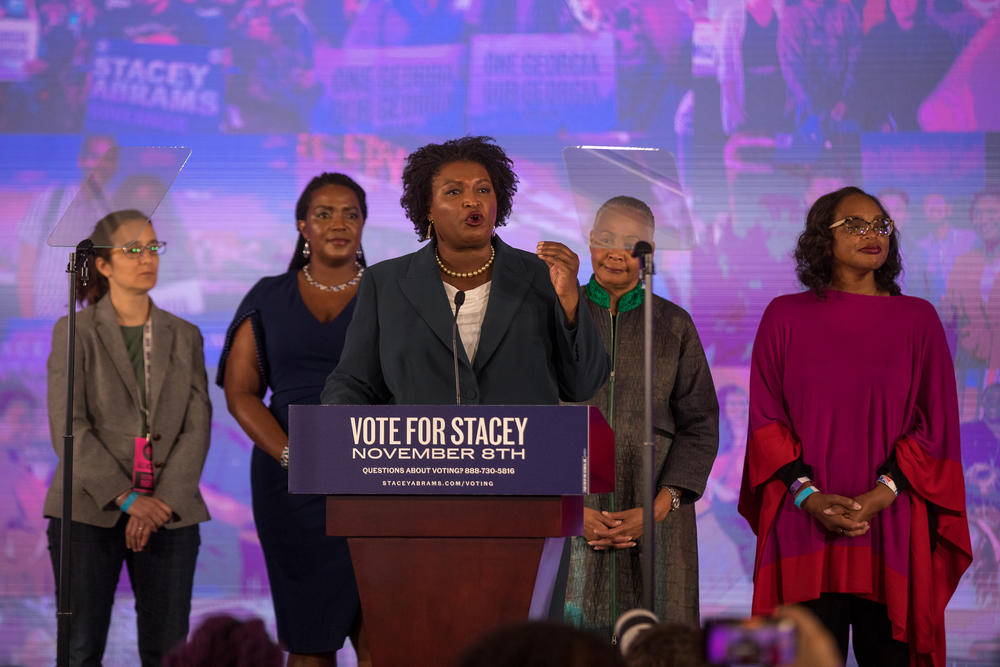 Politics in the shadow of Jan. 6
During a debate on WSB-TV in October, both Kemp and Abrams were asked whether or not they would support the outcome of the election — which they both agreed to.
The simple question held high stakes in the midterm election.
In 2020, Georgia officials were entangled in efforts by former President Donald Trump's efforts to overturn the presidential election outcome after voters backed a Democrat for the first time since 1992. In Trump's wake, hordes of far-right Republican candidates across the country have denied election results and refused to concede in their races, including in Georgia.
Critics have equated Trump's refusal to concede in his race to Abrams' rhetoric in 2018. But experts say her allegations of voter suppression weren't close to comparable to the unfounded claims of voter fraud that followed the 2020 presidential election as an effort to cling to power and spark violence.
Andra Gillespie, political science professor at Emory University, said that it's an "unequal comparison."
"She didn't gin up supporters to go to the Gold Dome and attempt to forcibly change the certification of the election results," she said.
Gillespie said the Jan. 6 insurrection put on full display the fragility of the democratic process and upped the ante for how politicians navigate failed bids for office.
"Clearly the political climate has changed," she said. "And so given what happened on Jan. 6, it was very important for losing candidates to model good behavior by graciously accepting defeat."
Abrams also lost her second match against Kemp by about 300,000 votes, a much larger margin than in 2018, placing less weight on votes that trickled in late, Gillespie said.
During a live interview with outlet The 19th in September, Abrams, when asked about the comparison, said "words matter."
"The issues that I raised in 2018 were not grounded in making me the governor," she said. "Not a single lawsuit filed would have reversed or changed the outcome of the election. My point was that the access to the election was flawed, and I refuse to concede a system that permits citizens to be denied access."
The Democrat said a fight for access at the ballot box is not the same fight as a battle to enhance your own political position.
"I will never, ever say that it is okay to claim fraudulent outcomes as a way to give yourself power," Abrams said.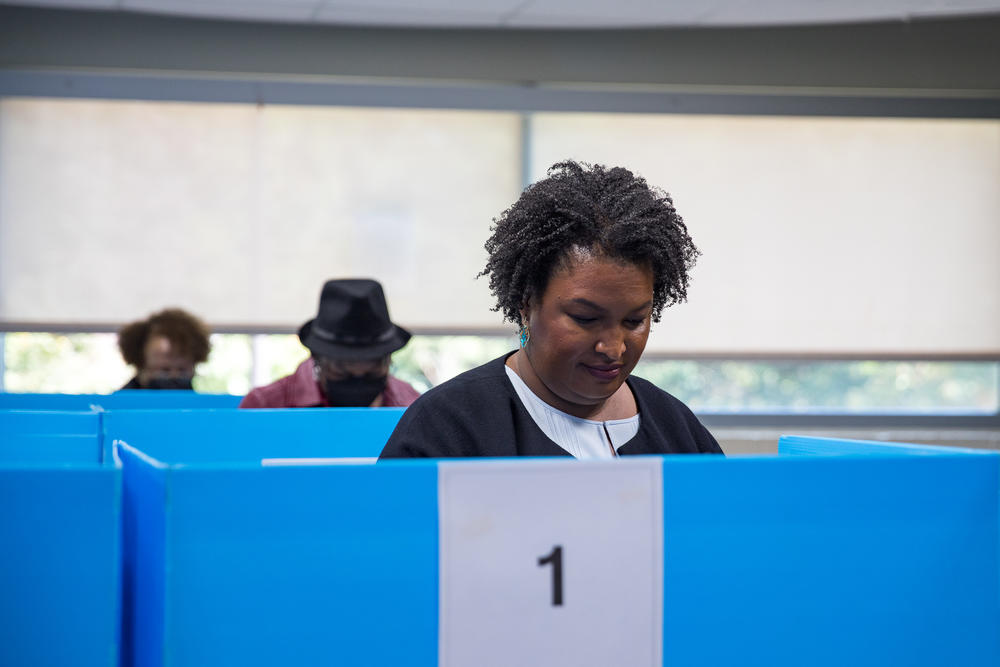 What's next for Abrams?
Before Abrams announced her second bid for governor, speculation brewed as to if she would even run. 
The now-nationally recognized voting rights organizer was rumored to be on President Joe Biden's short list for vice president, is a bestselling author and was nominated for an Emmy Award.
Georgia Republicans, too, made Abrams' political ambitions frequent fodder on the campaign trail. 
"Looking at the results tonight, we made sure that Stacey Abrams is not going to be our governor or your next president," Kemp proclaimed cheerfully to supporters at the Coca-Cola Roxy during his speech on election night.
But 10 miles away in the ballroom at the Hyatt Regency in Atlanta, an emotional Abrams painted a bright picture of what might come.
"I've talked with Georgians of all ages, of all backgrounds, from red to blue to purple, and they are all ready for change," she said. "And while they may not have chosen change tonight, they had to think about it."
Her 13-minute speech was also filled with similar calls to action as on the campaign trail: to expand health care coverage, bolster access to the ballot box and invest in public education.
But she gave no indication that she would fade from the public eye.
"While I may not have crossed the finish line, that does not mean we will ever stop running for a better Georgia," she said. "...And tonight, we must be honest. Even though my fight, our fight for the governor's mansion may have come up short, I'm pretty tall."
Democratic strategist Tharon Johnson said he speculates that Abrams — who gave the Democratic response to Trump's State of the Union address in 2019 — will continue to remain a face of national party politics. 
But he said he would be surprised if she ran for election in Georgia again.
"I think her future in Democratic politics nationally is limitless," he said. "Locally, in the state of Georgia, in an elected capacity, I think it's pretty much over."
"She now has built up a national voice that many Democrats across the country have acknowledged of her," he continued. "So we'll just have to really wait and see how she utilizes all this good capital she's built up."
Gillespie, too, rattled off a laundry list of potential future roles for Abrams — she could become a political pundit, focus on civil rights advocacy or pursue a more prominent role in the state or national Democratic Party.
"Barring running for governor again, she can do pretty much anything she wants to do," she said.
Abrams and her campaign declined comment for this story.
Secondary Content
Bottom Content