Section Branding
Header Content
Kemp wins second term for governor over Abrams
Primary Content
Georgia voters have backed Republican Gov. Brian Kemp for a second term after his first four years in office were tested by a pandemic, protests and a tumultuous 2020 election.
Democrat Stacey Abrams announced she called the Republican to concede around 11 p.m. The Associated Press called the race for Kemp about an hour and a half later.
Ten miles away at the Coca-Cola Roxy at Kemp's election night watch party, after Abrams' concession, the crowd began to chant "four more years!"
"As a construction guy from Athens who started his first small business with a pickup truck and a shovel, I can't tell you how honored I am to be your governor for the next four years," Kemp told supporters during his victory speech. "You have honored us beyond measure with your vote."
Kemp beat out Abrams for a second time after narrowly winning their first match-up in 2018. But the first-term governor's reelection bid looked much different than when he was a relative political newcomer.
While the Republican's first campaign hinged on hyper-conservative rhetoric and an endorsement by former President Donald Trump, Kemp mostly avoided mentioning controversial far-right policies this cycle in an effort to appeal to moderate and swing voters.
Kemp stayed focused on touting his record in office — specifically the state's strong economy after he decided not to shutter businesses during the height of the COVID-19 pandemic. 
On the campaign trail, he successfully avoided any mention or interference by Trump, who targeted Kemp after he rebuked the fomer president's efforts to overturn Georgia's 2020 election results. Earlier this year, Kemp easily defeated his most prominent primary challenger, Trump-backed former U.S. Sen. David Perdue.
Polls leading up to the consequential midterm election showed Kemp with a steady lead over Abrams. But in the final days ahead of Nov. 8, Kemp urged supporters not to trust the numbers showing a gracious lead over his opponent and warned of Democrats' organizing power.
"I'm putting my faith in the voters of this state," Kemp said during a rally in Kennesaw on the eve of the election.
The outcome of the election maintains Republican control over state policy as the party holds control of both the Georgia General Assembly and the governor's mansion.
During his first term, Kemp's landmark legislation included Georgia's strict 2019 abortion ban — which took effect this year after the Supreme Court overturned Roe v. Wade — and permitless carry legislation this past session that was the state's first significant piece of gun policy since 2014.
In stump speeches this election cycle, he's promised to back a hefty tax refund for Georgia voters and a one-time property tax break. Both together would cost the state $2 billion.
But the state's coffers can easily take the hit, as Kemp and state lawmakers sit on a $6.6 billion surplus which the governor attributes to his decision to keep businesses open during the pandemic.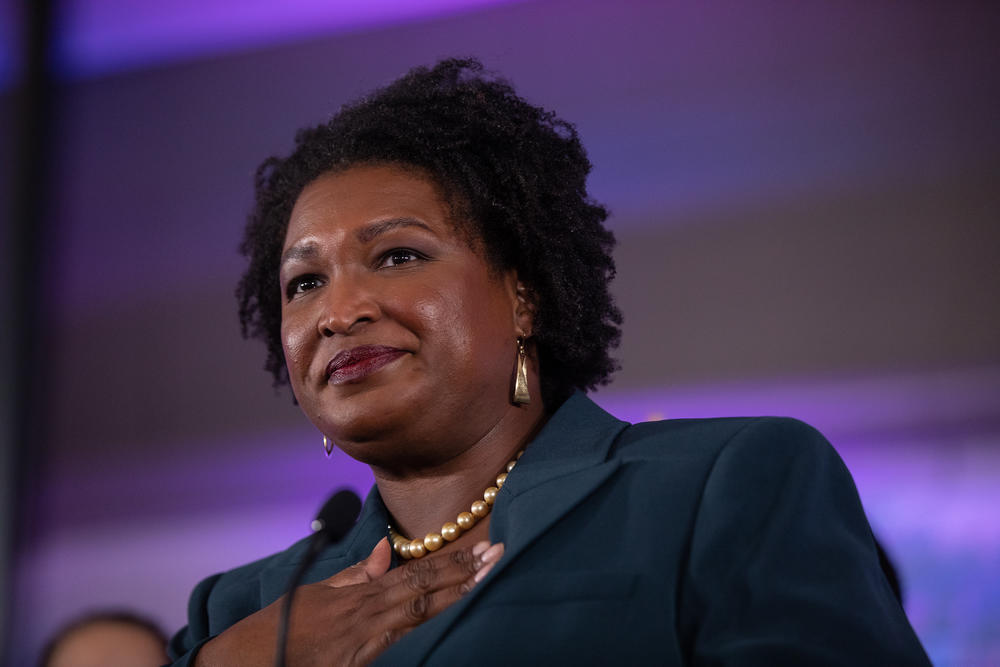 If she was elected, Abrams would have become the first Black female governor in the country. 
Her campaign during the 2022 cycle featured the same policy initiatives to her platform in 2018, including Medicaid expansion, but also featured a push to legalize casino gambling and sports betting and a heavy focus on overturning Georgia's near-total abortion ban.
Abrams' campaign focused mobilizing efforts on turning out the Democratic base and reaching infrequent voters not captured in polling.
The Democrat faced heavy criticism for not conceding in 2018 but promised in the days leading up to Nov. 8 to address supporters on election night. 
Not long after she called her opponent to concede, she emotionally addressed a hotel ballroom packed with supporters. She began by publicly congratulating Kemp.
"I got into this race for one reason and one reason only: to fight," Abrams said. "And not just any fight, a fight to save Georgia."
Abrams gave no indication that the loss would end her political career and ended her second bid for governor with optimism.
"Here's what gives me hope: over the last year across this great state, countless Georgians were willing to come off the sidelines and willing to fight for that Georgia," she said.
"And while I may not have crossed the finish line, that doesn't mean we will ever stop running for a better Georgia," Abrams said.
GPB's Sofi Gratas contributed to this story.
Secondary Content
Bottom Content