Section Branding
Header Content
Political Rewind: Nearly 300K Georgians cast ballots; Tuesday's debates center down-ballot races
Primary Content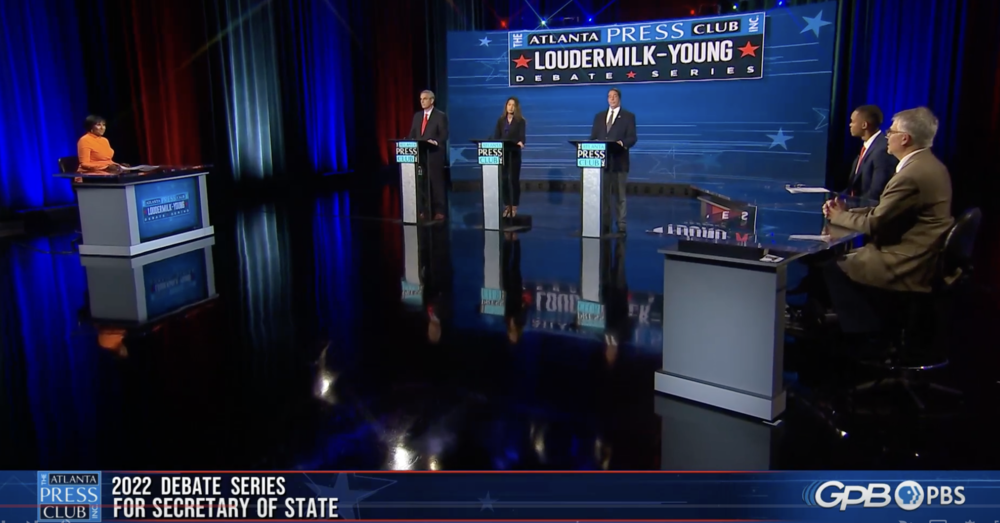 The panel: 
Greg Bluestein, @bluestein, political reporter, The Atlanta Journal-Constitution
Matt Brown, @mrbrownsir, democracy reporter, Washington Post
Meg Kinnard, @MegKinnardAP, national politics reporter, Associated Press
The breakdown:
1. Nearly 300,000 Georgians have already cast their ballot in the Peach State. 
Georgiavotes.com reports 291,740 people have already voted. 

35% of the early turnout is of Black voters. 
Women also lead the early electorate at 53%. 
2. Democrats get star power in the final push in midterms. 
Oprah Winfrey will come out and campaign with Stacey Abrams. 
Tony award-winning playwright Lin-Manuel Miranda will campaign for Sen. Raphael Warnock. 
3. Abortion rights take center stage nationally, and in Georgia's attorney general debate. 
President Joe Biden vowed that if voters elect more Democratic senators and keep the House, he will send a bill to Congress to codify abortion protections into law.
Abrams releases a new ad centering couples who have had miscarriages to highlight strict abortion. 
Abortion was a large theme in the debate for attorney general. 

Candidate and state Sen. Jen Jordan (D) said Georgia's six-week abortion ban could prosecute women.
Incumbent Chris Carr (R) said the intent of the law is not to prosecute women. 
Libertarian Martin Cowan also shared the debate stage. 
4. Secretary of State debate distinguishes the incumbent and newcomers. 
Incumbent Republican Secretary of State Brad Raffensperger debated his challengers, Democratic state Rep. Bee Nguyen and Libertarian Ted Metz.
GPB continues our Fall Fund Drive. You can donate by calling 800-222-4788, or clicking here.
Secondary Content
Bottom Content