Section Branding
Header Content
Battleground: Ballot Box | The road to November runs through Southwest Georgia
Primary Content
LISTEN: On this week's episode, we take a deep dive into Georgia's 2nd Congressional District race and its potential effect on the midterm election.
——
There's been a lot of attention on Georgia's governor and Senate races, with millions of dollars pouring in to help determine the direction of the state and the country. But the most important race might involve who represents Southwest Georgia in Congress.
Democrats are all-in on trying to elect gubernatorial hopeful Stacey Abrams and Sen. Raphael Warnock, but they are also paying close attention to Southwest Georgia, where the outcome of Democratic U.S. Rep. Sanford Bishop's race could help determine control of the U.S. House and Democrats' statewide fortunes.
Bishop was first elected in 1992 and represents one of the 10 poorest congressional districts in the country, that is also home to the backbone of Georgia's agricultural industry. But this time around, some voters are looking for something different. Republican Chris West, a Thomasville native and one of the first real challengers Bishop has faced in 30 years, says it's time to "rotate the crop" and send someone else to Washington.
While Bishop is still favored to win reelection in a district that supported Joe Biden by about 10 points in 2020, the margin of victory and total turnout in the Black Belt could have an outsized effect on potential Democratic victories at the top of the ticket.
This week, we look at why the road to November runs through the heart of Southwest Georgia.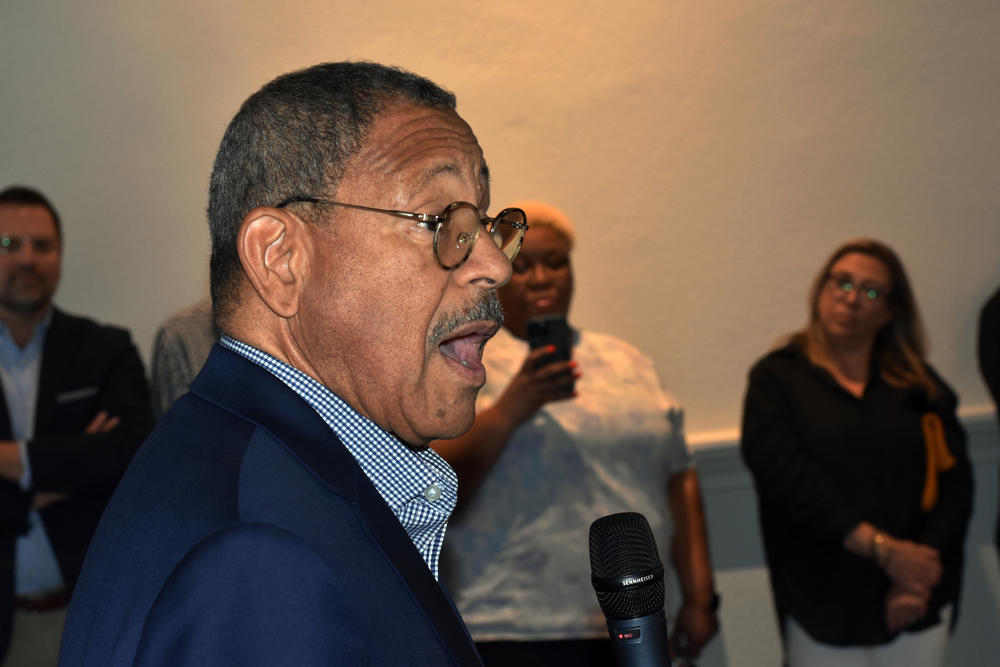 Democratic Rep. Sanford Bishop has been serving in the U.S. House for longer than I've been alive, and has faced many challenges and challengers over the years, but when I spoke to him after a meet-and-greet in Thomasville last week, the 75-year-old said this is the highest stakes election he's ever run in.
"I think that we are at a very pivotal moment in the history of our country and in the history of the world," Bishop said. "Democracy here in the United States and democracies across the country are being really, really tested. And so our vote in this election is going to be our voice and it's going to be the only weapon that we have to be able to preserve and protect the heritage, the legacy, the freedoms of the United States of America that have been sought after by generation after generation after generation from across the world."
It's a surprisingly dire message from the mild-mannered moderate congressman, a member of the fiscally conservative Blue Dog Democrats caucus and generally an unassuming figure in an era of outsized voices in a polarized Congress. For three decades, Southwest Georgia has been represented by Bishop, who has outperformed other Democrats by garnering support from white, Republican-leaning farmers in addition to the region's sizable Black population.
Since 2016, Bishop has won by anywhere from 18 to 22 percentage points. Joe Biden, Stacey Abrams and Hillary Clinton each won the district by about 12% in 2020, 2018 and 2016 respectively.
Some of that can be attributed to his more moderate, don't-rock-the-boat persona. Some of it, too, can be tied to the district: a massive, sprawling complex of mostly rural farmland that also includes parts of Macon and Columbus, two of Georgia's most populous cities.
"It's very awesome, and it also puts me in a very, very interesting but delicate position," Bishop told me. "I have to try to balance the issues and the needs of the state at large against the needs of my particular district."
Earlier this fall, I spoke at length with Bishop in Columbus during the Democratic Party of Georgia's state convention — strategically held in what is now the only remotely competitive U.S. House district — and asked him why he's seemed to survive so long in a fast-changing political world.
"Politics in Georgia has become very polarized," he said. "The Atlanta metro area is much more liberal and has a different perspective in viewing some of the issues than the rural parts of Georgia. My district is half rural and half urban, so I have to be sensitive to both of those constituencies."
That means for Bishop he has to pay closer attention to the sentiments of voters on both sides of the aisle, and says his decisions are grounded in "what is in the best interest of the majority of the people and what's good government."
"So I basically try to put the people above politics," he added.
That's borne out numerous times throughout his lengthy career. A strong supporter of the 2nd Amendment, once upon a time (in 2018), he used to have an A rating from the National Rifle Association. But he's also voted for a recent Democrat-sponsored bill to ban assault weapons.
As another example, in a lengthy anecdote during that Thomasville stop, Bishop explained how he came to eventually support the Affordable Care Act's passage in 2009.
"I did an opinion poll, and the scientific poll came down almost 50/50: Half of the people wanted it, the other half of the people were adamantly opposed to it," he said. "So I was damned if I did and damned if I didn't."
He held a town hall on the issue — in Thomasville, coincidentally — and was greeted by tons of angry constituents who were very much opposed to the health care legislation.
"So I just got down on my knees and asked God to help me make the right decision," he said. "And I asked, 'What would Jesus do?' And I was reminded of the 25th chapter of Matthew: 'When I was sick, you ministered unto me.' That said to me that I should try to implement a policy so that people who were sick could get some relief, could get some healing, and could get the health care that they needed. And this was an opportunity to do that."
The Affordable Care Act became law, and has stayed the law of the land despite Republican rumblings over the years to dismantle it — and his controversial decision panned out.
While other Democrats in Georgia and nationally are focusing more on issues like abortion access, voting rights and other bread and butter issues for the party, Sanford Bishop has largely stuck to a script of topics more relevant to the people of the 2nd District, like touting the bipartisan Infrastructure bill's impact on crumbling roads and bridges in the region and his heightened roles on key financial, military and agricultural committees.
Plus, there's this recent TV ad featuring bipartisan endorsements from two rural sheriffs supporting Bishop's stance on crime and policing.
Put another way, Bishop says he just doesn't have time to play a lot of polarizing games like politicians in safer districts can play, because he really has to cater to an electorate truly representative of many different viewpoints.
"In most instances, the issues that impact my district are really not partisan issues," Bishop said. "Agriculture is a bipartisan concern. It is the largest economic engine for the state of Georgia and, of course, everybody has to eat."
There are plenty of pluses about Bishop's campaign that should point to an easy reelection, even after redistricting turned the district slightly less favorable, dipping the Black population to just under 50% and making it the only remotely competitive seat in the state.
For one, he's a multi-decade incumbent with bipartisan charm and crossover appeal. He's got clout with key industries like agriculture, takes a more moderate stance on many key issues, is supported by a strong base of Black voters and has raised record funds, dwarfing his Republican opponent Chris West.
So why are members of both parties cautiously eyeing this race well outside of Atlanta?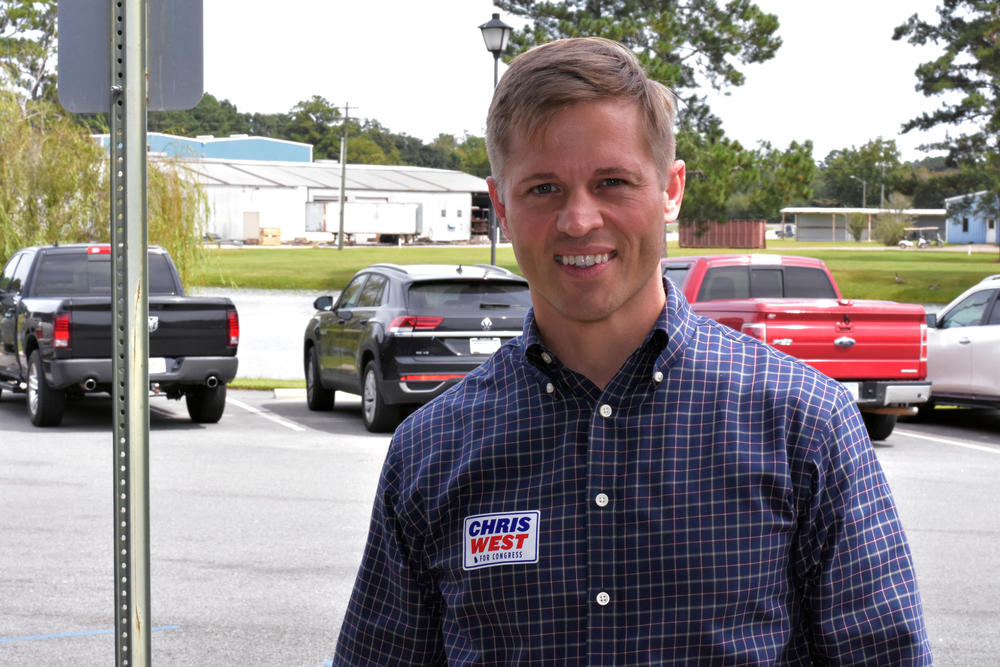 Where Sanford Bishop's success has come in crossover support from white conservative-leaning farmers, Chris West's pathway to Congress comes from bringing those voters back to the fold — and then some.
He's got the resume of a solid Republican candidate: military service, business owner, family man and church member. He is a Thomasville native whose family ties to agriculture run multiple generations. He's challenging a popular incumbent, though in a midterm year where Republicans are favored and disillusionment with Democratic control in Washington still hangs in the air. He's running a shoestring campaign after notching an upset win in a primary runoff against an opponent with outside funding and more airtime on Fox News.
So West has been crisscrossing the 30-county district, speaking at small-scale events like one in Roberta, at a Young Farmer meeting, where he's right at home sampling barbecue in a high school classroom after hours.
West has a steady stump speech outlining his family background, ties to the district, and familiar statistics about the district's reliance on agriculture and high levels of poverty. He laments high costs of fertilizers and fuel farmers need to make the food we eat and then places the blame squarely on Bishop's votes for Democratic policy agendas.
"My opponent Sanford Bishop has voted with Joe Biden 100% of the time to put us in the position of having these high fuel prices and inflation issues," he said at one point.
He's not bombastic, but rather comes across like a friend and neighbor who wants to make a difference.
"I want to go up and work hard to be your voice in Congress," he said. "And I've been going out all across this district and all of our different communities from the north side to the south side, east and west, meeting with folks to say 'I want to be your voice! I want to go out there and fight for you to say a lot of these regulations, they don't pass the test of common sense.'"
More notably, at a time when a growing segment of the Republican Party is focused on emulating Donald Trump and culture war issues like abortion, transgender rights and false claims about the 2020 election, West is locked in on things that actually matter to people of the district, mainly agriculture.
And it's certainly getting some attention.
"A lot of people — even in Atlanta, at the Capitol, in Washington — they don't worry about the agriculture person, because they think they can just run down to Kroger and pick up their food," Daryl Baxley, an agriculture teacher at Crawford County High School said after the event. "They have no understanding that a farmer had to grow it, and to have a somebody like Chris West who wants to base his candidacy on agriculture is huge because we in agriculture need somebody who is a constant supporter of agriculture and to understand just how much money we put in the economy."
Baxley is also the advisor for the Crawford County Young Farmers group. Inflation isn't just a nebulous concept used as a political football for his members, it's in some cases tripling the cost of things like gasoline and fertilizer costs.
"We as consumers might pay a higher price, but that higher price is not going to the farmer," he said. "That higher price is going to everybody else, in the packaging, in the transportation and things like that. So when their input costs have tripled, their bring-in has not tripled."
Baxley said some farmers are losing money and leaving agriculture because of inflation, so West just showing up, listening and offering his conservative policy stances goes a long way. And that genuine interest could be enough to persuade crossover Sanford voters to give him a chance.
"A lot of people just even here in Crawford County have been huge Sanford Bishop supporters throughout the years," he added. "Republicans voted for him, Democrats voted for him. And I'm not saying that, you know, Sanford's a bad guy or anything, but it's time to have somebody who supports agriculture not only with their mouth, but with their vote."
West knows he's in an uphill battle to beat Bishop, and he's taking every opportunity to find votes and sharpen his message. Just outside of Thomasville in Coolidge, West toured Hurst Boiler, the largest boiler manufacturer in the country where jobs pay well with strong benefits.
"We're out here just getting around, seeing what y'alls operation looks like," he says to an old friend he spotted working during his tour. "You know, that's part of why we're running: to help bring more of this stuff to Southwest Georgia. It's been a successful company and we want to try to replicate this and get good paying jobs throughout this district."
Driving through the district, there have been more Farmers for West signs pop up in recent weeks, and people that used to donate money to Bishop have been supporting West (though the extent won't be known until campaign finance reports are released). While the Republicans' campaign is being outraised and outspent, he says word of mouth, his background, experience and the promise of something different has helped his campaign spread.
Another strategy that should not be overlooked is taking his message about the economy and inflation to places where Republicans don't usually spend a lot of time, Jalen Johnson, a young Black Republican city commissioner in Albany, said.
"Chris West is doing something different than I don't think any of Sanford's challengers over the decades have been able to do," Johnson said. "Chris is going to these rural communities in rural cities in Southwest Georgia — not just hitting the big apples, like Albany, Columbus and Macon. Of course, Chris is hitting those as well."
From white farmers in Roberta to lower-income Black residents in Albany, Johnson says West's message is resonating with people who want to have better economic opportunities in the district that has still been one of the poorest after decades of Democratic representation in the U.S. House.
"If you tell me that we have leaders who've been in office for decades, and we've had the same political party and the same political structure that's been in office for decades, earning the same vote structure from people here in the city of Albany, and nothing has changed ... That's called insanity," Johnson said.
At the end of the day, he thinks enough people could vote for a fresh face in Congress for a reason akin to "Why not?"
"I finally think that the people of Southwest Georgia and the congressional district will actually wake up to the reality that we need some new representation," Johnson said. "There's nothing bad about saying that."
There hasn't been any public polling of the 2nd District, but one thing is clear: there are a lot more people paying attention both inside and outside Southwest Georgia at what the outcome will be.
In Thomasville, Bishop brought out close to 50 people to a meet and greet recently, like Margaret Titus, director of a nearby senior care center and unsuccessful state House candidate in 2018. She says in her corner of the state people want humanity and balance brought back into politics.
"And I think that Sanford Bishop is a perfect example of a man in politics with power who can make that happen," she said. "So I am compared committed to seeing him represent me. The definition of representative is to 're' 'present' and I believe that Sanford Bishop is representing my values."
Bishop believes the strength of his record — and accomplishments made during the first two years of President Joe Biden's administration — merits another term in office, telling the crowd that the glass is "half full" halfway into Biden's term in office.
There are several factors that are in Republicans' favor for a potential upset or at least some narrowing of the margins, like West's targeting of farmers and making inroads with Black voters dissatisfied with the state of the economy. In a typical midterm year, the party out of power nationally — which right now is Republicans — tends to do better in congressional races, and the 2nd District is drawn where it is not overwhelmingly Democratic. West is also engaging people who might not normally vote in a non-presidential year, and could add more Republican votes for statewide candidates in tight races.
On the other hand, Bishop, a three-decade incumbent, has raised more money this cycle so far than he's ever raised and is spending it to take no chances. In addition to Bishop's ads, the Democrats' national House committee is airing TV spots in the district attacking West as "extreme" on issues like Social Security and Medicare and for opposing abortion under any circumstances. Plus there are greater implications for the party as a whole. A strong showing for Bishop could boost turnout among Black voters in the district — which could then give Stacey Abrams and Raphael Warnock more support in what will, of course, be close statewide races.
But even if Bishop does win again, West's campaign has more than opened the door for a longer-term future where a Republican could represent the district — and might help seal the deal for the GOP at the top of the ticket in the shorter term by activating conservative-leaning voters who might otherwise stay home.
Battleground: Ballot Box from Georgia Public Broadcasting is produced by Stephen Fowler. Our editor is Josephine Bennett. Our engineer is Jake Cook and Jesse Nighswonger wrote our theme music. You can subscribe to the show on Apple Podcasts or anywhere you get podcasts. Thanks for listening.
Secondary Content
Bottom Content