Section Branding
Header Content
Fish can tell a creek's story. To catch the fish is shocking
Primary Content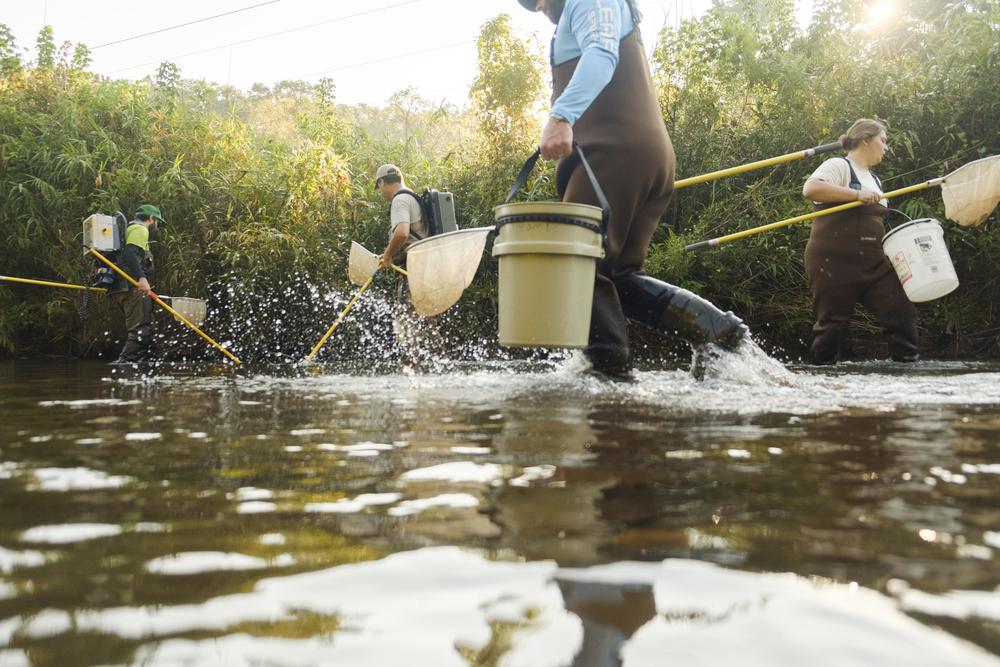 The creeks, streams and rivers we rely on for clean water are increasingly under stress from pollution and even from the power of rainfall itself. 
To measure how that stress affects a watershed's health, you can do lots of different things, like measuring the oxygen in the water or looking at how stormwater runoff changes a streambed. Or, you can look and see what is still living in the stream.
Underneath the brand new four-lane Jeffersonville Road bridge in Macon, Ga., there was still concrete spatter on the bank of Walnut Creek as five scientists with nets, waders and what looked like the proton packs from the movie Ghostbusters trudged upstream. 
In the group was Natalie McEver, Wastewater Laboratory Analyst for the Macon Water Authority. 
Part of McEver's job is making sure the utility which provides drinking water to Macon and surrounding communities is also managing the health of area streams which feed the Ocmulgee River, per the watershed management plan on file with the Georgia Environmental Protection Division. 
"We monitor eight sites in Bibb County," McEver said. 
Mostly, she said, that means taking water samples and looking at them in a lab to see if the pollutants are within federal guidelines. 
"But every other year we'll do a biological monitoring study." 
In other words, the scientists look to see what is still living in the streams. Some years that means bugs, for 2022 it's fish. That's the point of this field trip to this tiny section of Walnut Creek. 
"Collect fish. Organize them. Sort them. Count them," McEver said. 
Because every fish has a little piece of this stream's story to tell. 

Before you can collect, organize, sort and count, you have to catch, and a survey like this is not a line-and-hook affair. 
"Maybe don't get within ten feet of this or it will shock you," Kevin Barnes told me not long after we met.
He's an expert at using what's called an electrofisher to assess water quality. 
"Basically it's a cathode and an anode running electricity between the two."
The business end of an electrofisher is a loop at the end of a stick. That's the cathode, sending enough electricity into the water to, ideally, stun fish. Then they get scooped up alive and dropped in buckets to identify later. 
What Barnes described as  a "rat tail" hanging in the water off the back of the backpack is the anode completing the loop of electrical current.
Stepping in the loop is not dangerous, but you know when you've done it. 
"Little tingle?" Barnes asked early in the upstream walk. 
In deeper water it feels more like a rapid thrumming in your calf muscle.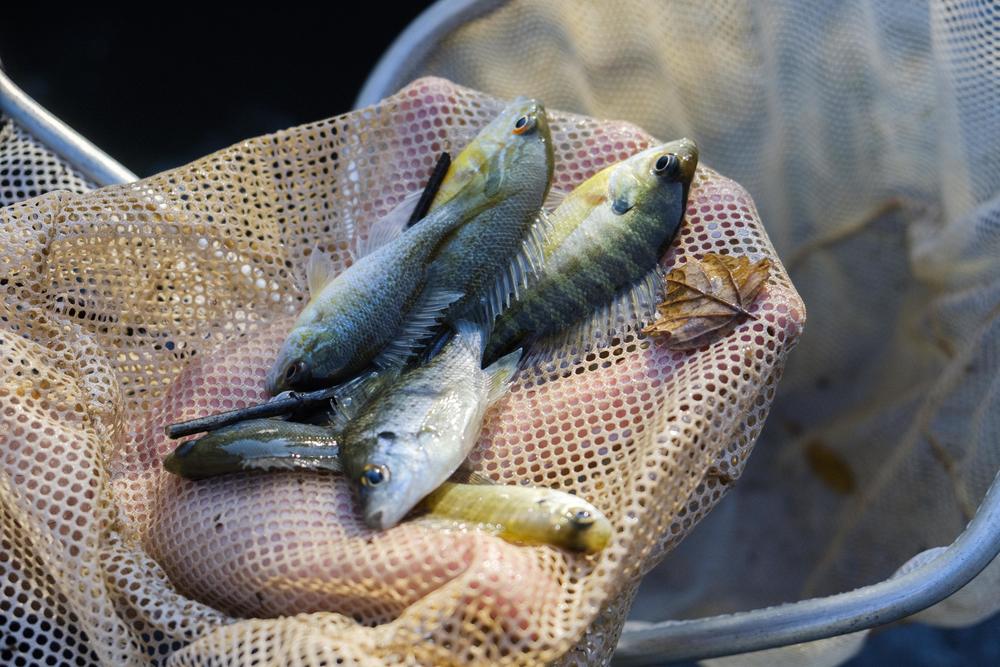 Thanks to all the asphalt nearby, the central streambed here gets sandblasted by stormwater runoff and sediment in heavy rains. It's mostly a dead zone. 
Hiding among the deadwood and weeds by the bank are all kinds of fish. 
There's the spotted sunfish, all yellow and silver with periwinkle blue spots and stripes. Then there's the dollar sunfish and at least three species of catfish. The notch lipped redhorse is a happy surprise. It's apparently a good indicator of dissolved oxygen levels in the water. 
Then there is the fish Natalie McEver was told to look for. 
"So, because I've never done this before, people kept telling me you'd see an eel," she said. 
The American eel today is the second one for McEver this week. They found another at one of the other monitoring spots earlier in the week.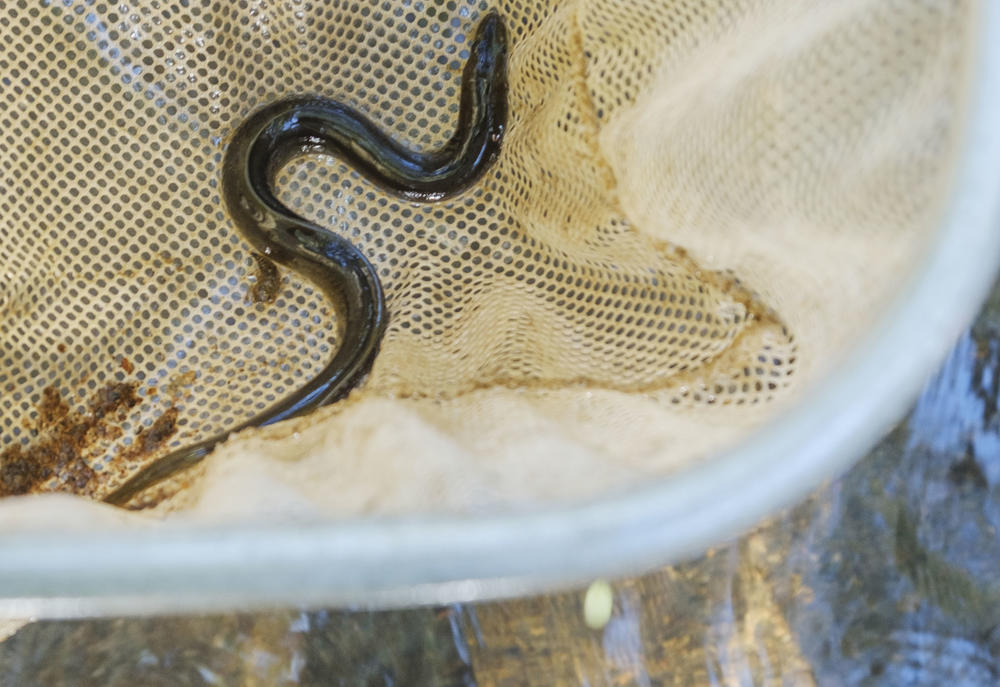 The eel is black, slender and snakelike in the bottom of a net.  Bo Hanans, the lead biologist here, from Jacobs Environmental Consulting, said like all eels, this one began its life in the Sargasso Sea, somewhere past Bermuda, way out in the middle of the Atlantic Ocean. 
"So this eel, with its brain the size of a grain of sand, will swim a thousand miles out to sea to breed and then swim back to the same river to come chill again. Which is unbelievable," Hanans said.  
Later, McEver and Hanans, independent of each other, used the same numerical scale to rank the physical attributes of the creek. The idea is if they both do it, and largely agree with each other, that takes care of at least some subjectivity in the exercise. 
Meanwhile, the team counted over 20 species of fish from this section of urban stream not even a tenth of a mile of long, sandwiched between two busy four lane highways.

And so what does that that say about  the condition of Walnut Creek? Hanans said the technical term is "sub-optimal."
"For what it is, it's doing well," Hanans said. "This goes to show that even though the habitat may not be ideal here, nature is resilient."
Hanans says, with cleaner water, care and time, these fish could even thrive. Another team will be back in two years to see if that's happened. 
The final report from the Macon Water Authority biological survey will be delivered in June of 2023.
Secondary Content
Bottom Content